DJ Khaled's Height
5ft 6 ½ (168.9 cm)
American record producer and DJ.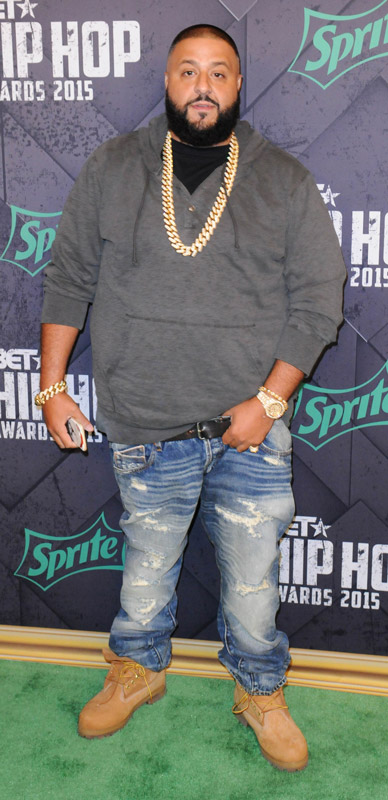 Photos by PR Photos
Add a Comment
40 comments
Average Guess (51 Votes)
5ft 6.35in (168.5cm)
GTB172cm
said on 20/Oct/20
Bieber can only be 5'7 at the very minimum. Khaled is defo a strong 5'6 no more.
2pacalypse wow
said on 9/Sep/20
@Gio corolla, DJ Khaled is probably in Timberlands and Ethan is 5'11" in high heels. Case closed haha
gio crolla
said on 25/Aug/20
needs an upgrade, ethan klein claims 5'11 and he is taller than jacksepticeye who you have listed as 5'8, however they look about the same height in this video
Click Here
Abhi gurung
said on 12/Jul/20
How In The Song I M The One He's Looking Way Shorter Than J.B About 4-5 inches
random reply99
said on 6/May/20
I can't decide that, he has a really long, big torso or just really overweight?
Roongoon
said on 23/Apr/20
I think he's167
I am no one
said on 11/Dec/19
@pov to his defense he really isn't that short 5'6 is the beginning of short and he's above that per his rating. If you think about it he's only 3 inches shorter than the average male. That's about the length of your thumb. So really not that short that it invokes any sympathy.
pov
said on 26/Sep/19
I really like DJ khaled. An overweight short guy who doesnt seem to be phased by his height, people dont see him as a "short" guy because of his confidence and extraverted persobality. He's respected in the Hip-Hop community.
Greg
said on 16/May/19
@175 @6'3 Easterwood lol he barely even looks 5'9 next to 5'6.5" Khaled I think he'd be Robs height lol typical 5'8-5'9 guy trying to claim 5'11 xD just laughable.
Greg
said on 16/May/19
@Anonymous Akon looks 5'11 in that photo he looks too tall to be just 5'10.25" I'd be surprised if he was that short I would have guessed nearer 5'11.
Littlelee5ft6
said on 30/Mar/19
Would he be about 5ft 8 in those types of boots above Rob?

Editor Rob
Yeah he probably could measure very close to it.
6'3 Easterwood
said on 30/Dec/18
175, H3H3 is certainly not 180cm. I would guess him to be in the 5'8 range.
Akay
said on 17/Oct/18
Look
Click Here
Also
Click Here

Editor Rob
I think the road and his 'mid-stride' position helped him look a bit taller
Akay
said on 17/Oct/18
How does this guy always manage to look as tall as P.diddy in all his Instagram photos. Rob do u mind checking this?
MAD SAM
said on 13/Aug/18
K I would take 169 cm at 5'6.5" but would love to know what he claims too
Jamie3557
said on 20/Jun/18
H3H3 is no where near 180 cm.
175
said on 18/Jun/18
That is so weird. He appeared into a video with h3h3 once and they looked to be about the same height. h3 is believed to be 180cm, though. Here's the video:
Click Here
@Rob Are you going to make a listing for Ethan from h3h3Productions?
Warren
said on 29/Mar/18
Yes Khaled is not 168, he's more like 169
andre
said on 24/Oct/17
5ft5 barefoot is his height
justin bieber is 5ft6 barefoot at night
Adey P
said on 5/Aug/17
This height is certainly in the right ballpark - shorter than Bieber in his I'm The One video and similar height to Lil Wayne.
strangerdnce
said on 24/Jul/17
He is more a strong 5'5 than 5'6
Alex
said on 23/Jul/17
Justin Bieber is a fair bit taller than this guy barefoot so...
andre
said on 13/Jul/17
166cm barefoot at night
errybodyshutup
said on 24/Jun/17
@heightdude he might not be in any shoes
nelo
said on 22/Jun/17
166 cm at night and 168 cm at the morning
@Red - 10/Jun/17
said on 13/Jun/17
>Here's a picture with Tom Holland.. Click Here
He's probably wearing those Tims..
Red
said on 10/Jun/17
Here's a picture with Tom Holland..
Click Here
heightdude
said on 25/May/17
hey rob is there any chance that khaled is 172-173cm?
Editor Rob: from what I've seen of him, I can't see him quite that tall.
Chris
said on 20/May/17
@Realist - that's me. Literally, I'm 168cm, my torso is that of a 5'9 male, but my legs are literally the same length of my girlfriend's (she's 5'2)
Realist
said on 12/May/17
His legs must be very short. Because above the waist he looks aberage height.
Bee123
said on 12/May/17
He looks a bit under 5'7 not much though,
probably around 168cm.
TJE
said on 11/May/17
This is about right. A weak 5'7 is always possible.
Warren
said on 11/May/17
Justin Bieber brought me here
James B
said on 11/May/17
Funny looks 6ft2 in the PR photo
Peter175
said on 11/May/17
He's whatever height bieber is, minus 3 cms.
So since Beiber is 171.5, Khaled is probably no less than 168.5 or 5'6.25
Tallish89
said on 11/May/17
Khaled and TI who is 172cm, he's shorter than TI
Click Here
Click Here
Somewhere around 168-169cm
Ken
said on 11/May/17
I thought he was 5ft 7 at least
Jajamen
said on 10/May/17
Rob, possible he is like Jackie shroff? Loosing the neck down?
Shredder
said on 10/May/17
Wow , had no idea he was this short.