American professional race car driver. He once said
"I was 5'3" on my first drivers license at 16. Currently 5'11". I think I'm topped out."
.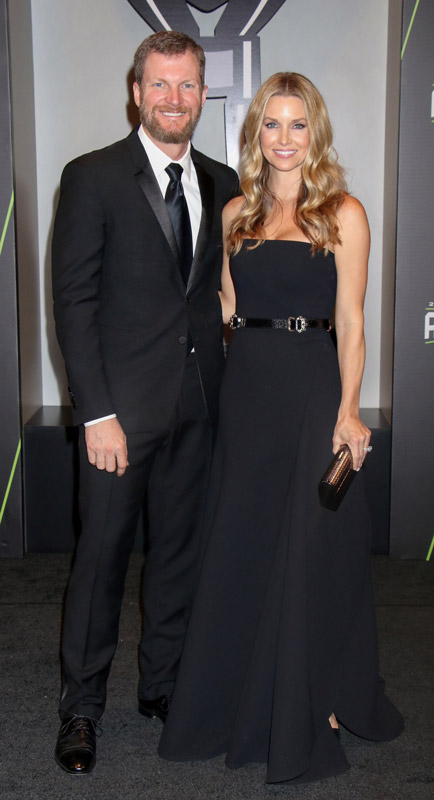 Dal and Amy Earnhardt
Photos by PR Photos
Rampage(-_-_-)Clover
said on 28/Mar/21
Rob, could Earnhardt sr. get a page?
I think somewhere between 6ft and 6ft1 personally
MD
said on 2/Sep/19
@Rob,
Take another look at this one. I truly believe he's somewhere in between 5'9" and 5'10" as opposed to 5'10" to 5'11". Here he is with fellow NASCAR driver Ryan Blaney, who is listed as 5'7":
Click Here
And here he is with 5'11"(ish) Jimmy Kimmel:
Click Here
The listing's just too tall. He's even shorter than Dirks Bentley, who is listed too tall here, too, at 5'10.5".

Editor Rob
Claiming a height in shoes is quite a common trait, which Dale may be following as I can see how he can look 5ft 10, though under it I'm not as sure on.
Yang (5 footer 8, 172-173)
said on 29/Aug/19
5ft 10 half...
Eric W Tam
said on 24/Feb/19
And on google it says 6'0, goddang it, google inflates everyone's heights nowadays. Well, gosh, I am not much taller than 16 yr old Earnhardt, if I could have an 8-inch growth spurt like him, I'd be 6'2.5, which would never happen of course, due to crappy genetics. Well, I hope I get another 4-inch growth spurt, sigh. Haven't grown a lot since going from 4'11 to 5'2 to 5'7 ish from eighth grade to sophomore year.
Christian 6'5 3/8"
said on 19/Feb/19
Maybe Nascar's different since cars are bigger, but IMO the best height for race car driving is 5'7", particularly F1. Not too tall where you'll be cramped in the seat, but not too short where you won't be able to reach the pedals.
MD
said on 19/Feb/19
I'd said it in the request for him, but I've found NASCAR listings to be easily ridiculous as exaggerations in the listings for American football and baseball. Denny Hamlin is another guy listed at 6'0" who might be 5'10".
Anyway, here he is today with 5'9" Tony Stewart:
Click Here
I really think he's closer to 5'10" than he is 5'11". He generally just comes off as looking average in group photos. He only looks taller in solo photos because he's relatively thin.
Rampage(-_-_-)Clover
said on 19/Feb/19
Rob how tall do you think his father was, the late Dale Earnhardt Sr.?
Listed 6ft1 and I think at least 6ft

Editor Rob
Might have been 6ft range, but not so sure on 6ft 1.
Myself
said on 19/Feb/19
My friend had a similar spurt, from 5'3 (he told me that he was around 160 cm) at 16 to the actual 5'11.75 (182.3 cm) that he reached at 18-19.
Paul NS (6ft 0.5)
said on 17/Feb/19
I knew he was listed 6' everywhere, but he really didn't look much different than Danny McBride in those Mountain Dew ads... Nice to see he claims 5'11".
Sandy Cowell
said on 17/Feb/19
To grow 7-and-a-half-an-inches from the age of 16 is a HUGE amount. It can't be far from a record.
Dale gets 5ft10.5, though doubtless he's the full 5ft11 when he leaps out of bed to face another exciting day's racing!

Editor Rob
He repeated that in another tweet, when someone asked if he played football/baseball Dale said "was too small. 5'3" at 16yrs." and that he had his growth "round 18-19yrs. Topped out at 5'11 you have no idea how relieved I was".