Dan Blocker's Height
6ft 3 (190.5 cm)
American actor best remembered for playing Eric 'Hoss' Cartwright on the tv series Bonanza. As far back as an edition of a 1959 Lima News, he was being described this height:
"The six-foot-four, 275-pounder"
In 1967 Slim Pickens said he
"had to wear lifts....I'm 6 feet 3 but alongside Dan Blocker I guess they thought I looked like Mickey Rooney"
.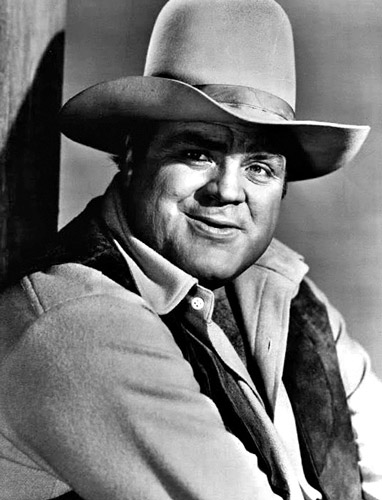 1966 Publicity Photo via Wikimedia Commons
Add a Comment
72 comments
Average Guess (17 Votes)
6ft 3.06in (190.6cm)
Jlc
said on 26/Jul/20
There is a show from 1962 available on YouTube called "Henry Fonda and the Family". In the last segment of the 52 minute show, Dan Blocker appears in a scene with Dick Van Dyke and Henry Fonda. Dan is in regular shoes (not cowboy boots). Dick Van Dyke is often listed at 6'1" and Henry Fonda at 6'1 1/2" or 6'2" (6'1" on this site). Dan appears to be significantly taller than both of them. Based on the height differential here, I would say that Dan was easily 6'3".
Joann
said on 8/Oct/19
@Avi
@Ben Solomon
You both make good points, but nobody knows the exact impact of his limp in this scene or his hunching around "Pa". It just seems that every other site has him listed as 6'4".
Ben Solomon
said on 6/Oct/19
@Joann
Dan does have big shoulders that stand "high". He is a big man in every way and very tall at what I think is a very good estimate from Avi and others on this page of 6'3 to 6'3 1/4". Think of it this way, a height of 6'3" is in about the 97% of all American males according to the latest CDC statistics. In the 1960's when the average male was about an inch shorter than today, 6'3" had to be an even higher percentile. So, nobody here is denying that he was tall and very big.
avi
said on 26/Sep/19
@Joann
You can't judge by just shoulders as some people will have lower shoulders and still be close in height.
Considering Lorne Greene was 6'2 and change in boots and the difference is an inch (can look 2 but also sub 1 inch when they walked in and Greene greeted them and almost 2 at last few seconds but Blocker close to camera) a strong 6'3 for Dan is likely.
Look at Hunnicut barefoot with Blocker. Assuming he really is 6'0 as opposed to strong 5'11, Blocker is 3 inches taller . Hunnicut looks a good 2 inches shorter than the strong 6'2 Greene in boots.
Also at 6:55 Blocker and Greene are next to each other and difference is around 2 inches.
Blocker 6'4.5 in boots and Greene almost 6'2.5. Generally in scenes together Blocker looks 2-2.5 inches taller.
Another question is was Greene really 6'0?
His daughter said he was under 5'11 which may be when he was 60 but was he a strong 5'11 barefoot and under 6'2 in boots?
We'll never know.
Joann
said on 24/Sep/19
Really, 6"3 1/4" on target. Look at how high his shoulders are compared to Arthur Hunnicut and Lorne Greene in the episode that you cited. Dan was limping as he was walking. I'd say that 6"4" is on target.
Ben Solomon
said on 4/Sep/19
Yeah, I agree that 6'3 1/4" could be right on target and that the 6'3" listing is fair for Blocker.
avi
said on 3/Sep/19
I checked that episode out and I see where he is barefoot.
He does seem an inch above Lorne Greene who in boots maybe be 6'2 area. 1.5 is generous.
Apparently Greene was 6'2-6'2.5 in costume.
Unfortunately I haven't encountered an episode where Blocker and one of the other Cartwrights are barefoot on level ground.
I think 6'3 is fair for Blocker.
He wasn't a 6'4 guy.
Was he 6'3.25 ? Maybe!
6'1 and 6'2 flat claims are crazy
Rampage(-_-_-)Clover
said on 20/Aug/19
Rob, maybe 6ft3½?
Ben Solomon
said on 16/Aug/19
In about 45 minutes or so into the "Walter and the outlaws" episode(Season 5, episode 34 of Bonanza), Hoss and Arthur Hunnicut walk barefoot into the Cartwright ranch. Hoss appears about 3 plus inches taller than the 6 ft tall Arthur and an inch to an inch and a half taller than the fully booted/well lifted Ben Cartwright.
Jonas Henrikssen,
said on 2/Aug/19
If he was 6"4 he would be like 315, I think he Was 6"1 people were shorter back then
avi
said on 24/Jul/19
I don't see him as more than 6'3.
I agree he didn't stand up 100% straight at times but most ppl don't... So maybe he had half inch disadvantage.
He could be 6'2.5-6'3.
His son I always thought was 5'9.
Tall Sam
said on 15/Jul/19
His son Dirk on Brooklyn 99 is clearly rather shorter in comparison to Dan, I think he's around 5'10" maybe a touch less, and around six foot for Joel McKinnon Miller (Scully) who comes up maybe 1.5 inches shorter.
Ben Solomon
said on 12/Jul/19
Dan looked to be about 6'3 1/2".
Ben Solomon
said on 11/Jul/19
Dan seemed to be between 6'3" to 6'4" when he would straighten up and seemed to hunch at the neck and back very frequently. His girth and weight could be the reason for the frequent hunches. Perhaps being on his feet carrying 280 to 300 lbs around all day effected him.
JOD
said on 16/Oct/18
My father was a burly third generation New York City cop who prided himself on giving his height at 5' 11 and 3/4" as he towered over guys who claimed to be six feet. Hoss was the only guy on TV who my father actually thought was a tough guy who you just couldn't tangle with. We had a cousin who looked like a smaller version of Hoss, and he could put up a telephone pole alone...think about that for a second. DB was the real deal...I'd say 6' 3 1/2" 310lbs. BTW, the first casting choice for 'Little Joe' was 5'4" Robert Blake...Thank God that didn't happen!
clark S
said on 4/Mar/18
I met and rode a chair lift with Lorne Green in Aspen, CO in March, 1976. I am 6'1" and he was considerably shorter. We stood side by side and had our picture taken (still have). At most he was 5'10," more likely 5'9". The same day I stood next to Gene Hackman at the chair lift. We were the same height.
avi
said on 25/Dec/17
@K.T
5'9 in 1960s? Maybe in the late 70s to his death in 1987 he lost a little but cannot see him under 5'10.5-5'11. judging by other taller actors in Bonanza he would have had to have been in very big lifts. Like 4-5 inches which I'm not seeing as possible. Perhaps when you met him he wasn't standing as straight. One can lose 2 inches or so with weak posture. If you just meet someone for a brief moment it's not enough to judge anyway.
Ian C.
said on 14/Dec/17
One of my boyhood friends had a picture of his father and Blocker, who looked about six foot four. He was wearing his Hoss Cartwright costume in the picture, and it wouldn't surprise me to learn that he was wearing lifts to bring him up to Hoss Cartwright size. But in any case a huge man. He must have had a fifty-inch chest. He couldn't have weighed less than 300 pounds. His head was the size of a bowling ball.
K.T.
said on 29/Nov/17
I met Lorne Greene in the mid sixties. I was 5 ft. 9 in. He was shorter than me. Truth be told, people look bigger and taller on TV. Fact is, actors are known for stretching the truth. That is the case here.
avi
said on 25/Nov/17
@K.T
I think that's a bit off for Greene.
Can buy 5'11 flat as I believe his daughter said he was 5'10.75 barefoot and in the costume it bumped him to 6'1.5 area. Unless you met him in 1980s where he may have been 5'10 lost an inch or so.
K.T.
said on 7/Nov/17
I met Lorne Green at a public appearance when I was 14 years old. I was about 5 ft. 9in. tall. I shook hands with him. He was shorter than me. We were not even eye to eye. Seeing him on the show with Michael Landon(who's even shorter) and Dan Blocker, there's no way that Blocker was 6ft. 4in. He was a big guy but not that tall. At best 6 ft. 1 in.
StephenB
said on 7/Nov/17
I think 6'3" for Blocker is spot on. Looked the same height as 6'3" Cesar Romero in one of the Bonanza episodes.
avi
said on 10/Oct/17
@Rob
I think a downgrade to 6'2.5 or 6'3 is in order.
Editor Rob: yeah, I can see how 6ft 4 looked a bit much for Dan.
Richard
said on 25/Sep/17
Blocker was 6'3", not 6'4".
Jay
said on 24/Jun/17
I agree about the camera angle. If you watch that entire scene (the episode is "Land Beyond the Law"), Andrew Duggan (who is listed at 6'5") is in the scene and at one point walks back to where Dan is standing and does not appear to be significantly taller than Dan. Also Dan appears in another Cheyenne episode called "Noose at Noon". At about the 35:12 mark, he and Walker appear face to face and the difference in their heights does not appear to be that great. That being said, as an avid Bonanza fan, I don't believe Dan was 6'4". I agree with what avi says about how tall Dan appears next to the guest stars during the run of the show and think that the 6'2" to 6'3" range is more likely.
avi
said on 18/Jun/17
The people here referencing the clip with Blocker and Walker are not very observant at all. Blocker is way behind him and far from camera while Walker is close. Rob I'm sure is astute enough to pick this up hence not paying much mind to such comments. I have to watch that episode again but it's possible Blocker didn't have big boots on and Walker did. Even so I have been touting Blocker was never 6'4. He's more like 6'2.5-6'3 area. In Bonanza I have seen guest stars at 6'2 listings look around his height and 6'4 ones at least an inch taller. With Clint Walker who I think is a strong 6'5, Blocker did appear 3 shorter which would put Blocker at 6'2.5 and Walker at 6'5.5.
Paul
said on 15/Jun/17
Hmm... if he was this tall, his son Dirk (also an actor, maybe worthy of his own page) certainly didn't inherit it. See this photo where he is second from the right:
Click Here
Standing next to Joe Lo Truglio and with Andy Samberg, he looks comfortably in the 5'9 range. It might just be me, but I haven't heard of a lot of dads 7 inches taller than their sons. Must have had a short mother.
Ian C
said on 25/Mar/17
Blocker's claim to be six foot four has the feel of an exaggeration. He played a giant on Bonanza, so he was assigned an impressive but inaccurate height for publicity purposes. I'd believe six foot four in cowboy boots, but not barefoot.
As other people have noted on this page, Clint Walker towered over him. Walker would have been six foot six barefoot and six foot eight in boots.
William
said on 16/Mar/17
Dan Blocker was not so tall.
Clint Walker was 6'5" tall, build very well for that time period and the concept of athletic and strength training.
Clint Walker and Dan Blocker appeared in a few scenes together before Dan Blocker joined Bonanza.
Standing next to Clint Walker, Dan Blocker looked short.
I do not mean that Dan Blocker just looked a sliver shorter than Clint Walker (Cheyenne Body - the character Cheyenne. Dan Blocker looked several inches shorter than Clint Walker. Walker dwarfed Blocker, by perhaps up to six to eight inches, or at least that is how short Blocker looked standing in the same scene as Clint Walker.
I recall a newspaper photograph of Dan Blocker holding the end of a motor vehicle off the ground, sporting a huge smile on his face.
Truth be told, Blocker was extremely strong.
The photograph was taken when Blocker was informally out and about, not in a film setting.
I know that Clint Walker was exceptionally strong as well. An interviewer and camera crew visited Walker at his home where Clint Walker demonstrated some of his physical training regimen. Walker was strong as a gorilla - male silver back gorillas have the brute force strength of eight to ten very strong human men, was big, in very good shape, close to the physic of some modern day muscular, well cut football players, UFC fighters, and body builders.
Dan Blocker and Clint Walker were excellent at portraying physical strong characters who had good moral fiber and courage.
My guess on Dan Blocker's actual height .. based on the difference in height from scenes he was in with Clint Walker - I'd say 5'11" to 6'2" at the tallest, although I don't think Blocker was taller than 6 feet.
Click Here
James
said on 5/Feb/17
He was actually 6'3".
Rampage(-_-_-)Clover
said on 4/Jun/16
I doubt he was as low as 6ft2.
Ian C.
said on 19/May/16
His father described his as too big to ride and too small to hitch to a wagon.
mrbobh5344
said on 17/May/16
Just bought Cimarron City TV DVDs. Dan joins cast in episode 3. He was no more than 6'2". Never towers anyone. Big, broad.... 300 pounder for sure. Slightly shorter than George Montgomery. Close to John Smith height... but a tad taller. Likely Montgomery wore lifts... the shape of his boot arch looks it. Suspect most leading men did it. I'm about 6'2" and would sure want to be taller than rest of cast if I was the star. All part of the illusion. Blocker is very good in this TV series.... Big, lovable and powerful looking. Lots of charm and personality shows.... Glad he went on to Bonanza.....
David Cornell
said on 16/Feb/16
In the 1970s my dad who is 6 feet 6 inches barefoot saw the life size wax figure of the Cartwrights .he said that he was surprised that dan blocker not as tall as he thought. My dad was wearing tennis shoes and he was considerable taller than dan blockers wax figure. He said he was lucky if he was 6 foot 4 with his boots. More like 6 feet 1 or 6 feet 2 barefoot. But he said he was very big
reece
said on 30/May/15
Dan Blocker was in a walk on part in an earlier tv western (can't remember the show..maybe gunsmoke? ) but he looked very short to the other unkown coyboys. He looked around maybe barely 6ft2" on the nail !! Lifts will ADD to your height.
Shadow2
said on 3/May/15
Slim was 6' 2" without lifts or cowboy boots, and prone to exaggerate in a very humorous way. In "Bonanza" with Dan, Slim had to measure up to Dan who was probably wearing his 6' 4" boots in that particular episode.
Rampage(-_-_-)Clover
said on 9/Jan/15
What is Slim Picken implying? That Blocker was 6ft8?
dietmar
said on 3/Jan/15
Dan was about 5-6cm shorter than Michael Conrad (197cm), so 191-192cm sounds ok for Hoss
Click Here
Barker
said on 27/Dec/14
Dan , if standing straight , was just shy of 6' 2" in bare feet. With his boots, almost 6 ' 4"...
Shadow2
said on 29/Nov/14
Dan was a strong 6' 3" but occasionally (only very rarely) wore thicker heeled boots to reach that magic 6' 4". Alongside massive villains on "Bonanza", such as 6' 6" Don Megowan, Dan's sheer size (bulk and muscle) overcame the actual visual height comparison to his taller opponents.
Gerard
said on 15/Aug/14
193cm - 194 cm . My opinion is 194cm
avi
said on 4/Aug/14
Yeah even seeing weak 6'3 maybe 6'2.7 area because in all seriousness he was a solid 3 shorter than Clint Walker in Cheyenne. It could look 3.5. Maybe blocker wasn't in lifts while Walked had inch advantage. Who knows.
ck
said on 15/Jan/14
6'3" for sure... looked a solid 2" shorter than 6'5" actor Bruce Yarnell in "Hound Dog" episode of Bonanza.
avi
said on 27/Jul/13
Probably a strong 6'3. Its hard to say because other members may had lifts on bonanza. I think Pernell Roberts didn't wear lifts and blocker didn't as well.
Andrew M
said on 3/Jan/12
I loved that character! He looked like a cuddly big bloke, just like my favourite, late uncle, who himself was rumoured to have been anything from 5' 10" to 6ft - the only tall person in that generation of our family. And such was the shear bulk of big "Hoss" as well as his height, that when in one episode he told a bad guy that he'd kill his dogs if they were set on him, you really believed he could do it with his bare hands! Those poor, stupid wee alsations had no chance!
Marcus
said on 7/Sep/11
Blocker was officially listed at 6'3" 308 pounds.
Lawest
said on 15/Aug/11
I'm sorry, but dan did not look like he was 6ft 4.
Shadow2
said on 11/Dec/10
It was mainly Greene and Landon who wore lifts to match or exceed the height of guest stars on the show, not the other way around. I agree with many others here, Dan and Pernell didn't wear lifts, Dan a strong 6'3", and Pernell likely 6'0.5" when on "Bonanza", 6' on the later "Trapper John MD".
william
said on 3/Nov/10
How about the many guest stars on Bonanza? Do you know if they ever wore lifts on the show?
Anonymous
said on 2/Nov/10
Blocker never wore lifts nor did Roberts. Green and Landon did wear lifts on Bonanza.
R. Gene Baxter
said on 5/Mar/09
Dan Blocker's mother, Mary, was my grandmother's best friend, at least that what Mary told people. My uncles and aunts knew him, as he was not a stranger to east Texas parts. People used to pay to see him fight in public, which was one of the few things to do for entertainment back then. When I went to California years ago, moving a friend from college to his first teaching job there; we stopped in Arizona to see Dan and he was nice and patient to us kids (19-22) seeing that we were so dumb at that point, thinking that we were smart, being from college. My grandmother had arranged through his mother for us to see him when we got there. He made it clear that we had to behave, saying that his mother was one of the few things that meant a great deal to him in this life, and we would not embarrsss him in front of her. He was articulate and well spoken, despite the image he portrayed on TV. I also saw two of his children, but I don't remember if he had other children. By the way, he was plenty tall, a BIG man. There was a sweetness that he exuded that I will never forget. I'm sure he was glad for us to leave, but you would never have known it at the time. Years later, his cousin, Marian Payne, soprano, sang with me in the Arkansas Chamber Singers under Dr. John Yarrington, and we talked about her aunt Mary Blocker and my grandmother Vera Baxter, saying that it was a small world.
Clint Westwood
said on 30/Nov/08
Peter A: Clint made pretty much everyone look small next to him...
Tony
said on 27/Aug/08
Dan Blocker was 6'3" and over 300 pounds. He was a "Hoss"
Anonymous
said on 9/Aug/08
Clint Walker was 6'6. Dan Blocker was 6'3.
Peter A.
said on 4/Aug/08
I have a DVD of an episode of the Cheyenne show. (Land Beyond the Law) Dan Blocker is standing next to Clint Walker. Clint towers over Dan. Walker actually makes Dan Blocker look short. Walker's chest is also bigger around. Amazing when you consider that he had a 32 inch waist.
John Blocker
said on 26/Jul/08
My Grandfather Therdor Blocker was born from Nathen Blocker and Orahzal Davis who was born from a mother last name Cruz (Native American Indian)From Tennissee and Nathen was from Germany and met Orahzal in Texas. Just wanting to know if thers any one out there who may know more info. Thanks.
Scott B.
said on 8/Jul/08
I saw an episode of Bonanza today. There was a scene where Roberts was Barefoot standing next to Landon in Boots. Landon was 5'9 and 6'0 in boots. Roberts was and inch taller putting him at 6'1. Roberts and Blocker did several scenes barfoot, but Landon and Green always had their Boots on.
Roberts 6'1
Blocker 6'3
Green 5'11 3 inch Lifts.
Landon 5'9 3 inch Lifts.
Anonymous
said on 10/Jun/08
Blocker was a solid 6'3. He was an incher shorter than 6'4 George Kennedy.
peter
said on 28/May/08
There is an episode of Cheyenne that has Dan Blocker in it. Clint Walker at 6'6"+ absolutly towers over Blocker. Dan looks like a short, small fella next to big Clint.
shawn
said on 13/Mar/08
Dick, if you are really Dan's second cousin please listen. A friend of mine brought in a picture the other day of his father and Dan's father Ora sitting next to each other, circa 1918-1919. Dan's father is identified as "Shack" he would like to know if the family would like a copy. The orginal picture is in Dekalb, Tx. I've never done this before so I don't know exactly how to procede.
Dick
said on 16/Jan/08
Dan Blocker was my second cousin. His mother and My grandfather were brother and sister. I never met him. I do know that the Davis's were pretty tall. His full name is Bobby Dan Davis Blocker. I also know from stories I heard from various family members; always referring to him as Bobby Dan. And all I remember them saying was that he was real big and real nice!
Jeff M.
said on 2/Jan/08
Saw an interiew with Michael Landon on Larry King Live once...He said DAN BLOCKER was A BAD DUDE..He had a few PROFESSIONAL fights and when he hit someone it sounded like a watermelon being dropped off a building...Said when he and Blocker went out to bars...Some Druck always thought he could whip "Hoss Cartwright"...
Scott B.
said on 29/Dec/07
Dan Blocker was 6'3. When standing next to George Kennedy there was only an
inch difference between them. No way he was below 6'2.
Bob H.
said on 16/Dec/07
Just saw episode of Bonanza with guest 6'4" Peter Palmer. Blocker was looking up at Peter. Seemed to be about 2 inches difference in height.
Scott
said on 22/Nov/07
On an episode of Bonanza, Dan blocker looked to be an inch shorter than George Kennedy who is listed at 6'4. Dan was a solid 6'3.
Nobody special
said on 14/Jun/07
If you watch the earlier episodes where Dan Blocker and Michael Landon (or the others) are walking together in a scene, Blocker towers over Landon. I don't believe he wore shorter boot heels and I don't believe the others wore lifts in the earlier episodes. Blocker was 6 feet 4 1/2 inches tall.
CC-Tron
said on 26/Feb/07
Hmmmm.....Ok I'll check it out.
Todd
said on 17/Feb/07
Blocker's actual, exact height was 6'4 & 1/2" -- I've seen the rosters from Sul Ross University, where Big Dan played football (offensive tackle and center) in the late '40s/early '50s. Additionally, several years ago I spoke with David Dortort, the creator of 'BONANZA', who also said that 'Hoss' was be-tween Six Four and Six feet Five, and weighed between 380 and 330 lbs. during the program's long run. Unlike Landon and Greene, Blocker never wore lifts, which, along with their boots, added several extra inches to their height(s. Furthermore, Blocker, perhaps because of his massive heft, preferred cowboy boots with shorter heels than those normally worn; just look at the next 'BONANZA' episode and see for yourself.
CC-Tron
said on 8/Feb/07
Moe was 5'3 at best. Curly was 5'4. Anyway I still think Blocker was 6'2. He just didn't look on 6'4 Bonanza.
Brian
said on 8/Feb/07
In a Three Stooges short film from 1957-8, he was credited as "Don Blocker". He played the outer-space monster in that. He looked at least a foot taller than the 5'4" Moe Howard! I'll go with 6'4" for Dan here.
K.L.
said on 12/Jan/07
It's hard to gauge his height because Lorne Greene and Michael Landon both wore lifts as well as the boots. Anyway, Blocker at his heaviet was 340-350 lbs. People who are thickly built always look shorter and thin people always look taller. Either way this guy was huge now matter how tall he was.
CC-Tron
said on 29/Nov/06
Dan Blocker didn't look 6'4 on Bonanza. I have my doubts. 6'2 seemed more likely. I can believe the 275 lbs though.