Dan Osborne's Height
6ft 4 ¼ (193.7 cm)
English celebrity known for appearing in the tv shows The Only Way is Essex and Splash. He said on his twitter
"I'm 6'4-5"
and also
"6'4"
.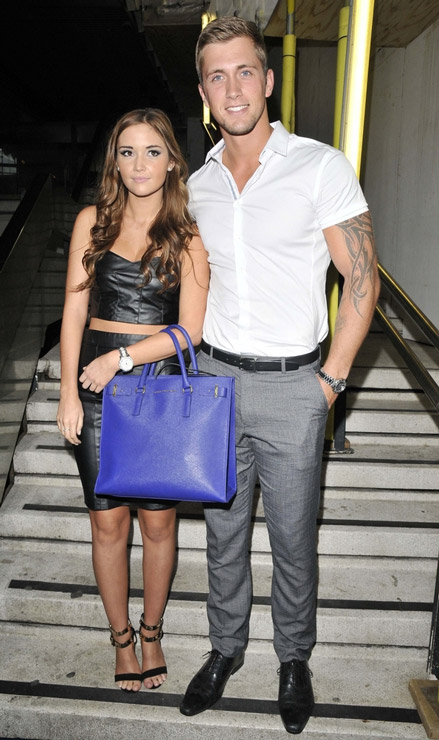 Dan with
Jacqueline Jossa
Photo by PR Photos
Add a Comment
36 comments
Average Guess (12 Votes)
6ft 3.58in (192cm)
Priscilla
said on 7/Dec/19
A solid 6'3 guy
Debo
said on 13/Jan/19
I see this guy in Bluewater, he walked past me and trust me he's tall I'm 6ft2 and he's easy 6ft4 minimum
Lanky
said on 14/Aug/18
Mr95
That's me! Haha. I'm bang on 6'10" (barefoot.)
I remember that night, Dan actually remarked about my height and said it was the first time he'd felt small etc (all the usual stuff)
I didn't actually think he looked anything like 6'4.5" in person. If anything I'd say closer to 6'3".
Really nice guy from what I can remember.
Mr95
said on 13/Aug/18
Rob, how tall do you think the tall guy is? Given he looks like he's leaning in and still dwarfs 6'4"+ Dan.
Click Here

Editor Rob
Seems a very tall guy, maybe 6ft 9 range.
Arch Stanton
said on 3/Sep/17
@Conor, it's very common in modelling for big 6'4 guys do be listed at 6'3 or even 6'2. It's considered too tall to be ideal. I doubt Dan would measure under 6'4.
Conor1315
said on 1/Sep/17
Surely 6'3 given that's what his management has him down as?
Click Here
Canson
said on 28/Jul/17
He's got torso and the face of a guy in the range but can't tell a lot of 6'3 guys claim that height whereas a true 194 like bobby or me are told we are 6'6
bobbyh3342
said on 13/Jul/17
dont know this guy cant tell 192?
Hans Meiser
said on 10/Jul/17
Alpha male.
Arch Stanton
said on 4/Jun/17
Funny that people think he's barely over 6 ft 3, he looks about as proper a 6'4 you can get. Reminds me actually of Dolph Lundgren in frame.
Rampage(-_-_-)Clover
said on 7/Jun/16
Does look a bit over 6ft4 flat and can pass for 6ft5 at times. Honest claims
Amaze
said on 23/Apr/15
Very tall bloke
Got axed from towie
Two children at 23 eeesh
BGee
said on 24/Nov/14
Nah, his management has him down as 6'3, maybe a little over at 6'3.25 (you'd think they would try and claim 6'4 - 6'5 instead as per usual with models), he just has good posture and a giant head (not to mention smaller partners)
Arch Stanton
said on 16/Nov/14
Height182 is talking about the other guy in the photo Chris, not Dan.
Chris
said on 3/Nov/14
Nope, he looks 6'4 at the minimum. Might not be taller than that, but definitely not under it.
Height182
said on 20/Oct/14
Yeah Arch, looks a little over 6'3''. Still very tall.
Arch Stanton
said on 17/Oct/14
@Height182 He looks 6'3" range, like 6'3.25 or something.
Height182
said on 15/Oct/14
Rob, how tall you think that Lewis Bloor guy is off Towie? He's the one in the black T-shirt next to David Haye. He's definitely taller than 6'2'' because he is taller than Haye and has footwear disadvantage. He sometimes looks same height as Dan, but is shorter.
Click Here
Click Here
Clent
said on 2/Oct/14
192 - 193cm. My opinion
Chris
said on 30/Sep/14
Wow what an alpha male!!!!!! I think he's nearer to 6'4 though.
[Editor Rob: let's leave some of the inuendo off of here ;)]
Height181
said on 27/Sep/14
Anything above 5'9'' for Joey is too much, he can look 5'8'' from time to time too. I don't think Sam is tall as 5'5'', probably a bit shorter. Lol Joey was no where near 2 inches taller than Ant! it was probably a very bad camera angle or something. The video I posted had fair angles and shows Joey is barely 5'9''.
Arch Stanton
said on 27/Sep/14
Rob/Alex what would you guess for Dan's weight? Obviously he's very tall but his build is deceptive, he's pretty toned muscular build rather than a typical meso bodybuilder type which he sometimes gives the illusion of with the tan and all that., but he does have pretty built shoulders. Perhaps something in 200-210 pound range? It's easy to think at least 220 especially given his height but I don't think he's has heavy as he might sometimes give the illusion of being.
[Editor Rob: around 210 pounds]
Arch Stanton
said on 27/Sep/14
Essex is kinda built like a young Frank Sinatra! Can't be any more than 140 pounds.
Arch Stanton
said on 27/Sep/14
@Height181, with 5'5" Sam in heels
Click Here
I think he looks a bit taller than a flat 5'9".
Arch Stanton
said on 27/Sep/14
@Height181, no, I got a good look at Essex in I'm a Celebrity and he was definitely noticeably taller than Ant, at times it could look barely an inch, at others nearer 2. I also judged him next to some of the others and I concluded somewhere in 176-77cm range. A flat 5'9" is possible too but he doesn't look under it.
Height181
said on 26/Sep/14
Joey is no more than 5'9'' Max Arch. He can even look short as 5'8'' at times. He never struck me as tall, but always short/average. Go on 19:19 on this video and onwards
Click Here
He looks the same height as 5'8'' Ant! Go on 4:23 also. Anything over 5'9'' is pushing it. He always looks about 3 - 4 inches shorter than Arg.
Arch Stanton
said on 26/Sep/14
182 might be a good shout for Arg. At times he can look 17-18 stone, his legs are massive. 5'9.5" for Essex.
Height181
said on 25/Sep/14
@Arch Stanton: I don't watch it either. Just seen some episodes a couple of years ago. All I know is Arg is about 6'0'' or just slightly under it. Here he is with Carl Froch who Rob has met
Click Here
They both are the same height. Arg could be a little shorter because Froch is probably barefoot in that picture. This after the fight with Groves.
Height181
said on 24/Sep/14
I've had another look, and yeah you are right Rob. The guy is in the 6'4'' range. Posture isn't the best, so can look 6'3ish at times.
Arch Stanton
said on 24/Sep/14
Don't watch Towie Height 181 but I know this guy very well from the tabloids. Famous for being famous, true, but like a lot of the other Towie guys he does actually seem a nice lad (the ones I've seen on things like I'm a Celebrity, and I've seen this guy on that diving show, I don't generally watch very much TV though). Ones I know Mark Wright 5'10 ish, Joey Essex 5'9 range, Arg around 6 ft. I know that funny skinny gay one but haven't seen him next to anybody but girls in photos to guess.
Fern194cm-192cm
said on 23/Sep/14
His modeling agency lists him at 6,3. But guess what in fashion your 6,2 or 6,3 if your between 5,10 and 6,5 lol. He looks almost 6,5.
Height181
said on 23/Sep/14
@Arch Stanton: How tall do you think the rest of the Towie guys are?
Arch Stanton
said on 23/Sep/14
Just popping in, thanks for adding him, I think he'll get quite a bit of traffic. That clip doesn't quite capture him. I said the same thing originally to Rob. If you see the proper video he's barely shorter than 6'4" Vernon Kay in footwear and Dan is standing relaxed barefoot with his feet fairly apart. Vernon would probably be about 196 in footwear and Dan was looking no more than 2cm shorter, A flat 6'4" is possible, but I think 194 is a good shout. He doesn't look a legit 6'5" but I think he's being honest when he said 6'4-5 as he generally does look a bigger than how a 6'3" guy like Hemsworth or something looks. He looks a solid 6'4" range guy to me
Click Here
Amaze
said on 22/Sep/14
Never watched eastenders before ?
But yeah he does look 6'4.5. Hes very tall
Height181
said on 22/Sep/14
Rob, do you really think he is 6'4.5''? I know Vernon Kay is in regular sneakers, but he is still taller than Dan
Click Here
Everyone exaggerates their height a little bit than what they are. That's exactly what this guy has done. I think he is 6'3''.
[Editor Rob: he could be 6ft 4 on the nose, paul young was on that splash show with him and he's 6ft 1]
Sam
said on 22/Sep/14
Never heard of him but looks around 6'4", if not over it, next to the pretty girl listed as 5'6" (whom I've also never heard of!)