Dan Reynolds Height
6ft 4 (193 cm)
American singer from the band Imagine Dragons, known for hits such as "
Radioactive
", "Demons" and "It's Time". In a 2012 tampabay article it mentioned when touring
"It doesn't help that he's 6-foot-4, and the bus's beds are 6-foot-2."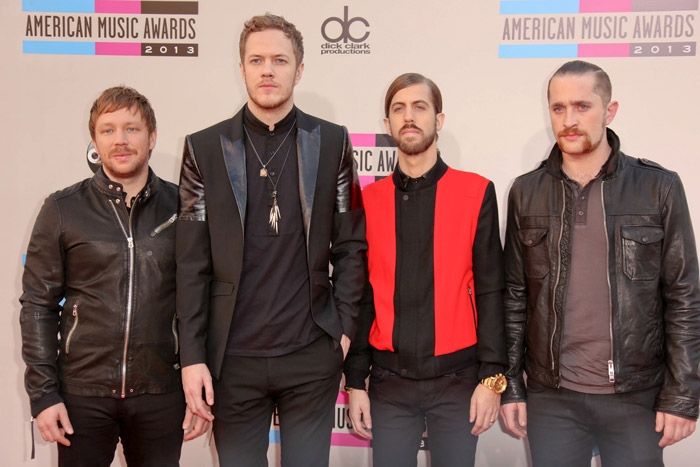 Ben McKee, Dan Reynolds, Daniel Wayne Sermon, Daniel Platzman
Photos by PR Photos
Add a Comment
21 comments
Average Guess (26 Votes)
6ft 3.51in (191.8cm)
Aj06
said on 14/Dec/20
tall dude giant to me 5'1 (M) I would not quite give him a full 6'4 but he is not a flat 6'3 either Im going to have to say 192 cm for him.
Mickie
said on 8/Oct/20
Looking short next to Stern... maybe 6'3.5" is better?
Chris Junior Hernandez 1990
said on 22/May/20
Click Here
Howard Stern look 6'6 3/4 with Dan. Dan did not look to slouch that much but maybe 3/8 inch less shoes than Stern. Maybe Stern is 6'6 on a good day with Dan.
Vitto
said on 9/Nov/19
I didn't think he was that tall when I saw him in some music videos by Imagine Dragons.
I guess a bit less than 6'4 but he is tall nonetheless.
185
said on 19/Jan/19
He didn't that tall. Here how he look with 5'11" dave grohl.
Click Here
:
Click Here
:
Yes, he dunk a bit but still that not how a 6'4" person look next to a 5'11" person
Not to mention he look no where nere even 6'3" with 6'5" howard stern
Click Here
:
He can look 6'4" with his high hair
SAM CHERRY
said on 4/Nov/18
dude is tall no doubt, but I would give him 192 cm
Ian555
said on 29/Aug/18
Rob how much do you think he weighs? Without a doubt he's 6'4". He towered over everyone at the New Year's Eve thing last year.
O.J.
said on 7/Feb/18
Dan is taller than Dolph Lundgren in the believer video and Dolph was about 6'4 in his prime, possibly 6'3 today. Dan looks close to a legit 6'4, I'd say 6'3 1/2.
Bennett
said on 2/Feb/18
Dan is safe to be over 6ft3. I would say not much.
Anonymous
said on 7/Dec/17
Looks legit 6'4
S.J.H
said on 26/Apr/17
He look like a young Michael Shannon
Arch Stanton
said on 20/Oct/16
Could be Chris Martin's brother!
S.J.H
said on 22/May/16
Look right next to 6'10.25 chris bosh in instagram
Andrea
said on 29/Mar/16
If the tall guy is really 6'4, the guy on the right looks more 5'11, Rob!
I see more difference here (between Misha and Jared):
Click Here
Aaron Zamora
said on 27/Mar/16
The guy on the right looks taller then 5'9 range though rob he looks close to 5'11.
Editor Rob: the guy beside him somewhere in 5ft 9 range, the other guy maybe 10 range
Aza
said on 25/Mar/16
Tall dude.
Wade
said on 24/Mar/16
would have guessed 6 3 - 6 4, tall guy
MD
said on 24/Mar/16
Interseting. Given how much taller he's looked than so many other celebs, I'd always assumed he was even taller than this. Had he claimed 6'5" I would have believed him. Just goes to show how tall a legitimate 6'4" really looks.
AJ
said on 23/Mar/16
Looking at the other bandmates I'd say 5'6" for Ben, 5'9" for Wayne, and 5'11" for platzman.
AJ
said on 23/Mar/16
I can believe this, he towers of the rest of his bandmates. The other ones don't look over 5'11"
Aaron zamora
said on 23/Mar/16
If Dan is 6'4 how tall would the rest of the members be?
Editor Rob: ben could be in 5ft 7-8 zone, other guys more average range 5ft 9, maybe.