Dan Stevens Height
6ft 0 (182.9 cm)
English Actor best known for his television roles in Downtown Abbey, Legion and for films such as The Guest, Hilde and 2012's Vamps. In the DailyMail he said "At the age of 11 I was about 6ft tall".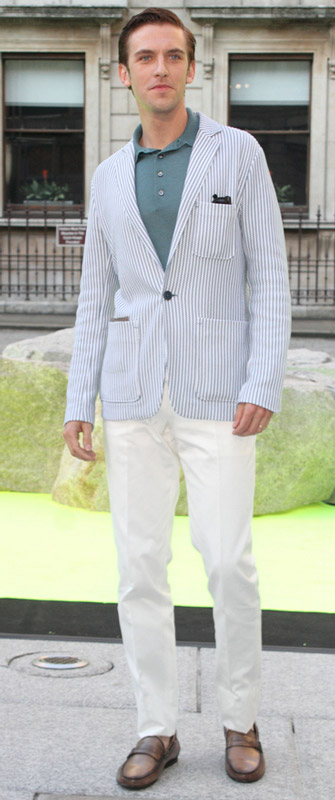 Photos by PR Photos
Add a Comment
67 comments
Average Guess (53 Votes)
6ft 0.12in (183.2cm)
BT
said on 3/Mar/21
An honest 6 footer who can arguably look a little over it at times. Might he be a good candidate for 6'0 1/8, Rob?

Editor Rob
I'm trying to stick to the 1/4 or 3/4's as much as possible, but yeah he has a chance of 6ft and a little bit.
Gr3
said on 6/Feb/21
@Chris Junior Hernandez 1990 I stopped growing at 12. I remember some of my pals from middle school who stopped growing around 13 as well. 11 is a bit off but all in all stopping growing before 14 is not as rare as you think.
Progking
said on 29/Dec/20
At least 6'0, probably 6'0 1/4 and can pass for 6'1-6'2
Chris Junior Hernandez 1990
said on 25/Dec/20
The age of 11 at 6'0 was like a joke. If is true then it is too rare for boy to stop growing before 14 the worst i have ever seem. If he grow normally through out 16-18 he would be legit 7'0 with no surprise and actor job wouldn't land on his doorsteps than a sportsman.
Nik Ashton
said on 16/Sep/20
It is very interesting that Dan the man once called Emma Watson (5'4.75") a petite lady! She's actually quite tall!
Eric W. Tam
said on 13/Sep/20
Sorry Dan you probably weren't about 6'0 tall at 11, if you were you would probably be like 6'8 today. Well be happy you ARE 6'0 today.
VitoCheng
said on 17/Aug/20
He is as honest as David Duchovny😁
Jani
said on 9/Jul/20
In Legion he looks a bit taller. I thought he was more like 6'2".
KL7
said on 9/Dec/19
Click Here
Rob, he's edging out 184cm listed sudeikis, I think it's fair to give Dan the bump up to 6'0 1/4".
KL7
said on 8/Dec/19
Click Here
Rob, he's edging 184cm listed sudeikis, is a slight upgrade to Steven's listing arguable?

Editor Rob
I can see why 6ft 1/4 looks possible at times for Dan
TheBat
said on 22/Nov/19
Honest 6'0" man
Nik Ashton
said on 21/Sep/19
It's incredible he was 6'0" at the age of 11! He's 6'0" at the age of 36 too!
Chris Junior Hernandez 1990
said on 16/Sep/19
More i see him i can convince what Rampage had him at 184cm but at least 6'0 1/4 not below it.
Rampage(-_-_-)Clover
said on 6/Sep/19
184cm wouldn't surprise me
Chris Junior Hernandez 1990
said on 11/Aug/19
Not under 183cm unlike Chris Evans could be a 5'11 7/8 candidate. Dan is def 6'0 1/8.
Importer
said on 23/Jul/19
I like your comment @Dr JJ :P
Importer
said on 9/Jul/19
Somewhere between 183-183.5cm at a low, easy 184 during day that's why he may look taller often.
TheBat
said on 16/Apr/19
Yep a true 6 footer. A fantastic actor as well.
Dr JJ
said on 15/Feb/19
An imposing six-footer, the typical "big lad" and for my money the next James Bond unless Richard Madden grows at least three or four inches and unless Idris Elba loses three or four stone.
Michael 5'10", 178 cm
said on 9/Jan/19
More men are definitely 5'8" or less than 6 feet tall because I'm 5'10", and most people I see are shorter or like as tall as me. Being 6 foot tall is actually quite rare since apparently, only 15% of men in America are 6'0" and taller. Getting back to Dan Stevens though, he is at least 6'0", he looked it in The Man Who Invented Christmas. He looked as tall as Jonathan Pryce in that movie, so 6'0" I think is accurate.
Nik
said on 30/Oct/18
@ sulu2019 - More men are 5'8" or less!
sulu2019
said on 29/Oct/18
In general society, are there more men that are 6'0" & taller or 5'8" & less?
Junior Hernandez 1990
said on 20/Oct/18
Cumberbatch big head could make himself look more 5'11 and Dan does ook legit 183cm.
sulu2019
said on 19/Oct/18
In general society, are there more men that are 6' & taller or 5'8" & less?
Dream(5'9.5")
said on 12/Sep/18
He looks 6'0.25" with Benedict Cumberbatch here.
Click Here
MAD SAM
said on 9/Sep/18
Strong 6 feet tall guy at 183 cm
Junior Hernandez 1990
said on 13/Jul/18
About 6'0 with or without shoes at 11 is very very huge for that age. If he did not stop growing about 12 and still growing after that and stop at 16-18 range he would be over 7'0 tall. I remember Shaq say he was already 5'10 when he reached 12.
Dream(5'9.5")
said on 22/Jun/18
He did look taller than Luke Evans and Benedict Cumberbatch.
I do think he's probably 6'0 1/8th" like Hayden Christensen.
Junior Hernandez 1990
said on 22/Jun/18
Could mean at age 11 he was 5'11 3/4 with certain shoes on and might be stop growing at 12. But this is so rare that a boy stop growing this young. I have see guys stop growing at 14 or 15 but never see one at 12 stopped. Most of my friend stop growing at 16 and even girls stop at 14 the earliest.
Allie
said on 11/Jun/18
You guys are probably right. He may have been exaggerating a little bit but who knows.
Nik
said on 7/Jun/18
6'0" looks liable now for Dan Stevens, I am not sure about when he was 11!
Jordan87
said on 5/Jun/18
"About 6'0 Tall" Usually means something like 5'10.5".
Allie
said on 31/May/18
So he was 6'0 by 11 and stopped growing by then? Strange normally that's something that typically happens to females.
Dream(5'9.5")
said on 23/Apr/18
He holds very well with 6'1.5" Corey Stoll.
6'0.25" will be my final guess.
Mark(5'9.5
said on 16/Sep/17
Rob, I do have a giant feeling that Dan Stevens falls into a similar category to Pilou Asbaek.

Editor Rob
the odds on being slightly over six foot, might be greater than slightly under it.
Mateyboy
said on 2/Sep/17
Strong 183cm maybe even more I feel he is a big 6 footer and his poor posture even edges out the reasonable 6 footers who are 182-183cm. 183cm+.
Legion
said on 21/Jul/17
Definitely leaning towards 184 cm or more, he's mostly seen with a very loose posture next to actors of similar height to him and he still edges them out.
Mark(5'9.5")
said on 18/Jul/17
He edges out Cumberbatch and Luke Evans. I would go for 6'0.25".
Edges out Cumberbatch with less footwear and disadvantage posture:
Click Here
Click Here
Edges out Luke Evans:
Click Here
Click Here
justbringit
said on 1/Jul/17
would think he is 6'0.25" similar range with gossling
Bee123
said on 26/May/17
Looked tall in beauty and the beast.
Strong 6 foot
Sam
said on 15/May/17
Oddly enough he looks similar or even a smidge shorter than Benedict Cumberbatch but maybe stands a little looser in shots than him, certainly clarifies that Stevens is not really anything over the six foot.
Kenny Kristo
said on 12/Apr/17
Pulled off looking a lot taller than he actually is in A Walk Among The Tombstones due to his slim clothes and lanky frame. That is until he stood next to the likes of Liam Neeson and Boyd Holbrook which definitely revealed his actual height.
Josh
said on 7/Apr/17
Fantastic in Beauty and the Beast. He looks at least this and is probably around 6'0.25. Strong 6 footer for sure
Borats Chicken
said on 4/Apr/17
rob, you should add beauty and the beast he did wonderful in it.
Sam
said on 3/Apr/17
I've been watching Legion and I'd say he's a lanky looking six footer. I'd bet he's quite similar in height to someone like Ryan Gosling.
Sophia
said on 17/Mar/17
He have chance for be 6ft 0.25in, Rob? He looks very tall, a little more than the Standard 6'0.

Editor Rob
always a chance he is a solid 6ft - 6ft 0.25 guy.
Victor Surratt
said on 9/Mar/17
I would gess 6'0 or 6'0.25 for moments.
Height Columbo
said on 18/Feb/17
Looks fairly tall, but not overly so on Legion. His slim frame and modest shoulders make him look taller. I buy six feet.
Sam
said on 31/Jan/17
Could you add Legion to his TV credits and The Guest and Beauty and the Beast to his film credits?
184.9 on a bad day
said on 7/Oct/16
Hey Rob, I watched the guest today and he looks pretty tall, do you think a fracion over 6ft possible ?

Editor Rob
I'd put him around solid six foot at times, you could possibly argue a little over at times.
S.J.H
said on 23/Aug/16
He mean he was almost 6'0 in footwear when passes age of 11 and probably he stop growing at 12 at 6'0 in the morning but thats weir to be this tall and stop growing this tender age if not he would be at least 6'5 or 6'6 and stop growing at 15 or 16. But he only look between 5'11.5 to 5'11.75 at most through out the day
The Man
said on 23/Jul/16
I've never heard of a boy whose height stopped growing at 11 years old, ever. The lowest age I've known a guy who stopped growing is at 13, and even then I thought that was unusual.
183cmAriel
said on 21/Jul/16
he was already 6 feet at 11? man i was about a foot shorter when i was that age
HD
said on 28/May/16
I hope Dan Stevens is AT LEAST 6ft barefooted on the dot.
George Sears
said on 28/Jul/15
I'm a firm believer that Dan Stevens is one of the true six footers, and that's *without* shoes.
pataan19
said on 11/May/15
Hey Rob, this listing might just even be a tad too generous. He seems slightly shorter than ben cumberbatch in most of the photos of em together, plus the photo of him with lance reddick, really doesn't look more than 181cm.
Click Here
Your thoughts Rob?

Editor Rob
he might lose up to an inch there.
Triplescrew
said on 5/Apr/15
Not that there's any more evidence needed, but in The Guest he has about two inches on the family's refrigerator, which in most cases puts you around 6'0" :P
Mike 1.82
said on 20/Dec/14
this one is a true 6ft. looks like
cole
said on 18/Nov/14
@Editor Rob: Yeah that makes more sense. He looks near enough 6ft now anyway, so how he got there shouldn't matter.
But it is interesting how some people stop growing in early teens and some continue growing into early 20's.
cole
said on 17/Nov/14
@Editor Rob: Wow, that's shockingly early if that's the case.
How rare is that, to be about 6ft tall at 11 and then more or less stop growing?

Editor Rob
for males it's rare, he might be exaggarating a bit and was 5ft 10 or something.
cole
said on 15/Nov/14
@Editor Rob: "At the age of 11 I was about 6ft tall" - what a load of baloney. Hope it's supposed to say "at the age of 21"...

Editor Rob
no, he means it because he mentioned his voice had broken...so an early developer
MD
said on 3/Nov/14
I'm not sure who is, but one of them is taller than the other.
Sam
said on 15/Sep/14
Yep, the same height as Cumberbatch, a true blue six footer.
Triplescrew
said on 6/Jan/13
Wow there are a lot of tall people on DA. I thought he was 5'10" because the other guys on the show are all taller than him, but I see the reality is that they (Carson/Grantham/etc) are all 6'1" or 6'2"+.
ozomatli
said on 10/Nov/12
He's on stage now w/David Strathairn and looks about an inch and a half or two inches taller -- Strathairn, according to this site, is 5'11.
Sam
said on 30/Dec/08
You have two entries on Roger Bart, Rob (with different heights!)
Mr. R
said on 29/Jul/08
I saw Roger the night he won his Tony Award on Broadway. He is between 5-9 and 5-10.