Daniel Majstorovic's Height
6ft 2 ½ (189.2 cm)
Swedish International Footballer. I asked Daniel how tall he was and he said:
"One Nine One"
. Glenn Loovens (below), was bizarrely listed on Cardiff City (his former club) as being 5ft 10. I asked Glenn how tall he was, and he said:
"Six Two"
. In this photo I was wearing
Onitsuka Tigers
, whilst Daniel and Glenn had near 0.5 inch more thicker sneakers.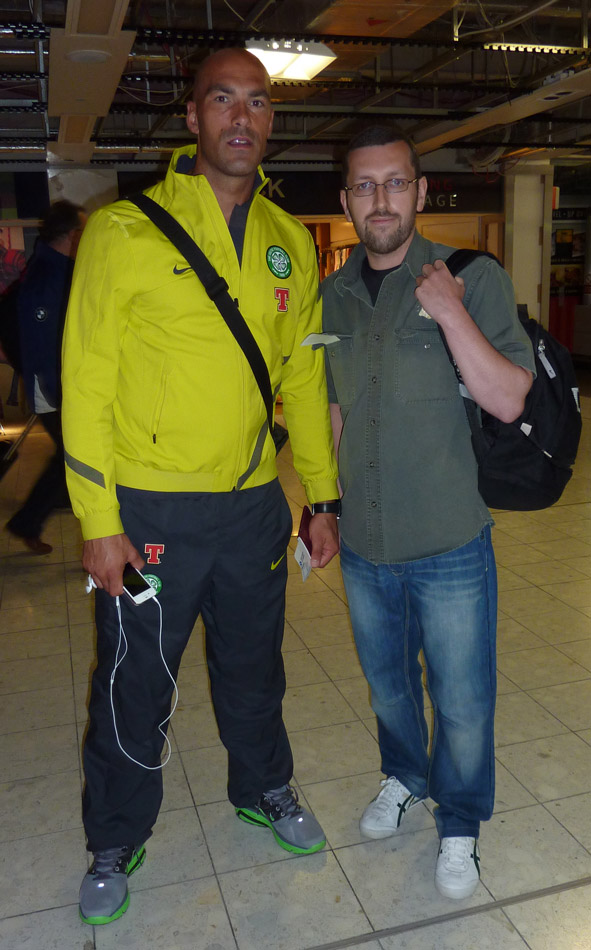 5ft 8 Rob and Daniel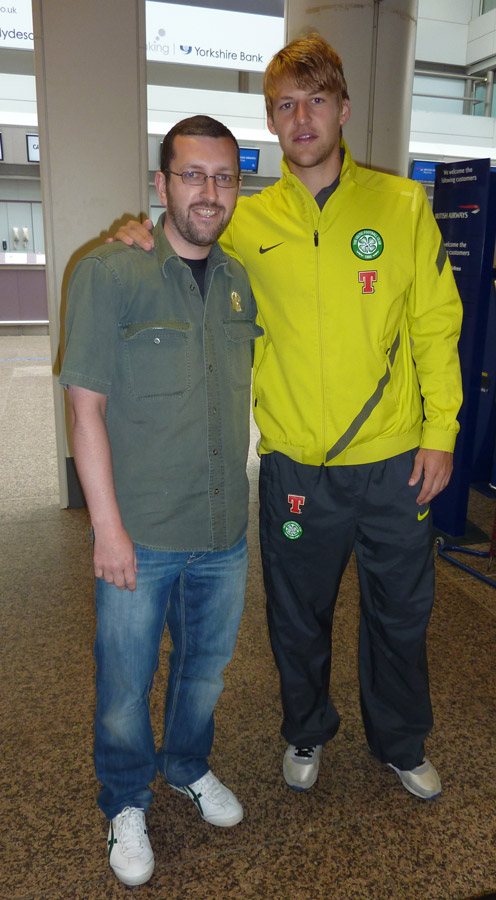 5ft 8 Rob and Glenn
Add a Comment
76 comments
Average Guess (13 Votes)
6ft 2.85in (190.1cm)
Andrea
said on 13/Nov/20
191 is more than likely a shoe claim.

Editor Rob
it wouldn't surprise me.
OriginalAnon
said on 11/Nov/20
Both are true to their claims.
Chris Junior Hernandez 1990
said on 27/May/20
I believe Daniel and Geoff Stults is closer to 6'2 5/8 than flat 6'2 1/2.
bobbyh3342
said on 24/Mar/20
what a stupid comment ..... a legit 5'8.25 is not a short man infact most that are that height claim 5'10.....
Rampage(-_-_-)Clover
said on 20/Feb/19
They're probably closer than they initially look side by side but I'm still inclined to believe Dan would edge out Glenn. Originally thought Dan was a strong 6ft3!
Nik
said on 2/Sep/18
@ Bobby - Rob is a guy of average height! In any case each level of height should be accepted equally by ourselves and everyone else, our heights shouldn't matter!
Junior Hernandez 1990
said on 31/Aug/18
I see a 6'2 5/8 candidate on Daniel Majstorovic. 6'4 1/2 Zlatan look between 1.75-2" on Daniel.
Y07
said on 29/Jul/18
Rob, i think you should make a page for Glenn Loovens as well instead of sharing it with Daniel Majstorovic. I'd say he looks pretty close to 6'2" as he claimed.
Tunman
said on 2/Apr/18
Rob,all the Glenns in the world are 5'8 that's official.Seriously,he looks no less than 187.I'm almost sure that he was listed at 197 for some time on Wiki.

Editor Rob
197 is certainly crazy when he's miles from it and over 2 inches under zlatan!
Johnson
said on 18/Feb/18
I see Majstorovic clearly taller than Glenn
1.91 and 1.88 do the math

Editor Rob
In person they were quite close in height actually.
Johnson
said on 17/Feb/18
@Rob how tall would you estimate Glenn Loovens??

Editor Rob
He said 6ft 2 and looked around that.
Jordan87
said on 6/Feb/18
This is a true 6'2. Accurate with the listing and the man's quote. Looks taller than Ray FIsher when compared to Rob.
Rampage(-_-_-)Clover
said on 20/Jan/18
Rob, could Glenn Loovens get his own page?
Daniel could be 189cm but no less...

Editor Rob
I don't know about giving Glenn his own page.
Junior
said on 14/Nov/17
Rob, do you think Daniel could be slightly taller than Brandon Routh?
Editor Rob: I doubt it.
Frost
said on 29/Oct/17
A half foot error is kind of insane. 4 inches is bad enough.
Does anyone know how soccer clubs are with player listings compared to something like the NFL?
Anonymous
said on 4/Oct/17
I guess robs comfortable enough with himself to stand next to much taller guys as I did when I met mark Labbett and I'm a good foot shorter than him. There's no point worrying about the things you can't control bobby
Bobby
said on 3/Oct/17
They both tower Rob here, it's a wonder that Rob still has confidence even though he's shorter than a lot of the celebrities he meets.
Editor Rob:
If standing beside taller people bothered me in the slightest, I certainly wouldn't be putting hundreds of photos of myself with taller people up on a website 😱 😎

Or in 99% of the cases paying money to be photographed with taller people 😀
Christian-6'5 3/8
said on 1/Oct/17
If Glenn's 5'8", then Rob's 5'2" lmao.
Editor Rob: the guy above is an example of an honest Glenn, one who is close to the height he told me :)
S.J.H
said on 13/Jun/17
I think Daniel standing position was slightly closer to camera than rob plus 0.5 more shoes. He might be more like a solid 188cm barefoot claim 191cm with shoes and Glenn Loovens also had like 0.4-0.5 more shoe and standing ground look higher than rob. Loovens is about 186-187cm over 6'1 but under 6'2
World Citizen
said on 31/May/17
Why in the hell they will listing a legit 6 ft 2 guy as 5 ft 8?
Unbelievable..
Yes yes
said on 27/Feb/17
Is Lustig 191? Wow, didn't think of him as that tall. But I'm not into football that much anymore...
It even says he's as "low" as 189 on Google but I also think he's in the 6'3" range. Will you give him a page anytime soon? :)
Btw, fun fact: The name "Lustig" is also a word here in Sweden to describe someone as weird or suspicious...
Editor Rob: there's simply too many sports stars to give them all a page without impacting the site.

Yes yes
said on 26/Feb/17
How tall do you think Mikael Lustig is? He listed listed as 190 here in Sweden.
Editor Rob: he probably is 191, no less...taller than daniel for certain.
berta
said on 19/Jan/17
one friend of mine who is 185 have a photo on facebook with daniel and there was 3-4 cm beetween them 189 is a good guess
Rampage(-_-_-)Clover
said on 28/May/16
Rob, does that make Loovens 186-187cm?
Editor Rob: there was barely anything between those guys up close.

berta
said on 27/May/16
a guy i now who is 185 have meet Daniel and had a photo with him. It looked to be 4 cm betwwen them so i guess this i good listing. Not shorter. but not taller than at most 190
joe 192cm
said on 9/Feb/15
he is 189-190
Roman
said on 12/Dec/12
Rob, how tall are you?
[Editor Rob: 5ft 8]
Nick
said on 17/Sep/12
@Nigel you should check this
Click Here
pic more carefully the guy next to Majstorovic is 181cm hence he can't be 191cm and not even close to it. Period.
Nigel
said on 9/Aug/12
Nick,for the love of god, does the height difference between Rob and Daniel look only 11 cm or 4,5 inches?? if you look at the picture you can clearly see that daniel is at the very least 15 cm- 6 inches taller than rob, should he stand with his feet closed the height difference would be 17-18 cm which makes him 190-191 not 184!!!
Nick
said on 8/Aug/12
and again if you see only 5cm difference between Isaksson and Ibrahimovic you must have serious issues check this one out
Click Here
Nick
said on 8/Aug/12
here comes the facts and truth ;) this picture has way better perspective and all the players are in line, same footwear as well, number 9 Kim Källstrí¶m on Majstorovic left is listed at 181cm hence Daniel M. can't certainly be over 184cm also Ibrahimovic looks in the 191/2cm range as expected on Majstorovic right.
Click Here
Hob
said on 28/Jul/12
seriously daniel look nothing more than 190cm. i would rule 189.5cm a solid 6'2.5 guy and looven 6'2 no problem.
berta
said on 6/Jun/12
i was looking at some interviews on zlatan and in one of them
Click Here
reporter says that he is 194.... at around 45s.....heheh :)
rudebhoy
said on 21/Jan/12
Be interested if you get next to Victor Wanyama,listed as 6-2 but looks about 6ft..maybe coz hes quite broad. Most footballers seem to add a couple of inches, Joey Barton tweeted hes 5-11 recently tho listed as 5-9. I tend to believe the listed height!
Jack
said on 16/Jan/12
Haha how the hell did they list him at 5'8"? It's ridiculous...they stole him the whole 6 inches.
Swedish Guy
said on 11/Jan/12
Have met Daniel, he is easily 191 cm if not more.
ANDREA[ITA]
said on 18/Dec/11
Rob, sorry if i ask you again but if you had to list Ibrahimovic, would you list him at 6'5? He claimed 197 in an interview, but he was listed at 192,193,194,195! If you see some football matches, he towers other players most of the time! You think that a 192 guess would be too low for him?
[Editor Rob: possibly 6ft 4.5-5 is likely as on the pitch he does look in that range.]
Tman
said on 10/Nov/11
Rob he looks like one of those guys that hardly ever smile(Daniel) and 1,91m for him is a morning measurement because that when most medicals are done so 1,89m for him during the day!
Hansen
said on 2/Sep/11
Daniel had weaker stance on rob. 189 above but if standing tall here he might be 190.5-191 then by minus off 0.5in shoe advantage he did be a strong 189cm or fraction over. weak 6ft3.
A
said on 26/Aug/11
Manace 195cm, AMH? LOL you are a joke.
ANDREA[ITA]
said on 26/Aug/11
Rob do you think ibrahimovic could be 197 like he claimed? Imo hes very tall but 197 seems a bit exagerated! Hat height would you list him? Next to 189 daniel he looks 194-195! What do you think?
[Editor Rob: 6ft 5.5? It's not impossible for him, but I think 6ft 5 is a safe bet.]
Menace 195cm
said on 25/Aug/11
Resonably, 191cm is slightly less than an Alpha Male height (AMH), imo 195cm aka around 6'4-5 is the best height for men and it grants you the most innate authority.
ANDREA[ITA]
said on 12/Aug/11
He looks 190 with robb! Lets take off 1 cm of shoes difference and he's 189! Can he be 189, rob?
[Editor Rob: yes it's possible]
ANDREA[ITA]
said on 9/Aug/11
Ok! Sorry rob! You're right! My mistake! He claimed 197. Do you think he's that height? Here in italy there was a spot with zlatan and hugh laurie! Hugh laurie was only 2 inches smaller than him. That would make him 194 at best! What so you think?
[Editor Rob: I saw that clip, it could have been between 2 and 3, but didn't look any more than it.]
Shaun
said on 8/Aug/11
Both look as they claim, could buy 6'3.5" for Daniel. Pretty intimidating looking with his bald guy too,,,
Kian
said on 8/Aug/11
6ft3 to 6ft4 looks right maybe 6ft4.5
ANDREA[ITA]
said on 8/Aug/11
Yeah! Rob how can you say ibrahimovic is 6ft3? He looks almost 5 inches taller than cristiano ronaldo in some photos and you listed him at 187! In an italian interview they asked him how tall he is, he said to be 197 cm! Now i dunno if he really is that height but he surely is no less than 195!
[Editor Rob: Zlatan is in the 6ft 5 range, I don't think I said 6ft 3 for him anywhere!]
Clay
said on 7/Aug/11
Dude on left looks 6'3.5, dude on right looks 6'2.5-6'3.
Mathew
said on 6/Aug/11
Big T says on 3/Aug/11
Rob, you seem pretty sure Daniel is not 6'3" and the pics with other players show the same...so why list him at 6'3"?
I think he looks 6'3" here.
[Editor Rob: i'd asked him so thought I should list his claim, if I didn't ask him I'd say 189cm.

But it's interesting to see other guesses, considering how tall he looks against zlatan, which is under six three.

It's like loovens, I seen him with six six guy and he was 4 inch smaller...funny, he said six two and looked it. Both players have near half inch footwear advantage.]
Helga
said on 6/Aug/11
Here we have two very tall men. These guys fall into the category that I would view as ideal. They're both undeniably tall men, but not too tall.
Mamun
said on 5/Aug/11
ROB , are these the first pictures you have sent to this site that shows you and the celeb " head to Toe " ?
Regards
SUPERMUN
[Editor Rob: there was one with kiran shah, but most photos I get at the photoshoots which the photographers never really do head toe shots. ]
Big T
said on 3/Aug/11
Rob, you seem pretty sure Daniel is not 6'3" and the pics with other players show the same...so why list him at 6'3"?
Auga
said on 3/Aug/11
In the photo he does look the same as the one Rob had poste with 6 inch difference. It's more realistic he is 6'2" or 6'2.5" than 6'3.2", do you agree Rob?
[Editor Rob: well I asked him and he said 191, so in a way he could be that...maybe in the morning.

he did not look 192 (because of 1cm footwear advantage if he is 191 he should look that). Yes, I posted those photos to show it is very possible for 5ft 8 people to come up to the nose of 188cm people in pictures taken portrait with that camera.]
USYD
said on 3/Aug/11
191cm is fine. Absolutely believable. I thought he was 6'4", but 191cm-192cm seems closer to the truth.
5'8.76784
said on 2/Aug/11
I think Dani looks a hair over 6'3, but Glenn is exactly 6'2 flat.
Eli
said on 2/Aug/11
he used to play for a greek team b4.I wouldnt say he's a great defender though.Next to olof melberg(left Top on the pic the first guy added)who is 184 he looks about 3-4 cm taller.6-2 might do it.He does look 6ft2 next to Rob too.Rob what do you think?
J.J.
said on 2/Aug/11
Looks 6'2"
Vegas
said on 2/Aug/11
not sure how people are claiming dani looks 6'5 there with rob, he looks roughly the same height as brandon routh next to rob
Gunborg
said on 2/Aug/11
Even if Zlatan is as tall as 196cm, look at the link Rob provided showing Zlatan and Daniel both standing upright for the anthem and there being at least 8 or 9cm difference.
He looks 188cm.
Hansen
said on 2/Aug/11
glenn is no under 6ft2. maybe a fraction under that. for daniel height it goes accurate.
Rikashiku
said on 2/Aug/11
They both look about 6'3"
ikbob 17, 5-7
said on 1/Aug/11
@Editor Rob
I frequently see listings of around 195cm for Zlatan, but looking at the pictures you posted it seems Zlatan can even be in the 196-198 range! What's your opinion Rob?
[Editor Rob: I think Zlatan is in the 6ft 5 range
]
avi
said on 1/Aug/11
Rob, maybe Loovens was 5'10-5'11 at 19 and shot up 2 inches? even i grew an inch at 19 and i'm not Dutch. We all know Dutch people get tall due to all the food they ate there probably filled with hormones and other nonsense. he looks 6'1 1/2 like it says on wikP. As for Danielhe looks 6'3 he has 6 3/4 inches on you maybe even 7 but no more.
Mathew
said on 1/Aug/11
The other guy does look a legit 6'2" as well.
Boogee
said on 1/Aug/11
Rob, are you kidding?? That guy looks 6'5" minimum beside you.
James
said on 1/Aug/11
rob i agree that daniel looks 191cm in the photo and i know he has slightl footware but still his legs are spread further apart then yours and he is not standing with as good posture as you.
He looks like he could be 6'3.5 (192cm) if he stood better in the photo with you.... then again with Zlatan does not look over 6'3.
Alex
said on 1/Aug/11
The guy on the right looks more 6'4-6'5 with Rob.
berta
said on 1/Aug/11
I have heard that zlatan is 192 but in those fotos he lokes mutch bigger than daniel.........194? He cant be that tall, rob how tall would you say zlatan is i think he lokes like a 192 guy but i can be wrong
[Editor Rob: if Dani is 191 Zlatan really can't be just 195cm, although nobody believes Zlatan was 6ft 6.5 range, that's the height of the swedish goalkeeper.]
Mathew
said on 1/Aug/11
Looks 191 cm here.
rob89
said on 1/Aug/11
And by the way, LOL at the 5'8" - 5'10" listings for the Glenn guy, if any of those were true Rob would be between 5'2" - 5'4"! I took a quick look on google just now to check his height, and his listings are really all over the place, from 5'8", 5'9", 177 cm, 5'10", 6' even, 6'1", 187 cm and all the way to 6'2"! Shows how unreliable height listings in football (or soccer if you want to call it that) can be. Anyway i think the 187 cm figure is the most accurate one for him judging by Rob's pic.
[Editor Rob: maybe they got mixed up with another '5ft 8 Glenn'...nah, all Glenn's don't fib about their height! Unsurprisingly I thought Loovens looked what he said....Dani is one of a select few people who has ever said metric to me, so he can have his 191 ;)]
rob89
said on 1/Aug/11
the guy on the left looks 6'2" - 6'2.5", while the other guy looks 6'1.5" -6'2" IMO.
Hullywood
said on 1/Aug/11
the left guy is 1.93m or little taller. Nearly a full head taller and just 1.91m? No Rob, youre not small for a man, but this guy is cleary taller, so he ist more then 1.91m.
Nick
said on 1/Aug/11
:) lol, if this guy is 191cm Ibrahimovich who is always been listed 191/2cm
Click Here
must be at least 198 or 200cm which is impossible hence Daniel is no more than 180/183cm.
Alex V.
said on 1/Aug/11
Zlatan Ibrahimovich is 195cm and Andreas Isaksson, the Goalkeeper is 199cm.
James
said on 1/Aug/11
Zlatan looks a solid 6'5