Daryl Hall's Height
6ft 1 (185.4 cm)
American singer, known for being one-half of Hall & Oates.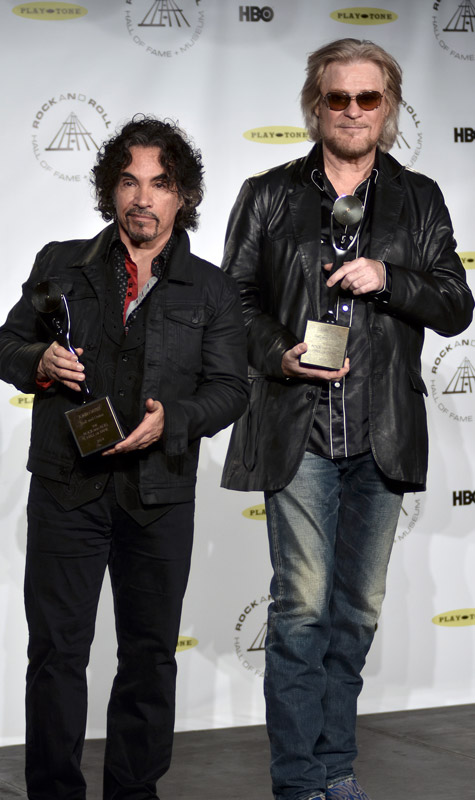 Add a Comment
40 comments
Average Guess (10 Votes)
6ft 1.6in (186.9cm)
stuart184
said on 5/Dec/19
Rob, 6'2" peak is possible? he seems huge next to Oates in some old photos almost a foot taller, i see Hall taller than 6'1" even today looks 186.
Rampage(-_-_-)Clover
said on 15/Nov/19
Still head and shoulders above John in those photos
69eye
said on 11/Oct/19
peak 6'2"
now 6'1"
he looked taller than 6'1 in his prime
in some videos like out of touch look almost 6'3
Rampage(-_-_-)Clover
said on 22/Sep/19
Still looks 6ft1 range next to John in the photo so 186-187cm range peak is possible I think
Rose Marie Kimble
said on 21/Jul/18
I agree I believe he's taller than 6'1 at least 6'1 1/2 or 6'2 but all in all I'm glad he pursued music instead of sports the world would have been deprived of the GREATEST DUO MUSICIANS of all time. 😊😊😊😊😊😊😊😊😊
Rampage(-_-_-)Clover
said on 16/Apr/17
Today he looks around 6ft1 so probably a bit taller than this in his prime. Not sure about a full 6ft2 but 6ft1½ I wouldn't dispute...
Joe
said on 7/Mar/17
You've changed Rick Springfield's height to 6'1.5" which is commendable. But when are you going to change Daryl Hall's height? He's certainly taller than the listed 6'1". He looks 6'1.5" in several pictures even today. Sure he's wearing thick boots all the time but that still makes him 6'1" to this day. He's 70 now and it seems he's still 6'1". He was at least 186-87 cm in his late 30s when Hall and Oates became popular. Please Rob answer me, what do you think about his height?
Rampage(-_-_-)Clover
said on 9/Feb/17
He was referred to as 6ft2 in the 80's. I thought he could look it at times. Certainly looked a bit taller than 6ft1 flat.
"Peak Height was 6ft 1½in (186.69cm)"
Still around 6ft1 today.
Sandy Cowell
said on 9/Feb/17
Ah yes! The big one of the 'Hall and Oats' duo!
I just read some of the comments below and I too was fooled into thinking Daryl was taller than his 6ft1 - by a couple of inches at least!
I wonder how many people know that one of their biggest hits was, in fact, penned by Mike Oldfield?
Shredder
said on 18/Nov/16
Still taller than Obama . 6'2 peak easily for Hall.
Joe
said on 21/Aug/16
6'2" peak. 6'1" is too low. He looks 6'1.5" even today.
Joe
said on 25/Jul/16
@Alucard I doubt he ever was 6 feet without his boots. He could look more than a full head taller than John at times. This man isn't shorter than 6'1". He was probably 187-188 cm peak.
Alucard
said on 22/Mar/16
Hard to say for sure, he did always wear boots/cowboy boots since back in the days... Probably around 6' without the boost... Legend and one of the greatest singer/musician of all time...
Rampage(-_-_-)Clover
said on 3/Feb/16
Click Here
He actually does look taller than Obama
Charlie
said on 31/Jan/16
These guys looked very tall in their day for one they both worse cowboy boots that would bring them up a few inches more. so John Oates listed at 5 foot 5 inches now i don't know if that is his height now or when he first came on the scene. If its in his prime then with boots he would appear 5 foot 8 inches which is average height for men in USA. Daryl is listed as 6 foot 1 that i do believe to be true so wearing cowboy boots in his prime he would closer t 6 foot 4 inches. very possible. He did look extra tall in his videos. Fact is these two guys made great music together
JB
said on 2/Apr/15
He's 6'2" He's taller than Obama.
Rampage(-_-_-)Clover
said on 26/Nov/14
I used to think this guy was a giant, like 6ft5 and John Oates was just average height
Sam
said on 11/Sep/14
Looked closer to six foot even recently at Rock 'n' Roll Hall of Fame next to ?uestlove, who I believe is 6'1.5" range. Although I've never either one in person, another Philadelphian I know claim ?uestlove is taller, like 6'3", but I don't believe that.
Rampage(-_-_-)Clover
said on 4/Jan/14
Rob, could 6ft1.5 be closer, peak at least?
Zane
said on 20/Nov/12
6 foot 2 easy peasy lemon squeazy ..
Rampage(-_-_-)Clover
said on 16/Aug/12
Seems more like an underestimated 6ft2 guy. Just like Rick Springfield
castillo
said on 16/Aug/11
i agree - taller than 6'1" at peak. Easy to underrate as John Oates was and is so small. I think, looking at vids from mid 80s, at least 6'2" at peak. He's Dutch!
Rampage(-_-_-)Clover
said on 6/Jul/11
Nearer 6ft2...
John Oates is about 5ft4
Victor
said on 18/Jun/11
Daryl is 188 cm nowadays.
Rampage(-_-_-)Clover
said on 25/Apr/11
He's 187cm...6"1 flat or 185cm is too low
AJ
said on 20/Mar/11
Yes. That is correct.
Hugh
said on 29/Nov/08
Surely he was 6ft2 in his prime?
Hugh
said on 18/Sep/08
More 6ft1.5/6ft2.
Tony
said on 5/Sep/08
I saw Hall & Oates in concert 2002. The reason why Daryl looks so tall is because John is so short. 6 ft 1 in ( 185 cm ) sounds about right.
glenn
said on 19/Jan/08
yeah,he is giant.6-3 possible.but that is the footwear i think.
castillo
said on 18/Jan/08
I was just looking at recent H&O pics on their website and unless he's playing a miniature guitar Hall has got to be well over 6' even now in his late 50s. I'd say 6'2" at least.
Cale
said on 26/Oct/07
this dude always looked 6'4 to me......but then he was always standing next to Oates ! lol
sf
said on 14/Jul/07
yea with his special lifts on!
glenn
said on 13/Jul/07
saw john oats last night.he was still 5-4.
Brad
said on 18/Aug/06
I knew one guy who hated Hall & Oates and asked Hall how his baby was doing. "I don't have a kid". He pulled out an A.P. article about some lady winning some paternity suit on him and he went wild. Hilarious. I knew another guy who phoned up Mrs. Ted Nugent on a radio show and asked her about Ted's kid with some woman in New Hampshire. "What?" "Just hit google and Ted Nugent paternity etc.". Oh brother was she mad. It was true and her book became a farce.
Glenn
said on 30/Mar/06
Yeah,he was 6-3 in boots.
J-Dog
said on 30/Mar/06
Gezz maybe its the image but he looks larger than 6'1".
Glenn
said on 19/Mar/06
He is wearing boots.I remembered him at 5-11, 15 years ago.boy was I wrong!
Sakanna
said on 18/Mar/06
Hi Glenn!
6'1"? Based on your pic, he seems to be a little taller than that... giving the fact that you're 5'8".
Anonymous
said on 18/Mar/06
I thought he was like 6'3"/5'4". Maybe he shrunk due to age.