David Byrne's Height
6ft 0 (182.9 cm)
Scottish-American singer from Talking Heads.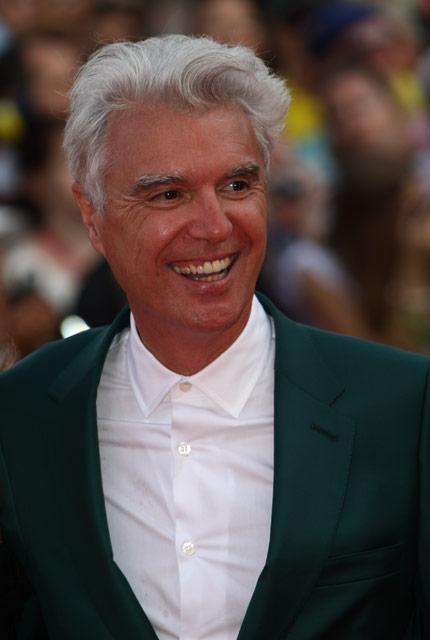 Photo by LivePict.com [
CC BY-SA 3.0
]
via Wikimedia Commons
Add a Comment
27 comments
Average Guess (25 Votes)
6ft 0.77in (184.8cm)
Miss Sandy Cowell
said on 24/Aug/19
...and here we have David Byrne!
What an original genius! The band was originally entitled 'The Autistics'. When you think of their retentative memories, I hardly see it as an insult.
Defo 6ft!
Pinetar
said on 19/May/18
Well, that explains it then. Goodman was wearing 4" heels in True Stories.
JRM
said on 10/May/18
@diavolo and @Pinetar - David definitely doesn't need downgrading. Someone I know met him last year. She is 5ft 11 and they were both wearing flat shoes. She said David was an inch or so taller than her. The drummer of Talking Heads Chris Frantz is 5ft 8 and David always towered above him. Jerry Harrison from Talking Heads is 5ft 11 and David is taller than him on every photo as well.
diavolo
said on 1/Apr/18
He needs a serious downgrading. Looked about 5'9" or 5'10" in True Stories.
Pinetar
said on 9/Mar/18
Take a look at David standing next to 6'2" John Goodman in True Stories in the fashion show scene. Unless John is wearing some bodacious bootheels, David is about 5'9"-5'10". Whatever his height, DB is an amazing man.
Rampage(-_-_-)Clover
said on 25/Sep/17
184cm zone peak is possible.
JRM
said on 15/Jul/17
Someone I know met David recently. That person stands at 5ft 11 and they said David was an inch or so taller.
Giorgi
said on 14/Mar/17
Rob, how tall do you think Weymouth and Frantz were?
Editor Rob: not really looked at them at all.
JRM
said on 28/Feb/17
David is definitely taller than 5ft 9 or 5ft 10. He looks about an inch to an inch and a half taller than Jerry Harrison who is 5ft 11.
Damian
said on 8/Feb/17
Looked about four or five inches shorter than John Goodman in True Stories. Based on that film, I'd guess him at around the 5'9-5'10 range, though one whom can appear taller due to his lanky build.
Sandy Cowell
said on 25/Oct/16
'Talking Heads'- one of the most original and entertaining bands ever and that is thanks to David Byrne's showmanship! Any fan will remember his enormous stage suit in the video for 'Road to Nowhere'and the fact that Byrne drowned in it did nothing to deceive me that he might be shorter!
He did an excellent collaboration with Brian Eno called 'My Life in the Bush of Ghosts'. It is weird and wonderful and I've had to buy it three times over the years for some reason or other!
It wouldn't surprise me if he's a wee bit shorter now, maybe half an inch, but he is still in the region of 6ft.
Rampage(-_-_-)Clover
said on 26/Apr/16
He's tall looking 6ft guy, if that makes sense....
JRM
said on 15/Mar/16
Updated info... David confirmed his height again in the 90s and he said 6ft. That seems right for him. He definitely looks tall.
JRM
said on 25/Aug/15
I read a profile of David from 1988 which was handwritten by him and he lists his height as 5ft 10
Sam
said on 3/Apr/15
Looks less than listing later on with Lou Reed I think, maybe edging closer to 5'11" with age.
Click Here
Click Here
Rampage(-_-_-)Clover
said on 4/Sep/13
Talking Heads are awesome and this guy is in a league of his own.
"David Byrne's height is 6ft 0.5in (184cm)"
He can look 6ft2-3 because of his build.
MaskDeMasque
said on 14/Oct/12
yeh i'd say 6'. He's a mad genius.
Jake: 1.82 m-- 1.83 m-- 1.84 m
said on 30/Aug/12
His build could make him appear 6ft 1.
Sam
said on 7/Dec/11
Nope, he's taller than average but not way taller than 6 feet
ben
said on 16/Nov/11
David Byrne is way taller than 6ft 0in
Hugh
said on 30/Nov/08
I think he could be more if he sorted out his posture.
Anonymous
said on 25/Jun/08
Hmmm. . . He always looked taller to me, around 6'2"
Anonymous
said on 23/Jan/08
from thr pic hes 6'1'' mot even standing straight
James
said on 20/Sep/07
Wow seriously? This guy always looked atleast 6'2 to me. But judging from that photo he is around 6'0....hm.
Anthony
said on 8/Nov/06
I always smile when I see David Byrne. He seems like a very quirky, friendly, funny and intelligent guy. And definitely 6'.
Elio
said on 2/May/06
6'0" looks about right from that photo.
Editor Rob
said on 2/May/06
Glenn and byrne.