David Walton's Height
6ft 4 ¼ (193.7 cm)
American actor, known for playing Will in TV series About a Boy and Sam in New Girl. He describes himself as
"6'4"
.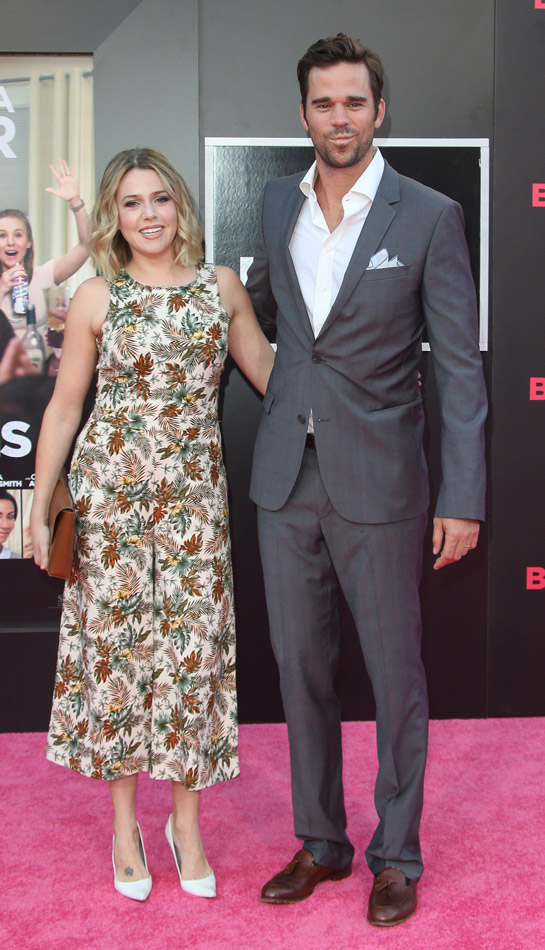 Add a Comment
14 comments
Average Guess (12 Votes)
6ft 4.02in (193.1cm)
Miss Sandy Cowell
said on 14/Oct/20
So David actually rounds down by a quarter-inch; well, I suppose he can afford to with his height!
6ft4.25 🙂👌
Chris Junior Hernandez 1990
said on 26/Aug/19
Downplay a 1/2 is very normal for taller actors, they need a better role to get into it. On the taller choice finding actors who will hired a 6'4 1/2-6'5 to be a lead actor rather than choosing over a decent 6'3-6'4 guy?
Nik Ashton
said on 24/Aug/19
It's interesting that he describes himself as 6'4"!
Arch Stanton
said on 22/Aug/19
Don't know who the vast majority of these celebs are the days but then I don't binge watch lots of TV series like a lot of people do! Height can be a strange thing, looking at him above never in a million years would I guess him to be the same height in shoes as Howard Stern barefoot!! Now a guy like Mamoa in photos typically looks like a big 6'5 in shoes but can't see it with this guy.
Paul NS (6ft 0.5)
said on 21/Aug/19
He towered Elliott Gould on 9JKL (who admittedly sometimes looks barely 6ft these days). He's much taller than I initially thought. Wouldn't have doubted 6'4 1/2
Rampage(-_-_-)Clover
said on 21/Aug/19
Does look a very strong 6ft4
Yang (5 footer 8, 172-173)
said on 21/Aug/19
6ft 4 for sure... almost same height with My gay husband named Robert(shared the same name with you but different middle names) whose height is also 6ft 4 as well.... But My gay husband treats me like I am a women and girl with 5ft 8 tall height somehow plus he is more interested in shorter men than tall men!!!! ANYWAYS, THIS LISTING MAKES SENSE FOR ME BASED ON WHAT I SEE....
Canson
said on 20/Aug/19
@Rob: I used to claim 6'4.5 before I knew I dipped lower than 6'4 3/8 and after I played ball I would just list myself 6'4". Once you get To a point there's no need
Chris Junior Hernandez 1990
said on 20/Aug/19
Click Here
Massive 4" looking differences due to head tilt up illusion.
Click Here
David had strictly 1.25-1.5cm less footwear than Sisto.
Click Here
David footwear look lesser than 2cm.
Click Here
Solid 2.5" between them here is a better comparison
Click Here
3cm taller than legit 191cm Hayes MacArthur, both have same flat style shoes.
Click Here
Shoulder and head can be seen it's a strong 3cm between strong 191cm Hayes and David. Even look like a chance David is touching 6'4 5/8 (194.5).
David is not shorter than someone like Ryan McPartlin met by 5'8 1/8 editor Rob. 6'4 1/2 is the lowest he look.
K.A 188 !
said on 20/Aug/19
Looks as listed
Littlelee5ft6
said on 20/Aug/19
He looks like a very tall ryan pinkston. But then again Ryan's only 5ft 4. Yeah I can believe 6ft 4 for this guy
Importer
said on 19/Aug/19
He looks at least 6'4"
Chris Junior Hernandez 1990
said on 19/Aug/19
Couldn't look under 6'4 1/2 with 6'1 1/2 Jeremy Sisto. Btw its a great adding of him to this site Rob!

Editor Rob
6ft 4.5 isn't out the question...if you sit near that, as an actor, some would round up to 6ft 5, others might round to 6ft 4 (if they didn't like giving half inches).
Dream
said on 18/Aug/19
Looks it with his wife!