Dean Gaffney's Height
5ft 5 (165.1 cm)
British Actor best known for playing Robbie Jackson in soap Eastenders. Said in 1998 he was
"only 5ft 5ins"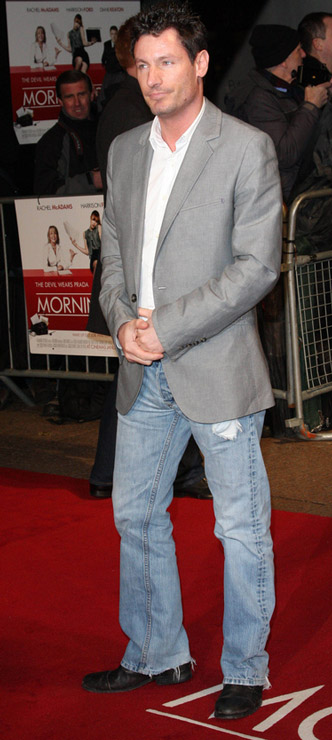 Photo by PR Photos
Add a Comment
21 comments
Average Guess (15 Votes)
5ft 5.55in (166.5cm)
Leesheff85
said on 8/Apr/21
He says he's 5ft 5 though and I belive him. Michael might have started shrinking at his age
Parker
said on 27/Feb/21
Really doesn't look an inch shorter than 5'6 listed Michael Le Vell
Click Here
Parker
said on 27/Feb/21
Minimum 5'6 IMO. Look at the pic with 5'8.5 Ryan Thomas CD posted July 2015.
Must have been measured at 5'5 in the evening with very loose posture if he claims 5'5
Caruso Victor
said on 16/Jun/19
He is a short guy. You can see that when he stands next to others in the Eastenders cast. He looks a good 6 inches shorter than 5'11 Scott Maslen
Sandy Cowell
said on 31/Jan/19
Do you think, Rob, that he could have been told a lower height by someone who was jealous of his success? I reckon he looks at least 5ft7.

Editor Rob
I don't know about 5ft 7, but I can see how 5ft 6 is a height he might look. He is a guy I notice
Does a bit of tip toeing
in photos with people.
Nik
said on 27/Jan/19
I think he is very honest! He does sometimes look taller to me!
Sandy Cowell
said on 2/Feb/17
I never thought Dean's height to be quite this low. I'd have said 5ft6.5 or more.
It didn't stand in his way of fathering twins though, did it?
I liked Robbie's relationship with his Alsasian 'Wellard' - and I was genuinely upset when he had to be put down because he was ill.
I shall guess Dean's height as 5ft5.75, the contributing factors for this including some of the comments I have just read and, of course, my own assumption.
Alex
said on 5/Oct/16
Could've grown in height since 1998 as he was quite young then, seemed an inch or two taller than Jack Ryder in Eastenders sometimes
Parker
said on 5/Jul/16
He's taller than 5'5. Must be one of the few celebs that actually downgrades his height.
CD
said on 11/Jul/15
To be fair I think he is potentially 5ft 5.5 range and rounds down. Here he is with Ryan Thomas who is 5ft 9ish from what I've seen.
Click Here
Gaz
said on 9/Jul/15
wow never thought he was 5'5 lol always thought he was an average guy
cd
said on 4/Oct/14
Legit Michael Le Vell is not over 5ft 6in based on this shot where he looks no more than an inch taller than Gaffney who is 5ft 5.
Click Here
Strangely Gaffney can pass as a 5ft 7-8 range guy, even though he isn't that well proportioned (short legs, longer torso like Scott Caan).
Arch Stanton
said on 17/Feb/13
Click Here
Yeah he's got a notorious reputation with women, he always looked a sleazy guy. Maybe it was his jawline and wallet they were attracted do. He always reminded me of Eugene Victor Tooms from the X Files played by Doug Hutchinson.
Arch Stanton
said on 17/Feb/13
I once read 5 ft 8 for him!! I knew that was false!! Yeah, he looked 5'5"-5'6" in Eastenders. Not sure how he got so many ladies though, it's not as if he has M J Fox's face at that height....
Josephine
said on 12/Jul/08
I thought he was taller. Maybe because he doesn't have the typical short man body, like Jason Alexander does.
Aimie
said on 31/May/08
He is pretty good looking and has a slender/ proportionate looking body.
Greg
said on 8/Feb/08
hows this guy on this site? =D

Editor Rob
cos he gave an honest height, I honor him with the tag of celebrity! Gives his ego a boost whilst working down at Tesco's...
mofo
said on 7/Oct/07
Mr rob roooooob how can you put riiiiicky at only 5ft5!
Shame on you mr rob shame shame!
he said he was 6ft5 lol!
Not the sarcasm!
David
said on 20/May/07
He's certainly taller than 5-5, I'd agree with Mitch @ 5-7
Mitch
said on 7/Mar/07
I thought he was like 5ft 7in.
Robert.R
said on 2/Mar/07
I am amazed, I always assumed he was taller than 165cm.