Debra Messing's Height
5ft 7 (170.2 cm)
American actress best known for her roles in TV series such as Will & Grace, Smash and The Mysteries of Laura. On twitter, she once mentioned her height, saying
"I'm 5'7 1/2"
.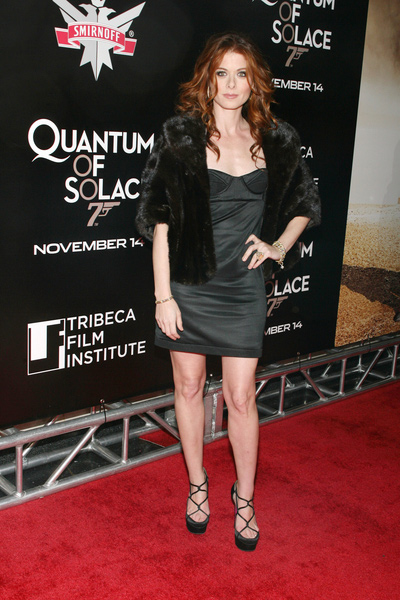 Photos by PR Photos
Add a Comment
48 comments
Average Guess (10 Votes)
5ft 7.05in (170.3cm)
Miss Sandy Cowell
said on 15/Aug/20
🎁🎂💐🎊 Happy Birthday Debra! 🎊💐🎂🎁
Wishing Debra Messing a Very Happy 52nd Birthday.
5ft7 👩👍
🎁🎂💐🎊🎁🎂💐🎊🎁🎂💐🎊🎁🎂💐🎊
Iman Ahmad
said on 16/Sep/19
I Guess She Is 170,2 cm Barefoot , She Has 170,2 cm Body , A Lovely Woman ,
Miss Sandy Cowell
said on 15/Aug/19
🕯️🎂🎈 Happy Birthday Debra! 🎈🎂🕯️
Debra Messing turns 51 years old today. Happy Birthday to her! 😁💐
5ft7.
🕯️🎂🎈🎁🕯️🎂🎈🎁🕯️🎂🎈🎁🕯️🎂🎈🎁
Miss Sandy Cowell
said on 2/Jul/19
I am watching Debra on the Ellen DeGeneres show right now. She is dressed in an electric blue trouser suit, and the first thing that struck me was how tall she is! Clever dressing? Who needs that when you're 5ft7?
Lepn
said on 24/Feb/19
Debra Messing even today she is the sexiest woman around
Mark Munro
said on 16/Jun/18
Debra is a great actor and I hope for her sake that she has received her dues. I guess that her character is very similar to person in the role she played in Wedding Date.
ArjunaKorale
said on 22/Dec/17
Funny girls are so sexy, aren't they? And when we are talking Debra, we are talking v, v sexy!I like her best in Will & Grace and in The Mysteries of Laura. I can see Debra being about 5 ft 7.5 " (171 cm) tall, just as she has stated. Do you guys not believe her claim?
Editor Rob: her claim isn't outrageous, I think on Mysteries of Laura she looked around 5ft 7 with Josh Lucas, that's the last thing I've seen her in.
Realist
said on 28/Sep/17
I guess 5'6 when I see people especially actresses and female musicians in person like Erykah Badu whose 4'11.8 I live in her home city she weighs like 100 lbs but yea most women are shorter than claim except tall women like Iggy Azalea who are 5'10 and Kelis at 5'10
tony t.
said on 15/Aug/17
Barely 5'7.
Jay
said on 27/Apr/15
5'7.5 seems right.
A
said on 11/Feb/15
Tom, exactly. I think NY's point is that Debra Messing isn't 5.7 or taller because she seemed average.
Tom
said on 20/Sep/14
NY I don't know how tall you like your women but 5.7 (1.70 m) is taller than average. Correct me if I'm wrong but the average woman is 5.5 (1.60)
NY
said on 8/Sep/14
Saw her from maybe 5 feet away about an hour ago as she was leaving Washington Square Park after shooting a scene for some WB TV show. I'm not good at telling how tall women are but she seemed average at best. Don't think she's over 5'7."
jfm
said on 17/Oct/12
I saw Deborah Messing in an ATM/Bank machine in New York City about 5 years ago. It was defintely her because a few peope nearby said hello to her and she seemed nice. I'm 6'3" and she was not even close to 5'8" tall. She stood behind me in line at the bank machine and I would put her at 5'4" or so, tops.
Bon
said on 7/Dec/10
I'd bet her true height is below 5'6, but wouldn't go below 5'5
Mr. R
said on 26/Mar/09
People mag had her at 5-7.
Sunita
said on 26/Nov/08
we met Debra at an event - she standing next to my busness partner in this pic -
Click Here
who's bought 5'3 wearing flats - now i dont remeber if Debra was wearing heels but looking at the pic she probably was though i doubt they were that high so I reckon she is definately atleast 5'6.. :)
Angela
said on 11/Aug/08
I was asked to be her photo double and I'm 5'7. They normally want people to be relatively close in height. So, she's probably at least 5'6.
Paul_pierce_4_ever
said on 1/Jul/08
I'll give her 5' 7, she probably has on huge shoes and a considerable pavement advantage. She looks this next to 5'10 Erick Mccormack
Click Here
Marc
said on 1/Jul/08
I was at Will & Grace's custom designers wedding and I was next to Debra in the dessert line. She was very beautiful, but no more than 5"5.
Victorian
said on 23/Jun/08
When she wasn't in heels and faced Megan Mullally (who always wore heels) on Will and Grace they were practically eye to eye, Mullally's poofy hair on the show might even give someone the impression that they were of the same height in that situation.
On many occasions, Messing (with heels) has looked to be 5-10ish, i.e. almost near the height of McCormack (in many cases in dress shoes).
On the Red Carpet show in 2007 (or 2006?) of the Academy Awards she and bystander Simon Cowell toward over Ryan Seacrest with at least three inches while being interviewed by hem.
This leads me to believe that the 5ft7.5 estimate should be quite close to the (or even be) actual height of hers.
The difference between Glenn and Messing isn't as usual as it looks (to me), even without a gutter. My nephew and niece are both 5ft7, but when in heels my niece is easily half a head taller.
Q
said on 20/Jun/08
Editor, maybe... However, I doubt it since the type of the wall (the wall meets the ground with a round sticking out section, visible on her LHS) indicates that there seem to be no pavement there.
Since my last post I have looked a few more pictures of this guy called Glenn and he indeed looks shorter than what is stated here. For example I noticed that both the guy called Glenn and other guy called Mamun got pictures with Micky Dolenz. According to these photos, Glenn looks shorter than Mamun and Mamun is stated to be 5'8".
Q
said on 20/Jun/08
Actually, thank you for bringing up shoulders, since the difference between her and his shoulders is over 5"....
The guy might have a bigger head and sloping shoulders, but this is counter-balanced by her much longer neck. There is no way that this guy is taller than her barefoot, as claimed here... On the contrary, I say he is, in fact, AT LEAST 1" shorter.
[Editor Rob: the pavement might slant towards the gutter giving glenn a disadvantage?]
lillee
said on 20/Jun/08
Face it Glenn, she does look alot taller than you and she is 5'8" barefoot
Adler
said on 20/Jun/08
If Roger Federer was shoulder to shoulder with you then he'd appear taller, as would Debra aswell.
Q
said on 19/Jun/08
She is already 2" taller than the guy on the photo (Glenn), despite fact that she is bending a lot. If she straightens up, the she would be about 3.5" to 4" taller than him.
Her barefoot height: 5'7.5" (according to this site)
Her Heels: 4" (approximately, on the higher side for the argument's sake)
Her height in heels: 5'11.5"
Since the height difference between her and him is at least 3.5", then
His height in shoes: 5'11.5" - 3.5" = 5'8"
His soles: 1" (average trainers)
Therefore, this guy's barefoot height is 5'7" (at the time this photo was taken).
His claimed height is 5'8". If one were to believe this, then her height should be 5'8.5" or 5'9". Therefore, either he is 1" shorter than he claims or her height on this site is wrong. BOTH CANNOT BE CORRECT!
Legumo
said on 19/Jun/08
looks real tall maybe 6'0+ with 2.5 heels then maybe she's 5.7.5 barefoot.
cantstop25
said on 18/Jun/08
even if she is wearing heels 5'7.5" is hard to beleive unless these are really big heels lke 5"
[Editor Rob: the heels can be seen, if glenn has 1 inch trainers I assume then she'd have 2.25-2.5 more footwear than him, possibly more towards 2.5.]
glenn
said on 18/Jun/08
thats correct rob.
GSP
said on 18/Jun/08
lol she looks taller next to Glenn than most people Glenn swears are 5'11(but are mot listed that high and even claim lower heights). Those must be some monster heels.
Lmeister
said on 18/Jun/08
Now we can see why 5ft7(and taller)women quite often think that they are a lot taller than a guy who is around 5ft8. A friend of mine who is around 5ft9 usually wears really hight heels I'm only 1 inch shorter than she, but in bars she towers over me, because of the shoes.
[Editor Rob: if this was time of those upfronts glenn's photo was taken, then 3.25-3.5 inch heels looks the type she is wearing]
rick
said on 18/Jun/08
i would agree with 5'7/5'8. next to eric mccormack (5'11) in will and grace he does have a few inches on her
Anonymous
said on 18/Jun/08
I actually just wondered what a picture of Debra Messing and Glenn would like together a few days ago. To tell the truth, I'm rather surprised. She looks much taller next to him than I expected. She does look to be pushing 5'11" here. But she must be wearing huge heels. She surely isn't anything above 5'8". I still say 5'7" is probably closer.
leonari
said on 18/Jun/08
I agree with Glenn.
glenn
said on 18/Jun/08
i rarely ask celebs how tall they are.
Realme2008
said on 18/Jun/08
Yeah, she looks about 5'7.5 in about everything she's in. She's probably wearing whopper heels, and that's why she's looking so much taller than Glenn in this picture, because she leaning in a lot.
anonymous
said on 17/Jun/08
did you ask her gleen how tall was she?
glenn
said on 17/Jun/08
seemed 5-8 at least.
bam
said on 17/Jun/08
glenn, is she standing on a step or something? She's a beautiful lady.
Paul_pierce_4_ever
said on 7/Jun/08
This is wrong I think she's like 5'6 or 5'6.5
here she is considerably shorter than terri hatcher, who Rob says might be a smidge under 5'6, there can't be that much difference in heels...
Click Here
Hollie
said on 11/Apr/08
She seems like one of those celebs that wants to be taller, so se says she's taller than she is and usually wears heels. Her body does not seem to look like a taller woman. I'd say standing up straight, she's 5 ft 6in at the most.
kikichanelconspiracy
said on 2/Jun/07
She's about the same height as 5'6 Miranda Otto in the Starter Wife.
E
said on 31/Dec/06
Dermot Mulroney towers over her in the Wedding Date, and he is supposed to only be 5-9.
Drew
said on 10/Sep/06
I'd say she's 5'6" judging by this picture especially:
Click Here
If she were almost 5'8", she'd look as tall as Sean Hayes, who's 5'11", but she looks a good three inches shorter. You can't see her footwear, but I doubt she's wearing flats.
Anonymous
said on 28/Jun/06
Right. Kerry Washington is 5'3-4" and in flats. Debra is in a heel. She is 5'5", 5'6" max.
Click Here
don
said on 15/May/06
she probably is 5'8 she was on seinfeld once, standing next to jerry seinfeld in 3 inch heels and she was as tall as him..and hes 5'11 apperantly
Suzy
said on 3/Jan/06
I would say she is between 5'7 or 5'7.5. I saw her today at the Barnes and Noble at the grove in L.A and with 2 inch heels i was 5'6 and she was a good inch taller than me.
CelebHeights Editor
said on 30/Aug/05
Star Magazine:
"Even though a show source says her "bones are popping out," 5-foot-7, 110-pound Debra sees herself in a totally different way."