Dennis Haysbert's Height
6ft 4 (193 cm)
Peak height was 6ft 4 ½ (194.3 cm)
American actor best known for playing President David Palmer on TV series 24 and Jonas Blane on The Unit. In film he has appeared in The Thirteenth Floor, Random Hearts, Mr. Baseball and Far From Heaven. On his imdbResume he listed his Weight as
"225 lbs"
.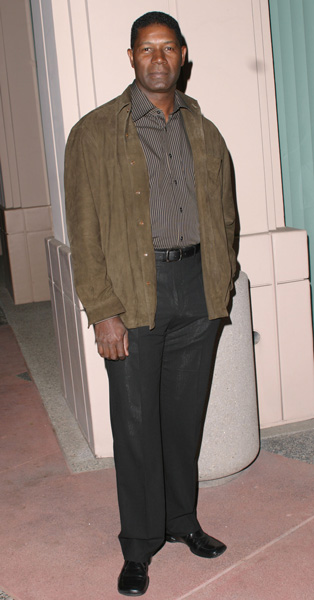 Photos by PR Photos
You May Be Interested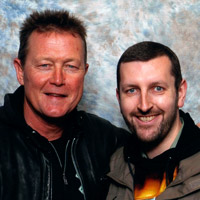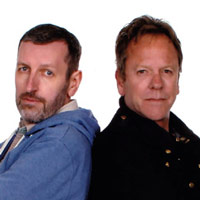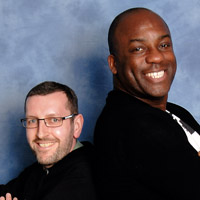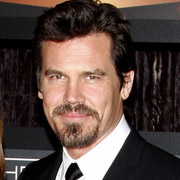 Add a Comment
54 comments
Average Guess (7 Votes)
Peak: 6ft 4.46in (194.2cm)
Current: 6ft 3.79in (192.5cm)
Canson
said on 3/Dec/19
Maybe 6'4.25 peak next to 6'3.5 Selleck and 6'5 out of bed but doubt higher.
Canson
said on 3/Dec/19
Maybe 6'4.25 peak and 6'5 out of bed
Canson
said on 25/Sep/19
@Sotiris: I think Haysbert when he stands straight can still get near 6'4" but I doubt he was any taller than 193-194 peak height. Had 2cm on Selleck in his prime
Canson
said on 19/Jun/18
I think he was closer to 6'4" all along as opposed to 6'4.5. He would measure 6'4.5 or close to it early morning however
Canson
said on 29/Apr/18
@Junior: he definitely looks 6'3" In that one picture that you posted. And it's not just in comparison to Salmon. He also only looks about 2" taller than Samuel L Jackson. But in my opinion, it has to do with his posture. He could look shorter than Boris Khodjoe by a hair at times as well.
Canson
said on 7/Feb/18
@Junior: peak for him like late 90s early 2000s in Love And Basketball he could be a good 6'4 still maybe even 193.5. Today tho it's hard to tell how tall he is. He drops height by having poor posture in pics at times
Junior Hernandez
said on 7/Feb/18
Maybe Haysbert losing more height than half inch since peak. Look 6'4 peak and i hardly see him over 191cm for the past few years. 7years ago he already look under 6'4 comparing to legit 6'4 Colin Salmon.
Click Here
:
Canson
said on 2/Dec/17
@Rob: i think his 6'4.5 claim comes from an earlier measurement in the day. He really doesn't look any taller than someone like Neeson or Goldblum would. Meaning maybe his low is above 6'4" but nothing substantial. More like 6'4 1/8 perhaps at a stretch 6'4 1/4 peak. He never looked what a real 6'4 1/2 at their lowest can look which is 6'5 to many people
Editor Rob: possibly lost a fraction.
Canson
said on 8/Oct/17
I can believe him being 6'4 peak but not Khdojoe
Canson
said on 15/Jun/17
He was a good 6'4 peak but 6'4.5 prob Morning height maybe hour after waking or two
184-182
said on 12/Jun/17
I have only seen this guy in the Allstate commercials up until I saw him in a TV drama (wish I remembered what it was)
Never knew that he was this tall though.
Canson
said on 31/Mar/17
Peak height would easily be 193-193.5 at his lowest. Nothing less than a solid 6'4". However 6'4.5 may have been Morning very early or a rounded number. He still looked a good solid 6'4" at his lowest in Love and basketball back in 2000. Maybe he's down to 6'3.5 today like SJH said
Canson
said on 5/Mar/17
I'd say a peak Haysbert may have been 6'4.25 at his lowest and today 6'3.75 at his lowest but would probably touch 6'5 out of bed peak height or 6'4 7/8.
josh jeffords
said on 5/Jan/17
Very good underrated actor awesome voice kinda like a bigger james earl jones..no not cuz hes black.
He looked 6 5 plus in heat but deniro is much less than billed also kilmer and like 6 9 in 24 with little kiefer.
Adam
said on 29/Jan/16
When you Google "Selleck Haysbert" there's a picture where Haysbert and Tom Selleck stand shoulder to shoulder and they seem to be exactly the same height. Selleck's huge head puts him right at the same height as Haysbert.
Canson
said on 11/Nov/15
In the picture with Khodjoe, haysbert is leaning a bit and his head is tilted. We also don't know who was wearing what in terms of footwear. Very possible Haysbert is still taller or that he lost a bit and is Khodjoe's height. Boris looks more 6'3-6'3.5 barefoot than 6'4 flat.
Canson
said on 11/Nov/15
To his credit, He may have lost some height these days. Maybe not quite 6'4.5 at peak but wouldn't rule it out as a morning height. He definitely looked every bit a solid 6'4 in Love and Basketball with Omar Epps who is 5'8-5'9 that's unless Epps isn't really the height he is billed.
Andrea
said on 4/Nov/15
My mistake, Boris Kodjoe... He makes him look a weak 6'3!
Rampage(-_-_-)Clover
said on 3/Nov/15
Boris Becker the tennis player?!
He's listed 187cm here
Andrea
said on 28/Oct/15
He actually looks a weak 6'3 next to REAL 6'4 Boris Becker, never looked as big as 6'4.5 in 24!
Rampage(-_-_-)Clover
said on 27/Oct/15
Rob, could 6ft4 flat today be closer?
[Editor Rob: today that might be what he is.]
Andrea
said on 23/Oct/15
Well, he was what when he shot 24? I'm in season 3 and he was like in his mid 40s there... Still, he never looks 6 inches taller than a Glenn Morshower, who looks 178-179...
I can believe he's lost a fraction by now because he's 61... Look at him with strong 6'4 Boris Kodjoe:
Click Here
He looks more 6'3 there!
Also, with 174 Carlos Bernard:
Click Here
Carlos holds his own next to him! How is that possible? Shouldn't a 5'8.5 guy look a lot shorter than a 6'4.5?
[Editor Rob: he can
Look taller
in some shots, but he may look not over 6ft 4 at times.]
Andrea
said on 22/Oct/15
Rob, do you really think he's a big 6'4.5? He seems quite tall and big in 24 but after seeing him with guys like Jude Ciccolella or Glenn Morshower it's hard to believe he's as tall as that at times! One thing, he's got quite a big head, doesn't he? Maybe that is deceiving and he can look shorter than that? Mmm...
[Editor Rob: he never really looked 6ft 5 to me, but I do think 6ft 4.5 was possible, at least in 80's and 90's...maybe through his 50's he did succumb to the small fraction of loss.]
Rampage(-_-_-)Clover
said on 21/Apr/15
He still looks this.
Bud
said on 1/Aug/14
The interesting thing about Haysbert is he works in an industry in which it is the NORM to add several inches to your height, or to measure yourself in shoes or heels. Dennis doesn't need to exaggerate because he doesn't pretend to be tall. He actually IS tall. He's just under six five - in socks.
Sam
said on 13/Mar/14
I remember when he was on Conan many years ago, since he looked slightly taller than Conan, he was asked his height and he stated "six four and a half".
matt678
said on 16/Dec/12
Hey Rob who do you think would be taller him or the late michael clarke duncan i ask because dennis is playing manute in the new sin city and duncan played him in the original.
[Editor Rob: clarke by time of his death could always have lost a small fraction, I think they probably were very close and maybe denis a hair taller]
Ajax
said on 15/Sep/12
Rob, do you think he's 6'4 3/4"? Because in Mr Baseball next to Tom Selleck, he did look about an inch taller than him?
LAN Jiao
said on 4/Nov/11
legit 6'4.
Cranberries
said on 30/May/11
Haysbert is definitely a legit 6'4.5" at the very least. So many people seem to forget that it's very common for taller actors to actually downgrade their heights, so they get more jobs (and not just as grunts). Hollywood is heightist, but in the opposite direction, for the most part favoring averageness.
Rampage(-_-_-)Clover
said on 26/May/11
Rob would this guy be taller than Liam Neeson?
[Editor Rob: I think he could edge him out]
Truthman
said on 23/May/11
Julius Erving and Dennis Haysbert
Click Here
Chameleon
said on 1/Apr/11
Yeah 6'4 1/2
Jay
said on 27/Mar/11
6'4 1/2 to me.
Viper
said on 22/Mar/11
he doesnt look 6-5. looks just 6-4
Anonomous
said on 21/Mar/11
On Conan, Dennis says, "I'm 6ft 4, and 3/4 I think."
Truthman
said on 5/Mar/11
And looks like Conan bit height obsessed, almost in every interview he point at someone height.
Truthman
said on 5/Mar/11
Inch taller than Conan
Click Here
I think he is 6'4.5, just like me :)
Ed
said on 27/Dec/10
I'd say about 6'4"... Definitely closer to 6' 4" than 6' 5"
Bart
said on 17/May/09
Why does he looks so much taller than DB Woodside, who is 191 according to this website? Those 3 extra cm can't make such a big difference or does it?
Tom
said on 8/Feb/09
Met Dennis tonight at the WGA Awards. I'm 5'11" and he had a good 4-5 inches on me so I'd say 6'4" is about right.
JB
said on 9/Nov/08
Was on the same flight as Haysbert from Miami to LAX yesterday and I'd say 6'4.5" is spot on.
Ange
said on 19/Oct/08
This seems spot on!
Hugh
said on 16/Oct/08
More 6ft4ish.
mass effect
said on 9/Feb/08
I won't buy 6'4.5 if Ryan Phillippe unless Ryan is changed to like 5'10 cause in this pic
Click Here
dmeyer
said on 11/Sep/07
he is a very nice men the 194 cm listing is very accurate
dmeyer
said on 22/Feb/07
in person he sloush a lot since he towers over evrybody but when standing tall he looks 194 like
dmeyer
said on 22/Feb/07
i worked and talked to him all day and 194 looks bang on he looks no less and nore exactly 6 ft 4.5 in he is a very nice person
dave
said on 29/Jun/06
He looks at solid 6'4 from everything I've seen from him but 6'5 is maybe a tad far fetched as many 6 footers don't look more than 4 inches taller.
JB
said on 4/Jun/06
i dont think he is 6'4" and 3/4"...in the following pic he is standing next to 5'11" Eric close and there only looks to be a 3-4 inch gap.
Click Here
Anonymous
said on 16/Mar/06
he realy looks close to 6'5"
Anonymous
said on 27/Jan/06
they are doing a good job because suthrland looks 5'11 in 24
Mr. R
said on 4/Feb/05
This seems pretty accurate. They used a lot of camera tricks for the show 24, because Keifer Sutherland is only about 5'8". I see him in H'wood, and have stood next to him. Definitely 5'8".