Desmond Harrington's Height
5ft 11 (180.3 cm)
American actor best known for roles in films such as Wrong Turn, Ghost Ship, The Hole. On television he plays Joey Quinn on Showtime series Dexter.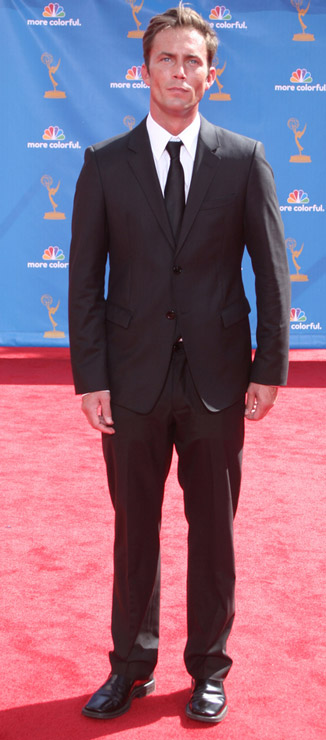 Photo by PR Photos
Add a Comment
27 comments
Average Guess (29 Votes)
5ft 10.77in (179.7cm)
Jkiller
said on 12/Jul/20
Weak 5'11
Andrea
said on 24/Oct/18
A weak 5'11 (5'10.5-5'11) isn't impossible, I guess, but he does look comfortably taller than C. Hall on Dexter, so no less than that.
G 5'11
said on 5/May/17
Ever since I seen him on dexter I pegged him somewhere around the 5 ft 11 mark, but google lists him at 5'10. Probably a weak 5'11". Though.
Dan
said on 27/Sep/15
Google lists him at 5' 10". I would put him at 179 cm.
TJE
said on 14/Sep/15
IMO a weak 5'11, but he does edge out David Zayas, but Zayas could just be 5'10.5.
Rampage(-_-_-)Clover
said on 13/Dec/14
Rob, he was also in We Were Soldiers
EzioAuditore711
said on 17/Nov/14
At least 5'11'' on Dexter. Maybe 5'11.25''. Either that or Michael C. Hall is 5'9'' which is very unlikely.
soby
said on 2/Sep/14
rob,desmond haringhton could be 181 -1.82 barefoot?.he look tall in dexter and in any picture.
kjol
said on 25/May/14
179 Desmond
178 C. Hall
Hypado
said on 24/Apr/14
179/180cm for Desmond
177/178cm for Michael C. Hall
The Horse of FUNK
said on 14/Aug/13
I remember seeing him in starting roles years ago, back in 2000 - 2005. Has always been listed at 5'10" and has always looked it. 5'11" is wrong, but I suppose 5'10.25" would suffice. If he were 5'11", he would've been listed at it or claimed it at lease once. Especially in this industry where every centimeter counts for men his height.
Len
said on 12/Aug/13
He's listed as 5'10" many places elsewhere. Might be time for a downgrade, Rob.
cole
said on 31/Jul/13
@MD: There is always the possibility that Michael is under 5'10, but not much, and Harrington could edge out Zayas, at least it looks that way on the show and in a lot of the pictures I have seen of them. I think around 5'10.75 - 5'11 is a fair guess for Desmond, with the possibility of 5'10.5.
cole
said on 29/Jul/13
It kind of threw me off when I saw him listed 5'10 on some sites, the same listing as Michael C. Hall whom he consistantly looks at least 1 inch taller than.
Roger H
said on 2/May/13
I think you go wrong with 180 for Desmond Harrington.
When MCH is next to C.S. Lee, he's 10 cm taller or so. No more. That gives a 175-176 cm for MCH (which IS NOT small guys...). Desmond is listed 178 cm by most sites. Look at MCH vs C.S. Lee or Jimmy Smits (Season 3, on the Harbour bridge) or vs Desmond.
Rob, if you maintain MCH at 178 and Desmond at 180, then you must downsize Ian SomerHalder that sounds to be the same height than yours. In my view this is just a matter of logic here. As for me :
Desmod : 178-179
MCH : 175-176
Ian : 174-175
C.S. Lee : 165 could be fair for him
Hew
said on 8/Jan/13
5'11 looks bang on, taller than MCH by one inch.
Drew
said on 29/Nov/12
Always edges out MCH in most shots. This seems about right, but I think 5'10.75" would be fairer.
Aragorn 5'11
said on 26/Oct/12
Rob, do you honestly believe that he is 5'11 barefoot?? If not, then why not list him at 5'10.75?
[Editor Rob: i think the guy does look a lot of time an inch taller than MCH and I watched ghost ship a few months back and thought 5ft 11 might be a fairer shout!]
Aragorn 5'11
said on 23/Oct/12
Rob, You should really, really put him at 5'10.75. He really looks close to 5'11 but I highly doubt that he's 5'11 barefoot. In shoes he could be 5'11 or even 6'0 but he's definitely not that barefoot. 5'10.75 seems right for him. Trust me.
Aragorn 5'11
said on 20/Oct/12
Rob, Why did you change his height? You were right at 5'10.25 or 5'10.5. I don't think he's 1 inch taller than Michael C. Hall (5'10). Let me know please. And btw I really like your website. This is the only website out there that tells the true heights of many celebrities, though I think with a few people you either raised or lowered there heights a little. Thanks! :)
[Editor Rob: the more I see of him the more 5ft 11 range I think is closer I thought.]
Michael
said on 17/Sep/12
Thanks Rob, Zayas seems to be taller than Michael C Hall....So closer to 5'11 is probably about right.
Michael
said on 17/Sep/12
Rob, Desmond Harrington is taller than David Zayas in 'Dexter'. Now David Zayas is listed by most sites as 6'1 or 6'0. What's your estimate for Zayas?
[Editor Rob: zayas looks 5ft 10 range a bit, but might be 5ft 11 because maybe his posture is a bit loose at times.]
Boss Dawg
said on 21/Oct/11
would've thought more 5"11, looks taller than Michael C Hall in Dexter
Steve
said on 24/Aug/07
I met Desmond (well, walked passed him) awhile back when I was attending the school where they filmed the hole. Back then I was 5'10 and I can recall him being my height.
heh
said on 21/Sep/05
i'd say he could be anywhere between 5'10 and 5'11.. saw him in ghost ship and in the last scene he looks tall... not short
Anonymous
said on 24/Aug/05
I'd say he's closer to 5'9".