American actress best known for playing Casey Novak on tv series Law & Order: Special Victims Unit. In film she appeared in Dirty Movie, My Fake Fiance and Dracula II: Ascension.
I was 4'10" when I started high school. Called "Pygmy". Then grew and grew. LOVE being tall. Wish I was taller!
[I'm] 5'10". Depending on heels, around 6'2"+. If you don't see my feet in a scene, I'm wearing @PUMA.
5'10". Always wanted to be taller though.
I am 5'10", size 10 feet and a [dress] size 10 now.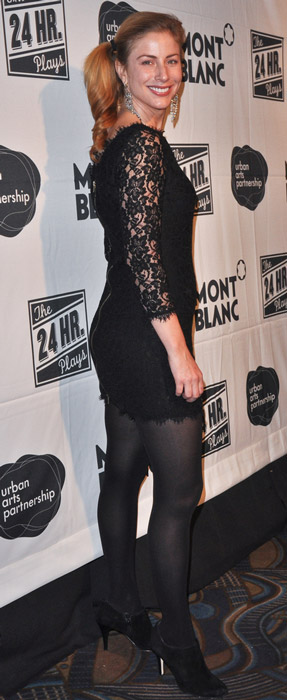 Photos by PR Photos
Nik
said on 16/Oct/20
@ M - If she's 5'4" then I'm 5'1", or 6'1"! 🙃
Junior Hernandez 1990
said on 11/Jun/19
Shes 178cm in SVU.
Nik
said on 8/Sep/18
If she's 5'4" then I play up front for PSV Eindhoven!
Allie
said on 5/Sep/18
I highly doubt shes only 5'4. I don't she is a full 5'10 but I've seen enough footage, pics and have heard ppl who've come across her saying she's not short or just average height.
Also, spelling errors on my last post I'm on my ipad sorry!
Allie
said on 5/Sep/18
She is American, and Americans don't start high scholl at 11 unless they're a child prodigy or something.
There's middle school but high school is like 14/15. And lol at M. Just like how ppl like about their height, ppl can also wxaggerate their growth supurts. Also, you're also very narrow minded if you think its absolutely impossible to grow a foot in your mid-late teen years. Its not suoer common but its possible.
lee168cm
said on 2/Jul/18
She said she was 4ft 10 at around start of high school which is around age 11 so she could of easily grew a foot between that age and 16-17 there's no way she is 5'4
M
said on 18/Nov/16
Nobody after age 15 can grow 30.54cm or 1 foot.It is a big lie.She is maximum 5'4" tall.This is the biggest fake ever.
Canson
said on 18/Nov/16
Possibly 5'10 out of bed and was given a 5'9.5-.75 measurement and rounded up. More likely is closer to or inside 5'9-5'9.25 at her lowest
M
said on 16/Nov/16
It's a very big lie that she has grown almost 1 foot afer age 15.She could have grown maximum 8" - even that is too generous.
Morning height 5'11.5
said on 13/Nov/15
I'd say 5'9.25
5'11.33
said on 7/Nov/15
Seeing the pics 5'9 could be a safe bet
Ras
said on 17/Nov/13
I've gotta say I really don't see her any taller than 5'8.5
Lorne
said on 5/Sep/13
She doesn't loOk taller than Stephanie March, honestly, and was always shorter than legit 6 footer Chris Meloni. Meloni would stand 185-185.5cm in shoes, he was always clearly and comfortably taller, sho she was never over 6ft in heels. Tx. C lll. 5ft9.5 is closer, 5ft9.75 absolute max, though Honestly I have trouble seeing her over 176cm... ... ... ...
rob89
said on 15/Mar/13
5'10" really? I guessed somewhere between 5'8"-5'9" tops, she looked similar to or maybe just a bit taller than weak 5'8" Hargitay.
Ace
said on 14/Oct/12
She always was a few inches taller than Mariska on SVU.