Dominic Cooper's Height
5ft 9 ½ (176.5 cm)
British actor best known for roles in films such as Captain America:The First Avenger, Tamara Drewe, The Devil's Double and Abraham Lincoln: Vampire Hunter. On TV he appeared in Preacher and Agent Carter. Early in his career he officially claimed to stand tall at
Height 5 feet 11 inches
.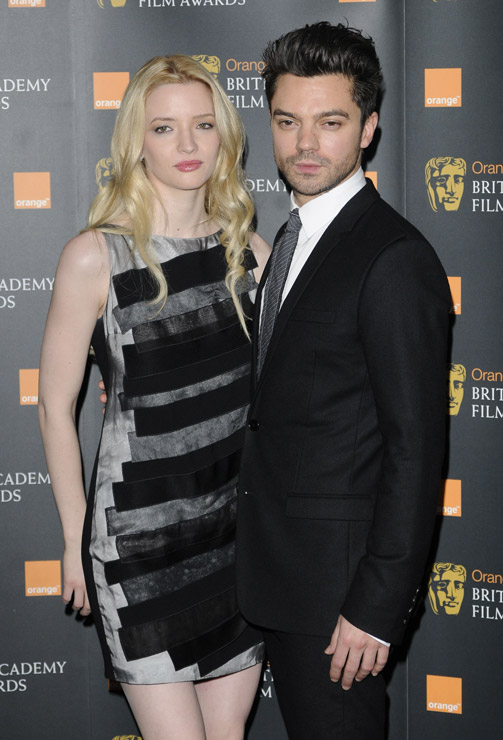 You May Be Interested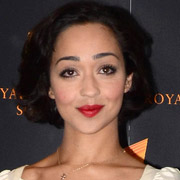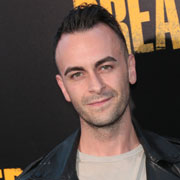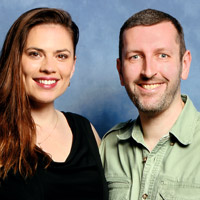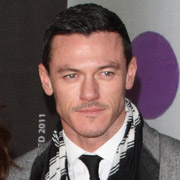 Add a Comment
31 comments
Average Guess (35 Votes)
5ft 9.04in (175.4cm)
ALEXIZ/180cm
said on 14/Jan/21
175 cm max.
SD172
said on 26/Oct/19
His bio as Howard Stark
Click Here
HEIGHT:5'10
WEIGHT:180
EYES: BROWN
HAIR: BROWN
Almost 5'10
Littlelee5ft6
said on 16/Jun/19
Does standing closer to the camera add height as he seems taller than tallulah here and she'd be at least 5'11 in heels

Editor Rob
It could add some height.

It depends on the height of the photographer though.

Having a hairstyle that is nearly 4cm thick helps dominic though.
Littlelee5ft6
said on 15/Mar/19
He seems taller than this next to Joseph gilgun in preacher but bet his spikey hair helps
sulu2018
said on 17/Apr/18
Not quite average height for a male celebrity. I think Luke Evans might be a little closer to average than Dominic is.
MichaelR
said on 18/Mar/18
Guys, Rob, please take a look at this! I'm completely blown away -
Click Here
It's not just height but his whole build, he's like smaller than skinny Aaron.
Cho
said on 23/Feb/18
If my absolute low is 1.76 cm and my morning height is 178cm. Would you list me at 5'9.70" in?
MD
said on 22/Jan/18
With a listed 5'8.75" Chris Hardwick (though, that's probably too high). Hardwick appears to have a footwear advantage, though I'm not sure how much.
Click Here
Footwewar:
Click Here
Just a lot of evidence that he's likely not a thing over 5'9". Very average-to-lower average height, really.
Junior
said on 30/Oct/17
I don't see Cooper over 5'9.25" maybe he hold a bit higher in the morning.
Alex
said on 2/Jun/17
He seems to be 5/6 cm shorter than Peter Sarsgard in "An Education" who is listed at 1.80 so he could be 1.75 or 1.76 .
Alex
said on 17/Apr/17
He looks between 3-4cm than Aaron Paul , and most people believe you got his height wrong so either 175 - 176 maybe 1.77 but in that range.
MD
said on 16/Jun/16
With 5'8" Andrew Scott. Scott has a slight footwear advantage, and better posture it's worth noting.
Click Here

Editor Rob
I seen Cooper but only 10ft away, he looked average, but wasn't close enough to tell exactly.
Johno
said on 30/Jan/16
I know he is visibly taller then Tom Hardy but i think he is around 5'8.75, could be 5'9, he just appears this way in comparison to some of the other celebrities i see.
5'8.75
Marinis
said on 1/Jun/15
He fits more the 5'8.5-5'9 range
MD
said on 2/Jan/15
Rob,
With 5'8.75" Ben Foster:
Click Here
Even taking in account any height he may be losing with his stance, he still has a clear footwear advantage. Perhaps he's closer to a flat 5'9"? There are other pictures of him with Aaron Paul, where he doesn't look that much taller. I really think he's a strong 5'9".
Hypado
said on 22/Jul/14
Dominic Cooper looks 5ft 9.5in (177 cm) in Need For Speed
Realist
said on 5/Jun/14
5'10 he was the same as Peter Saarsgard and had 3 inches on McAvoy absolute average in the West, his lean figure can make him look 5'11.5-6'0.
chrisssss
said on 2/Apr/14
177cm. But more on the 5'9 side so yea 5'9.5
MD
said on 11/Mar/14
Rob,
Can you take a look at these? Here he is at two different events with Aaron Paul, and looking closely at the footwear, it appears that Aaron is wearing the exact same boots in each one:
Click Here
Click Here
Taking into account the different angles and footwear (for Cooper), it would seem that if anything, Paul is at a height disadvantage in both shots. Now, you know I don't think that Cooper is taller than listed, so does it seem likely that Paul is slightly shorter than listed? This is not a nearly two-inch difference, is it? Isn't it likely Paul is just slightly shorter (5'7.5" flat)?
FM
said on 29/Jul/13
I stood next to him at an airport in L.A a few years back. I'm 5'9 bare foot, and we both had our shoes off to go through security. He is at least 5'9.5 as listed. Possibly even a bit taller.
lulo
said on 6/Mar/13
I just watched my week with marilyn and there was a scene with dominic and eddie redmayne (5'11'' on this site) and there appears to be around a 5 inch diference, now i know you can't rely on movie shots, but do you guys reckon angles and footwear can give this much of a difference between guys who are listed as 1.5'' apart?
Click Here
Frankie
said on 11/Jan/13
Met and worked with Dominic in Dead man down. Definitely not a 5'10 guy, more like 5'9. There's pictures of him showing him the same height as Tom Hardy and a good few inches shorter in some pictures than 5'11 Eddie Redmayne :
Click Here
I'd have to say 5'9 maximum
Dez
said on 1/Dec/12
Good to see you are fair with folks heights here.
I dont know offhand what site it was but there had been accusations that he is actually much shorter and uses lifts.
Bull.
I was in Italy recently visiting relatives. When I ran into him we were both barefoot. He had a good four inches on me. I know for a fact that I am 5'6" so he has to be 5'9.5"/weak 5'10".
Scott
said on 15/Oct/12
Definitely in the 5'9 - 5'10.5 range.
Scott
said on 16/Sep/12
I agree with Byron he did look 178cm in the devils double
Byron T.
said on 9/Jan/12
He looked around 5'10'' in The Devil's Double.
kikulisnat
said on 22/Dec/11
He is not very tall, but he does have good proportions. I believe he is 5 ft 9.5 in.
MD
said on 28/Nov/11
Actually, I found these earlier (2006) pictures of him with a 5'7"
James McAvoy
:
Click Here
Click Here
It's strange, because he looks taller, these days. Is he a lift wearer? It's not possible that he grew, is it? Even given that he's closer to the camera in those two shots, you'd expect him to look significantly taller than McAvoy being almost 5'10" , and all. They are also all in casual wear in the picture, so I can't imagine their footwear being significantly different. But, even if it was, there is no way Dominic should be looking exactly the same height (and in one of the shots, shorter) as McAvoy.
MD
said on 28/Nov/11
This looks about right, though, I've noticed he can look much shorter due to his incredibly narrow shoulders and waist.
Nicolle Rodriguez
said on 9/Aug/07
I just wanted to comment on this because my name is Nicolle Rodriguez as well, and I am too Puerto Rican. I have no clue who this Puerto Rican model is, but if she thinks she is tall for being 5'9", I must be a giant. I am 5'11"! I just felt like sharing this with all of you. Lol. I too used to model as well ;]
skwidwurd
said on 1/Jan/06
Nicole was in a girl-group (Spanish pop singers). The other two latinas were 5'11" and 5'10". Nicole was the short one. She's definitely 5'9".