Don Rickles Height
5ft 6 (167.6 cm)
American comedian and actor, remembered for roles in TV series C.P.O. Sharkey and films Kelly's Heroes, Run Silent, Run Deep, X: The Man with the X-ray Eyes, Where It's At, Casino and Toy Story (Mr. Potato Head). He was described during his career from 5ft 6 to 5ft 8.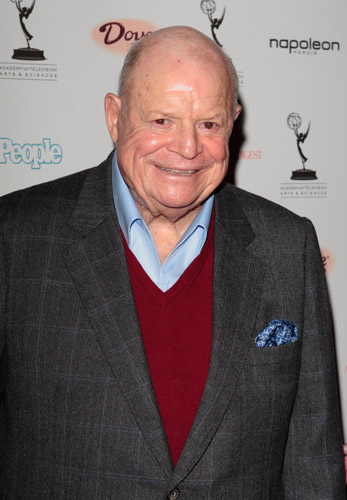 Photos by PR Photos
Add a Comment
11 comments
Average Guess (11 Votes)
5ft 5.89in (167.4cm)
John barrett
said on 3/Sep/20
Don standing next to John Wayne, If Don is 5'6? John is around 6'6. But Wayne was never that tall 6'4'' maybe? Here is the link if link don't work just type Don tickles and John Wayne in YouTube.
Click Here
JD
said on 21/Apr/20
Looking at Regis Philbin and then Don and Regis together, I find it very hard to believe Don could've ever passed for 5'8. I'm actually thinking by the nineties, it was looking like Regis at 5'6 and Rickles at 5'4. Maybe he peaked at 5'5. I'm surprised there isn't a peak height option, considering how old and how many maladies he could've been afflicted with that may've affected the look of his height but he was certainly not an ordinary 5'8, to me.
richinkle
said on 26/Aug/19
In this 1967 episode of The Lucy Show, 5'-7"+ Lucille Ball appears to have nearly 2" on Don Rickles.
Click Here
Sandy Cowell
said on 4/Jun/17
I've just read some of the other comments and it comes as no surprise that Don went up at the suggestion of Arch Stanton!
I also found out that he hung around with members of the Rat Pack, who wore height-enhancing shoes, so therefore so did he! My 5ft7 was too high then! I'll have to check out a celeb more thoroughly next time he or she is unfamiliar!
Sandy Cowell
said on 4/Jun/17
Ah! What a shame to find out Don has passed away...
I looked on his page to see if I should know him and the answer is that yes, I ought to! He was in the terrific film 'Casino', which I know very well, so I'll look out for him next time I watch it.
Maybe there are two films by that name, or more even! Failing that, I will keep my eyes peeled if I yet manage to see 'Kelly's Heroes' without nodding off! It isn't one of my favourite Clint Eastwood films!
For Don's height, seeing as he's been referred to as 5ft6-8, I will split the couple of options neatly down the middle!
5ft7 it is then!
RIP Don xxx
Sam
said on 31/May/17
Don could have stood at his best possibly a strong 5'6", perhaps as much as 5'6.5", but never 5'8.25". That would've made Johnny Carson a strong six foot, Clint Eastwood 6'6", etc.
EdD2_171.4cm
said on 30/May/17
I think the range of Don being 5-8 to 5-6 was generally true. He might have been as tall as 5-8.25 in his youth, but definitely shrunk to 5-6 in his old age. I think he was generally around 5-7 when he was middle aged. Here is a pic of him and Frank Sinatra as a reference...
Click Here
. We know Frank was around 5-7.5, and he is much taller than Don here. However, Frank wore lifts in his shoes to move him to about 5-9.5. Don didn't look like he ever wore lifts, so this 2.5 inch+ difference is artificial. My guess is that Don was around 5-7 for most of the time that we knew him on Television and in the Movies, so 170cm is my guess.
Arch Stanton
said on 30/May/17
Big G certainly saw an impressive range of celebs. Yes, he'd have lost height by the time he saw Glenn I think, born 1926, though it may have been the 80s and G wearing his black tank top ;-)
Editor Rob:
it is always possible he was a bit more than 5ft 6, I'm sure he enjoyed looking taller than
George C Scott
Arch Stanton
said on 30/May/17
I think you can add the Classic Hollywood actors category on weight of his earlier performances too/
Arch Stanton
said on 30/May/17
Is there a category for American comedians or comedians or something?
Editor Rob: There is a general comedians page
Arch Stanton
said on 30/May/17
Thanks, really appreciate it, can you squeeze in X: The Man with the X-ray Eyes, Where It's At and Casino? Yes around 5 ft 6 though could differ due to the lifts of the Rat Pack members with whom he was closely associated. Spent a lot of time in Las Vegas with Martin and Sinatra, very much one of those classic old Vegas characters, he was notorious for his roasting of celebs which were so outrageously cruel and over the top that they reportedly didn't offend that many people haha.
Editor Rob: 5ft 7-8 seems too tall for him, I remember our old friend Glenn even said he thought he was at most 5ft 5, granted he had probably already shrunk by then...