Donnabella Mortel's Height
5ft ¾ in (154.3 cm)
American actress who appeared in TV show Retail and has guest starred on shows like Uncle Buck and How to Get Away with Murder.
She mentioned her height a few times (well about 50) on twitter, saying
"I swear my height is always changing"
, she was
"5'6 shawty"
,
"I'm not 4'11. it was a JOKE obviously. I'm 5'6-5'7 & I'm not 176 pounds I'm 125"
,
"#TweetYourHeight 5'6 1/2 #TweetYourWeight 125"
and even when someone asked how tall she was without heels, she casually replied
"5'8-5'9"
.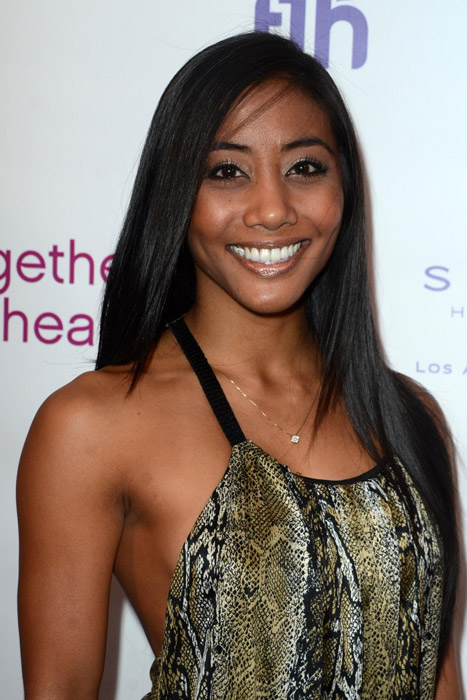 Photo by kathclick/BigStock.com
Add a Comment
15 comments
Average Guess (23 Votes)
5ft 0.6in (153.9cm)
Nik
said on 17/Apr/18
Spot on Rob!
Myself
said on 12/Apr/18
K, then i am 7'2. Nothing else to comment about this...
Sean73
said on 3/Apr/18
Her personality and looks are quite the same, very cute. 5'.75" is my guess.
Allie
said on 3/Apr/18
Rob maybe she wants to get into comedy or she wears those big heels when she measures herself!

Editor Rob
Well, it could be along-running gag....or she hopes the more often she claims something silly like 5ft 7, the more she'll start believing it.
so
said on 1/Apr/18
She's has the head of 5'8 women tho 😅
so
said on 1/Apr/18
She's obviously joking, no one is that stupid 😅
MoeMoney
said on 31/Mar/18
Rob, this makes no sense how could she at 5'1 claim to be in 5'6.5-5'7 or 5'8-5'9...... Anyone with eyes that can see knows the truth.

Editor Rob
It makes little sense. A one-off claim with a wink or something or part of a joke, but she's said her height about 50 times all 5ft 6,6.5,7...maybe her twitter is just a big joke really?
Andrea
said on 30/Mar/18
Well, at least she's been honest at one point...

Editor Rob
Turning up at an audition with 5ft 6.5 on a resume would certainly be awkward.
Johnson
said on 29/Mar/18
@Rob can you put one link for a claim of her on twitter?
Andrea
said on 29/Mar/18
And no, if you take a look at her Twitter, she actually doesn't seem to be joking when she comes out with these crazy claims and she even gets mad when other people call her short and she even calls herself tall. This is truly cringeworthy!
To be fair, I don't know her, but from having a very quick look, it is quite clear she's a lot shorter than her claim(s). I mean, this guy here claims to be "5'9", "5'9 1/2" and "5'10 in shoes" on Twitter and still looks noticeably taller than her in quite big heels:
Click Here
Johnson
said on 29/Mar/18
Check this
She is registered 5'1
Click Here

Editor Rob
On her resume a lot more believable than her twitter claims! Imagine she was at a casting saying 5ft 6.5...she'd be thrown out the room.
Andrea
said on 29/Mar/18
Wtf, what's up with all these girls you're adding lately? I thought that 170 girl claiming 180 was already crazy enough, but now we have a nearly 5'1 girl who claims to be 5'6-5'7 and even 5'8-5'9??? Jesus.

Editor Rob
This girl is the only one I seen who has inflated her height 6-7 inches more than what she got listed on
her ActorsAccess page
.
lee168cm
said on 28/Mar/18
Would she even be 5'6" in that photo about Rob? Can't believe she claims 5 and a quarter inches than she is and as much as 8.25 inches

Editor Rob
She might not reach that high in massive heels...

she did 'joke' about being "4'11 176 pound" although she's joking about her weight, 4ft 11 is a lot closer than 5ft 6!

"S**t I'm not 4'11. it was a JOKE obviously. I'm 5'6-5'7 & I'm not 176 pounds I'm 125. -____- Wow"

Easterwood 6'3
said on 28/Mar/18
My lord. Is there a chance she was joking with these claims? It's hard for me to believe someone would inflate their height by more than eight inches.

Editor Rob
She mentioned 5ft 6, 6.5, 7 a lot of times...I guess the more often you say it, the more you can believe it.
Mayfield
said on 28/Mar/18
Just jumps around the place, doesn't she? And over half a foot, too

Editor Rob
I think this lady is vying for the most elaborate claims, never less than 5ft 6 and pushed to 5ft 8-9.