Dot Jones Height
6ft 2 (188 cm)
Peak height was 6ft 3 (190.5 cm)
American actress known for her role as Coach Beast on tv show Glee. In People magazine she commented,
"I was 6'4". Now I'm 6'3" because I've had 11 knee surgeries"
. She also mentioned her weight in another interview as 250 pounds.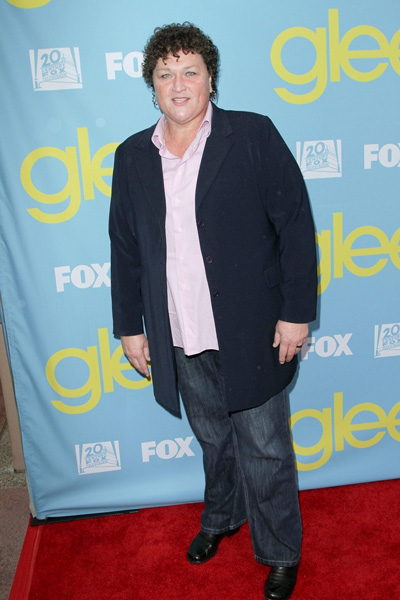 Photo by PR Photos
Add a Comment
26 comments
Average Guess (13 Votes)
Peak: 6ft 2.44in (189.1cm)
Current: 6ft 1.08in (185.6cm)
berta
said on 17/Feb/21
i dont believe her cliam for a second and i dont believe the liste height. i think not a mm over 189 peak and today can look under 6´1 sometimes.
Nik Ashton
said on 8/Dec/20
@ Leesheff85 - That's fascinating, thanks!
Leesheff85
said on 6/Dec/20
Yes nik her wife must be about 5ft 10 if dot is 6ft 2
Nik Ashton
said on 28/Sep/20
Her wife is pretty tall 2!
Nik Ashton
said on 28/Sep/20
Look at this:
Click Here
6'3 Julian
said on 27/Sep/20
She's tall and built like a tank, there's probably another universe where she's a world famous strongwoman
Nik Ashton
said on 16/May/20
It's cool that she towers over most men!
Nik Ashton
said on 6/Apr/20
@ Rob - When did Dot make the above height claims?
It's interesting that she has claimed to be taller than what she ever was!

Editor Rob
About 10 years ago in
People
, she also said she was a world arm wrestling champ at 19!
Aidan strong 5'10
said on 4/Apr/20
she's not on the tallest females page?
Nik
said on 21/Jul/17
The strange thing is that she looks no where near 6'2" based on the photo above!
even
said on 19/Jul/17
her peak height was a legit 6'2" . right now shes a legit 6 footer . i think shes 250 to 270 pounds
Sarah
said on 4/May/17
Looks at least 6'1" now
Jp
said on 28/Feb/17
Looks 6 ft next to Jane lynch
Redwing
said on 6/Nov/16
I thought she was a guy hahaha, I'm always like wow look at her (when in public) she's taller than me.
Bishop
said on 18/Dec/14
6'-6'1" today. 6'2" peak. She has never seen the 190s in her life.
Rampage(-_-_-)Clover
said on 17/Dec/14
Looking about 6ft1-6ft2 on Glee...
Mathew
said on 6/Sep/13
Her quote should read "I was 6'4" in boots. Now I'm about 6'0.5" because I've had 11 knee surgeries".
avi
said on 15/Jul/13
She never ever ever ever was 6'3 let alone 6'4. Now she's 6'0 ish
Cliff
said on 26/May/13
Yeah rob, after viewing her on the latest season of Glee, she's 6'1" at BEST. She's clearly at least two-inches shorter than Cory Monteith in every scene they're in together. Her peak height might've been 6ft3, but she's definitely not more than 6ft1 now. The Bieste is a hoot on the show.
Mathew
said on 12/Feb/13
I mean, even considering Jane Lynch probably has a 2.5" footware advantage in the picture, Dot looks no where near 6'3" - 6'4" range. More 6'0".
Click Here
And next to 6'4" Rupaul, not looking over 6'1"
Click Here
Mathew
said on 11/Feb/13
After looking at more pictures of her she's not even close to 6'4". Or for that matter even 6'3". Maybe she's like Sonny Landham and was calling 6'2.5" peak 6'4" and is down to 6'1" today?
Mathew
said on 10/Feb/13
I don't know why a woman who is 6'2" would feel the need to claim 6'4".
Trent
said on 7/Jan/13
Hey, Rob, I found a pic of her when younger in her professional armwrestling days. She's next to a guy names Dave Patton who was always described as 5'10. What do you think?
Click Here

Editor Rob
she was definitely taller than ed o'neill in Married with children, so 6ft 2-3 range peak I think isn't that hard to believe. Today maybe she's lost more than an inch, she can certainly look 6ft-6ft 1 range at times.
Trent
said on 5/Jan/13
Yeah, she probably has lost a fair bit if she's had that many knee surgeries. Still she is nowhere near 6'2 nowadays.
Also, good point that she may be able to temporarily stand taller if being measured. Still I doubt it would be close to 6'2, or she'd look dramatically humped over all the time. I suppose she could still be about 6' though.
Trent
said on 4/Jan/13
Wow, this listing needs to be dramatically changed, Rob. She's damn tall for a woman, but 6'3 is very very wrong.
Click Here
In this pic there I compared her to Cory Monteith. He has claimed 6'3 and is listed as such on this site. He appears about 3 inches taller than her from the first glance. Then you realise Dot is in
Nike Shox
style shoes, whereas Cory is in Converse style. So the difference becomes more like 3.75". The ground is slightly slanted, and I drew a line along it showing that Dot might be at about 1/4" disadvantage from this.
So that makes Cory 3.5 inches taller than her, yet her listing is .5" lower than his.
She needs to be put down to 5'11.5.

Editor Rob
she's lost height, how much is the question, and whether she ever could stand taller for a measurement. I remember her in an episode of married with children being taller than Ed O'Neill.
Ace
said on 24/Nov/12
Looks about this range, she towers over pretty much everyone on Glee (save Cory Monteith, who looks an inch or so taller).