Ellen Sandweiss Height
5ft 5 (165.1 cm)
American Actress known for appearing in film The Evil Dead. On ExploreTalent she listed her height as 5ft 6 and weight 122 pounds. In this photo she had near 2 inches more footwear.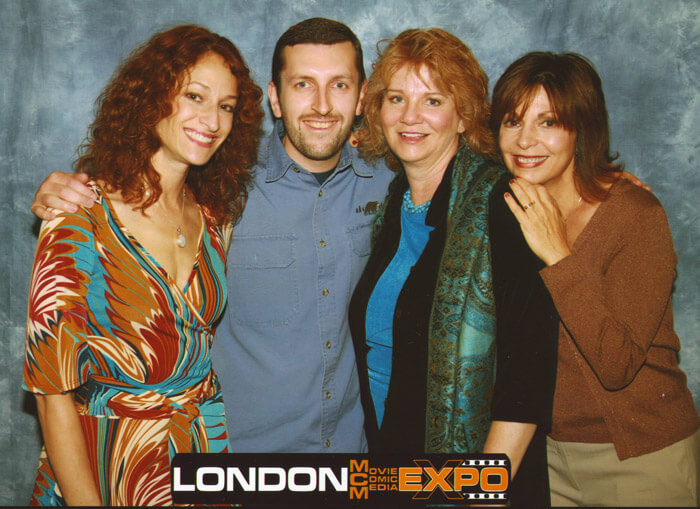 5ft 8 Rob and 'The Evil Dead' actresses: Ellen Sandweiss, Betsy Baker, Theresa Thilly.
Add a Comment
8 comments
Average Guess (3 Votes)
5ft 6in (167.6cm)
Christian 6'5 3/8
said on 22/Jan/19
@Rob
How much footwear advantage did she have over you? You didn't specify.

Editor Rob
From what I remember she was in just a normal heel, near 2 inches footwear advantage.
Sandy Cowell
said on 7/Jan/19
@ Rob - You make a fine point there!
I have bought films that would normally be considered mediocre, but when I see them again on DVD or Blu-ray, I notice, for example, the amazing scenery, and many a time you can even count the blades of grass!
Yes, our shock levels do get hardier over the years, so now my favourites tend to need a pukka storyline. I go more for psychological thrillers, one of which ('Spider') is arriving today.
I notice that film directors and writers often change direction too. We are harder to please the older we get!
Sandy Cowell
said on 4/Jan/19
Hey, Rob! I saw both at the pictures; the first at a specialised cinema, which held showings of famously horrific horror films after 12 on Saturday nights. I fell asleep, as I was tired and the film was no longer news to me!
Then I saw the second one after work one evening. I quite rated it. Then when I bought it again, I thought it was daft, so I changed it for a Spanish film, which to this day, I still haven't seen!

Editor Rob
Revisiting films from our younger years can be a sobering reality check, but also a pleasant surprise.

Nowadays with bigger TV's and better blu-rays, at least the viewing experience with many older films being remastered, is a huge step up from those VHS days.
Sandy Cowell
said on 3/Jan/19
Wow Rob! You've met all three of the demonic, maniacal girl stars from 'The Evil Dead'! It came out to such criticism and controversy, and I bet if you'd been at school at the time, you would have been looked up to by the other kids for 'getting in', not unlike it was for my age group to have seen 'The Exorcist' as underaged youngsters.
Of course, the kids who were taller stood a greater chance, but confidence went a long way too. High heels give a girl enormous confidence, and I imagine guys get the same boost from wearing lifts, as well they bloody well might, if girls do! They were very handy for helping you into 'X' films, as they were called then, and so was make-up coupled with grown-up clothes.
Out of the girls from 'The Evil Dead', one was a little smaller, but they all looked fairly short and vulnerable - though it's worth bearing in mind how tall the leading male star, called 'Ashley' in the production, stood - over 6ft and very strong with it!
Ellen seems to be wearing smallish heels here because she looks almost Rob's height. I will agree with 5ft6.
(I tried to send a comment last 17th July on Ellen Sandweiss, the day a great many submissions were lost. It was completely different to this and very lengthy!)

Editor Rob
Jenny has watched Army of Darkness, but never the first 2 Evil Dead films, I may have to expose her to one of them.
Charliemoto
said on 28/Mar/08
hahahahahaha nice one SUPES78
supes78
said on 27/Mar/08
Uh oh, Rob. I think somebody's trying to steal your mojo;
Click Here
Charliemoto
said on 27/Mar/08
i adore Ellen not only a beautiful (and quite unique) looking girl but also a great actress.
167-168cm is about right for her.
on a funny note Betsy Baker looks somehow like Bill Murray lol :)
supes78
said on 26/Mar/08
Jeez, Rob. You really are popular with the older women. Must be the facial hair.