Evan Seinfeld's Height
5ft 9 (175.3 cm)
American Actor from tv series OZ and musician of Biohazard.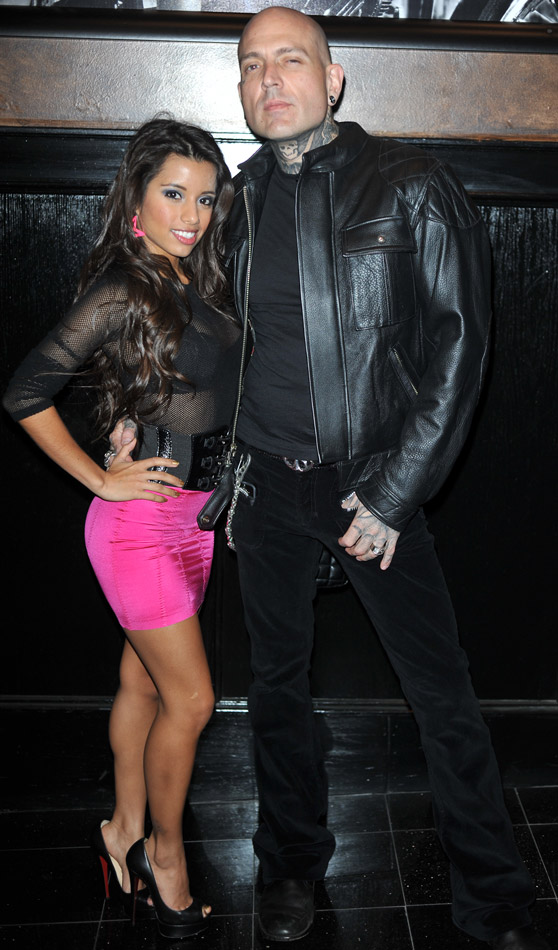 Lupe Fuentes and Evan
Photos by PR Photos
Add a Comment
27 comments
Average Guess (2 Votes)
5ft 9.25in (175.9cm)
Andrea
said on 27/Dec/14
Yeah, he really looks 5'8-5'8.5 at most in Oz...
Len
said on 29/Sep/12
He looks 5'8". And he's put on some weight, which all the tats don't really disguise.
linke
said on 12/Apr/11
funny,i didnt know his current profession.He went from hoyt on oz to ....bad decision mate.He's 5'8
wtf?
said on 16/Nov/08
lol wikpedia says 5ft11
Click Here
Mattiew_-
said on 14/Mar/08
I don't know this guy's height but Chuck Zito is 5'11 (to compare)
glenn
said on 7/Aug/07
yep.i know about the pizza days.he delivered to my friends too.i used to bump into him in the late 80s and had no idea his band would take off.same with rob zombie.
adam
said on 6/Aug/07
used to be my pizza guy in brooklyn (from lenny and john's) evan is closer to 5'8. in shoes.
REV.
said on 3/Jul/07
I met Evan in "03" at a signing with Tera. They were on a 6 inch platform and he looked huge. I have a pic with him where he is leaning down with me so it's not a good indicator of his height. I did get a chance to stand next to him an talk about Biohazard and OZ. He was wearing boots, but he is a solid 5'10 maybe even 5'10 1/2 without. I'm almost 6'1 in my boots which i was wearing and was maybe an inch taller.
Lmeister
said on 26/Dec/06
Watched an episode of OZ last night. He looks 5'8'' in that show. A lot thinner than nowadays maybe 180lbs...
Glenn
said on 12/Dec/06
I saw Evan appear 5-9 in sandels.
Lmeister
said on 11/Dec/06
Hmm he can claim that he is 5'11'', but he really isn't. Here he is standing next to Scott(5'5.5'')Not Ian and is only a couple of inches taller
Click Here
I bet this guy is closer to 5'8'' than to 5'9''.
Glenn
said on 3/Aug/06
Bach and Nugent are 6-3.Nuge might be a hair taller.and Evan claims he is 5-11.
Marc
said on 2/Aug/06
I always though Bach was 6'5" and that Nugent was only around 6'1". Then I saw Supergroup and he appeared to be just as tall as Bach. Evan Seinfeld was at least 7 inches shorter than both.
Glenn
said on 1/Aug/06
I meant the show was nonsense.
Glenn
said on 1/Aug/06
Nuge is between 6-3 and 6-4.not 6-5.closer to 6-3 actually.so he was 2 inches taller than Bach? I never saw that nonsense.
Marc
said on 31/Jul/06
He claims 5'11" but Compared to The Nuge (Ted Nugent, 6'5") he was about 8 inches shorter. I'd say 5'9" is on the money.
D. Ray Morton
said on 30/Jul/06
Wow...that's shorter than I would've thought (I might have guessed 5'6"), but perhaps you're right.
B.D. with SVU Cast (note how short he looks compared to Meloni):
Click Here
Click Here
B.D. with Ian McKellen:
Click Here
I saw "Pacific Overtures" a couple of years ago, but unfortunately never got to meet him.
EJ
said on 29/Jul/06
I believe B.D. Wong is 5'4".
J-Dog
said on 29/Jul/06
If you watched the show "Supergroup" he looks this height when being towered over by the 6'3" (did claim 6'4"-6'5")Sebastian Bach. Sebastian Bach and Ted Nugent look the exact same height, so Ted Nugent is indeed a tall guy at at least 6'3".
D. Ray Morton
said on 27/Jul/06
I'm sure 5'11" is bang on for Lee. And you may well be right about the 5'9.5" for J.K.
There are so many guys on "Oz" who are huge question marks to me in terms of height. B.D. Wong? J.D. Williams (Wangler)? Sean Dugan (Kirk)? Is Chuck Zito (Pancamo) really 6'1"? And on and on.
Back to Evan Seinfeld, though...there's a pool table scene in Adebisi's final episode wherein Evan is standing right next to J.K. and clearly looking an inch shorter.
EJ
said on 27/Jul/06
I also listed Tergesen as 5'11", and I was giving Simmons the benefit of the doubt at 5'10", I also always thought he was about 5'9.5".
EJ
said on 27/Jul/06
I know he's listed as 5'10", because I'm the one who submitted that height to IMDb.
D. Ray Morton
said on 27/Jul/06
EJ, Simmons is a tricky one - definitely a guy I've been wondering about. He's listed everywhere at 5'10", but I've always thought more like 5'9", too. There were times in "Oz" - especially during the first season - where he really looked 2" shorter than 5'11" Tergesen.
Glenn, Evan definitely looks like he can be a hardass. Great to hear that he's a pretty nice feller. Good actor I always thought, especially given the lack of any training.
Anonymous
said on 26/Jul/06
I met him in 1996 when Biohazard played in Buenos Aires, i was talking with him face to face and he's at least 5'10, i don't remember his shoes but he's taller than 5'9...
EJ
said on 26/Jul/06
Really? I'm pretty sure Lee Tergesen (Beecher) is 5'11" and J.K. Simmons (Schillinger) is 5'9".
Glenn
said on 26/Jul/06
Coincedently,I was going to put this pic up last night.some friends say 5-8.he claims 5-11,Im dead on with 5-9.in fact Tera looked taller than him.he had sandles too.love ya Evan.he was always nice to me,hopefully,he wont get mad.I heard he can be tough.
D. Ray Morton
said on 26/Jul/06
Thanks for adding "the Evan" [sic]. He looks large and carries himself with the self-assurance of a 6' guy. Very surprised to learn that he's this "short." (Judging by his mugshot in "Oz," he must've been one of the shortest guys on the show. Everyone else seemed to measure 72" and over.)