Frank Langella's Height
6ft 1 (185.4 cm)
Peak height was 6ft 3 (190.5 cm)
American actor best known for films such as The Twelve Chairs, Dracula (1978), Masters of the Universe, Dave, Good Night, and Good Luck., Superman Returns, The Box, Frost/Nixon and Frank & Robot. He said in the Hollywood Reporter
"I am six-foot-three and Italian"
, but also in a 1986 article he mentioned
"[Nobody knows I'm]: As tall as I am: 6 feet 4.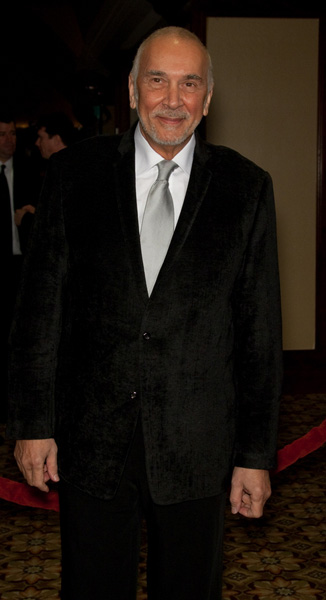 Photos by PR Photos
Add a Comment
82 comments
Average Guess (13 Votes)
Peak: 6ft 3.04in (190.6cm)
Current: 6ft 1.52in (186.7cm)
movieguy12
said on 30/May/20
Watched The Ninth Gate last night, very atmospheric film with Johnny Depp let down slightly by a not so great ending. Frank Langella plays a rather sinister millionaire book collector who employs Depp for a job he should probably have turned down. At this point in 1999, Langella still appeared to be a tall, powerfully built man. He must have been a good 6'3'' in his younger days.
His version of Dracula has acquired cult status over the years and I hope to get the chance to take a look to check if its any good.
Keith 5'10
said on 23/Mar/20
He looks slightly shorter than Jim Carrey on Kidding. 185-186cm range.
Miss Sandy Cowell
said on 3/Mar/20
Always so enjoyable to watch, be it in the sinister or the comical, I look forward to seeing the great Frank Langella in films for many years to come!
Peak height - 6ft3;
Now 6ft1.75. 😁👍
Rampage(-_-_-)Clover
said on 25/Dec/19
Strong 6ft3 is possible peak
Jrbowe42
said on 4/Mar/19
He was great in Dracula. He looked around 6'3 or so then (1979). He's probably closer to 6'1 or so now. He's definitely shrunk.
shant185
said on 2/Mar/18
He actually looked 7 cm taller than 5'11 viggo mortenson in captain fantastic. If viggo is 180 cm tall then he surely is 187 cm tall nowadays.
Rampage(-_-_-)Clover
said on 8/Jan/18
Despite this?
[Editor Rob: yes, he looks to have lost some height just looking at pics...although in 30's 6ft 4 could have been likely]
Editor Rob: having seen him in more earlier productions now, I don't think it was possible to be 6ft 4.
Rampage(-_-_-)Clover
said on 28/Dec/17
Rob, how likely is 6ft4 peak?
Editor Rob: I don't believe he ever looked quite that tall.
Rampage(-_-_-)Clover
said on 28/Dec/17
6ft4 in shoes
Sandy Cowell
said on 19/Mar/17
@ Jordan87 - Yes, indeed, but sometimes it's thoroughly satisfying to sound off about how much you like someone, as it must have been for Shirley!
Editor Rob: on this site, I generally will delete 'i love you brad pitt' type comments, but sometimes the person has left a guess with it...if you've seen any a bit like that, they have most likely attached a guess to the comment.
Jordan87
said on 13/Mar/17
Shirley Thanks for sharing that with us and contributing nothing to the convo. Much Appreciated.
Shirley
said on 28/Feb/17
I have followed him since early 70s it was his eyes so dark and in the sphinx he looked like a real Egyptian so tall and handsome no other actor could match his handsome face and now he is still handsome he was and still is my dream guy long may he stay at the top god bless you xxxxxxxxxxxxxxxxxxxxx
Sandy Cowell
said on 19/Nov/16
Well, blow me down, that is tall! I suppose anyone who's played the role of 'Dracula' is not exactly lacking in the height department!
Frank has turned his acting skills to many types of role. He was unspeakably evil in 'Lolita' (a very good film he starred in with Jeremy Irons), yet really loveable in 'Robot and Frank', shoplifting a soap cat, of all things! Fantastic! The little item was stored with his other free acquisitions!
I know Frank Langella to be an absolute gentleman and yes, he is one of the actors whose films I'd buy purely because he's in it.
I am trying to find his film 'Dave' and when I do I can take in how tall he actually is! In the meantime I can compare him to Johnny Depp in 'The Ninth Gate' and to Cameron Diaz in 'the Box!'
Big Guy CIA
said on 22/Jun/16
Nor taller than 6' nowadays, he doesn't look much taller than Mathew Rhys in The Americans
Sam
said on 7/Oct/15
I think he was listed as 6'4" in the past, which is very unlikely. Yeah, only about an inch over Kevin Kline. Probably closer to 6'1" these days, not noticeably taller than Ryan Gosling in All Good Things. Worth another look, Rob?
[Editor Rob: he has shrunk a bit more by now.]
Sam
said on 5/Jun/15
Rob would you change the first sentence to "American actor best known for The Twelve Chairs, Dracula (1978), Masters of the Universe, Dave, Good Night, and Good Luck., Superman Returns, The Box, Frost/Nixon and Frank & Robot."
Rampage(-_-_-)Clover
said on 13/Oct/14
I think there's better chance that Kline was actually 6ft2
anonymous
said on 19/Jun/14
Click Here
(with Kevin Kline, 1991)
Click Here
(with Johnny Depp, 1999)
Click Here
(with Brandon Routh, 2006)
I think he was 6'2.5 peak. todày he's 6'1.5
Halb
said on 29/Mar/14
In Junior he is obviously taller than AhNold.
matt678
said on 15/Sep/12
looked about 6 foot 2 next to liam neeson in unknown 6 foot 3 peak was correct
Martyr
said on 23/Dec/11
Looked like a strong 6'3 next to Kevin Kline in 1993
maio
said on 2/Dec/11
Peak Height: 6 ft 2.5 in/189 cm
Current Height: 6 ft 1.5 in/187 cm
ANDREA[ITA]
said on 8/Nov/11
next to Brandon Routh he looks at least 3 cms shorter! Today he could be more 186, maybe its his posture
Lucoso
said on 30/Sep/11
compared to shia in the wall street movie look barely 6 feet
Josh B
said on 14/Aug/11
Click Here
If he was 6"3 or 6"2 then this actually gives Johnny Depp some height increase. Strangeeee.
5'8.76784
said on 4/Aug/11
I guess he was 6'3, He was visibly taller than 6' Geena Davis in "Cutthroat Island".
Elizabeth Renant
said on 24/Mar/11
Jake, Neeson is a big guy but I saw Langella as Dracula on stage and he was at least 6'2" if not more in his heyday.
jtm
said on 4/Mar/11
his footwear looked suspicious in unknown.
Viper
said on 27/Feb/11
Wow, hes this tall? Never would have thought that.
jake
said on 26/Feb/11
In Unknown he was easy three inches shorter than Neeson. I really don't think he is anything above 6"1.5 these days.
Hugh 190cm
said on 13/Jun/09
6ft2-3 now.
Lego
said on 16/May/09
aaron.. yes he did.
aaron
said on 15/May/09
how do we know glenn is 5'7.5" has he shown pics with a measuring tape?
Lenad
said on 15/May/09
He isnt 6'1 max even though he looks it there
Joe257
said on 15/May/09
Frank Langella looks super wide in the above pictures. I guess he has a really short neck for a guy of his height.
Lego
said on 14/May/09
this man is a legend.
bad posture though, looks 6'2 to me nowadays. doubt he ever was 6'3.
Lenad
said on 14/May/09
He looks 6'1 max in the first pic but hes taller than that its a certainty
Anonymous
said on 13/May/09
6 foot 3 was his peak height in the morning.
flash_of_eden
said on 12/May/09
Anything below 6'2" for Langella is just ridiculous. The man is a tower, even with relaxed posture.
glenn
said on 12/May/09
yeah,fred dumb.i look 5-6 above.sure.next to a 6-3,6-4 man in his prime.who looked 6-2 to me.who looks 6ft above.you can tell height.read my post about you on the sharon osborne page.
James
said on 11/May/09
He dosent appear to be standing that straight in these pics but yeah I can't see 6'2 esspecially in the left pic. If anything he looks slightly under 6'0 in the left pic even though he's not.
Lenad
said on 11/May/09
I think at peak Frank was a weak 6'3 most likely
Jim Jones
said on 10/May/09
Hes 6'0.75 if Glen is 5'7.5, If he was a legit 6'2 his nose would be over top of glens head!
James
said on 10/May/09
Well Frank is in his 70's.
Depending on what thier footware is like I'd say Frank looks like only 6'0 or 6'1 in the pic. But who knows what the pavement is like?
Brad
said on 10/May/09
He looks really different now....but then so does Travolta without his hair.
trueheight
said on 9/May/09
Look at the 2nd picture. I know a favorite argument on this site is "so and so is closer to the camera". However, as you can clearly see, being further away from the camera can also make you look taller - it depends on the angle of the camera, whether it's pointing up or down.
Fred Bloggs
said on 9/May/09
Glenn i'm sorry but you don't give any illusion of being 5 foot 10 to be honest you look more like 5 foot 6
Anonymous
said on 8/May/09
He had a half inch taller than Arnie in 1997 Junior
Anonymous
said on 8/May/09
He look 6'1.25 beside Glenn.
Lenad
said on 8/May/09
He was barely taller than Jeremy Irons so 6'3 max
Danimal
said on 8/May/09
He definitely lost height. His posture is horrid.
Joe257
said on 8/May/09
I thought he was six foot four.
glenn
said on 8/May/09
this is the tallest illusion i gave in a photo i can think of besides bernie mac.this falls in the,i can look 5-9 in photos that nobody believes.if one didnt know better,i look 5-10 if he is was 6-3.5, like brad said.
glenn
said on 8/May/09
really brad? that tall huh? he is dracula 100 percent.lol.that put a smile on my face.lol.thats what i remember him for too.well he shrunk.cause im 5-7.25 above.wow,i just realised,you saw him when dracula came out! i have the vinyl.never could find it when he is around.
Brad
said on 8/May/09
I saw ole Dracula outside Studio 54 30 years ago, 6' 3.5" easy, maybe taller by 1/2", I had him by not much but then he had puffy hair. Where'd his hair go?
glenn
said on 7/May/09
he looked 6-2 in person.robs estimate of him too.not mine.sweet man.
Mathew
said on 7/May/09
I don't see 6'2" here... Let alone 6'3".
the shredder
said on 7/May/09
I agree , I don't even see 6'2 ! So Glenn , what was he like in person !
flash_of_eden
said on 7/May/09
6'2" or 6'3" still seems likely. I highly doubt he's anything below 6'2".
Brad
said on 7/May/09
I wonder what Emile Hirsch would look like in flat sneakers next to Frank. Probably by his tie.
OWEN
said on 7/May/09
Sorry but I don't see 6.5 inches difference here. 5.5 maximum making 6'1 plausible.
glenn
said on 7/May/09
nice choice rob! and these are my flat adidas days! and where4s that video of me and josh harnett where i look 5-11 next to 6-2 josh harnett? well at least for a second or 2. remember that one?.that was the tallest illusion i ever gave.in the flat adidas again.im also glad you put this up cause i never printed it,and forgot it existed.
miko
said on 7/May/09
He might be a little under 6"2 these days.
\-_-_-(Hugh)-_-_-/
said on 23/Feb/09
In his 30's I could see 6ft4 for this guy.
glenn
said on 23/Feb/09
i have the photo with.still a big guy.6-2.more peak perhaps.
adam
said on 22/Feb/09
Met him. 6-2 nowadays, yes, but I dont know about his peak....
Hugh
said on 6/Jan/09
I think he could've been a little over 6ft3 in his prime. my personal guess is 6ft3.25 peak and 6ft2.75 now.
elizabeth aidil
said on 2/Nov/08
El es "un grande" mas all
Nelssoni
said on 18/Mar/08
Comon u cant shrink 4-5cm only because getting old
Darkfalz
said on 20/Feb/08
Is taller than Arnie in Junior, looks 6'2" still to 6'0.5" or 6'1" Arnie.
Ivan 6'2.25
said on 6/Feb/08
yes 6'2 or 6'1.75 187 cms now
Mr. R
said on 9/Jul/07
When Langella hit big in the 70's, especially when he did Dracula, he was lsited at 6-4. I met him the same day as I met Clooney, and he is about 6-2 now.
Anonymous
said on 7/Feb/07
yeah maybe I short changed Kline a bit...he might indeed be 6'2...so if Langella had lost an inch due to age...he would be 6'2 flat now
footballed28
said on 7/Feb/07
this guy has gotta be dead on 6'2...I watched Dave some 14 yrs ago and he was maybe 1/2 inch taller than Kline...he is even older now, so probably not even a full 6'2..Kline is 6'1 1/2 I met him in NY
[Editor Rob: almost 70, average loss of 1 inch by then...he's only claimed 6ft 3 anyway, so losing an inch]
Ed
said on 21/Dec/06
Rob, is this Langella's peak height, because of every pic I've seen of him and Routh both premiere pics and from the movie, Routh has been taller by about an inch?
Fifi
said on 9/Nov/06
Brandon has big hair, I believe that Langella is telling the truth about his height, because hair makes a person appear taller! He is 6'3.
bobby
said on 16/Jul/06
yeah he does look shorter than brandon routh but a good 2 inches short which makes him 6'0 or 6'1 /2
RobertJ
said on 22/Jun/06
Here's pics from the superman premiere, he looks about 1/2 - 1 inches shorter than confirmed 6'2 1/2'' Routh.
Click Here
Click Here
D. Ray Morton
said on 29/Apr/06
He's exactly the same height as Kevin Kline in "Dave."
[Editor Rob: shrunking a bit? peak 6ft 3...but remember guys like kline have done alexander technique and have great posture...]
CelebHeights Editor
said on 19/Feb/06
I found him saying his height in HollywoodReporter in reference to a role:
"I am six-foot-three and Italian; he was five-feet-10 and Jewish"
Anshelm
said on 27/Jan/06
His IMDb height was initially 6'3"/191 cm, but this was later upgraded by one inch.
[Editor Rob: current height he really isn't looking near his supposed peak]
Mr. R
said on 12/Jan/06
I met Frank a few weeks ago at the Good Night and Good Luck screening with Clooney. He is closer to 6'2" at this point.
[Editor Rob: yes, he looks to have lost some height just looking at pics...although in 30's 6ft 4 could have been likely]