Fred Williamson's Height
6ft 1 (185.4 cm)
Peak height was 6ft 2 (188 cm)
American former NFL footballer and actor known for roles in films such as From Dusk Till Dawn, Vigilante, Black Caesar, The Bronx Warriors and The Inglorious Bastards. He said in the National Enquirer,
"I'm 6ft 3 and 230 pounds"
and pushed it to
"6ft 4"
on another occasions. When playing football he was described
6ft 2
quite often.
This photo was taken at a 2014 London Film & Comic Con.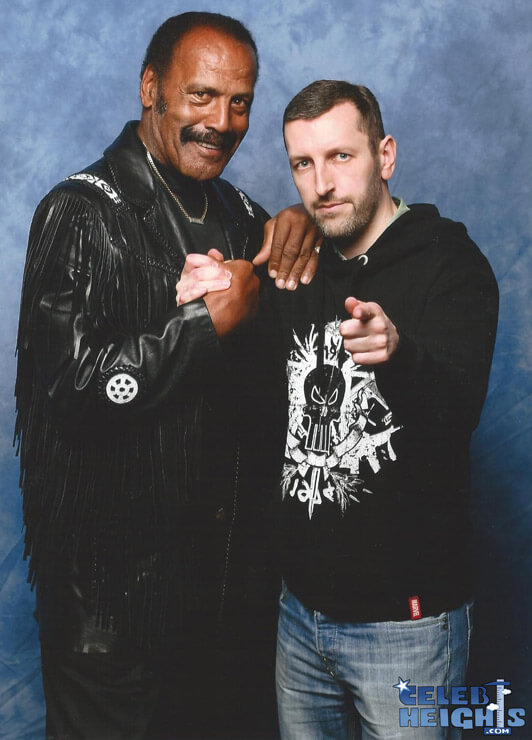 5ft 8 Rob and Fred
Add a Comment
44 comments
Average Guess (40 Votes)
Peak: 6ft 1.96in (187.9cm)
Current: 6ft 0.86in (185.1cm)
Bob da cob.
said on 16/Jan/20
6-4?? Wtf?? Lol. Another vin diesel guy.
Michael 5'10", 178 cm
said on 16/Dec/18
He looked easily 6'2" in From Dusk till Dawn, taller than Quentin Taratino. Fred was 6'2" in his younger days, 6'1 for his current height.
Paul NS (6ft0.5)
said on 1/Jan/18
Borats Chicken said on 6/Apr/17
rob, is he the first nfl player you ever met?
-
I think that'd be Carl Weathers
even
said on 18/Jul/17
current = 6'0.75" peak = 6'1.75"
World Citizen
said on 2/Jun/17
I will say 184 cm
Peter 179cm
said on 8/May/17
Actually he looks a weak 6'0 or around 182cm with Rob- definitely not 184-185 range...
Rampage(-_-_-)Clover
said on 21/Apr/17
I believe strongly...
Fred Williamson: 6ft2¼(189.2cm)
Jim Brown: 6ft1¾(187.3cm)
Borats Chicken
said on 18/Apr/17
Rob, he looks more 6'1.25
Christian-196.8cm (6ft5.5)Noon
said on 16/Apr/17
I believe his peak height was a bit less than Michael Irvin, who is another NFL player who's listed 6ft2 on this site. Weak 6ft2 for Williamson. I don't know why he would claim 6ft4 when football fans knew him as 6ft2.
Arch Stanton
said on 14/Apr/17
Yes, I think 6 ft 2 peak certainly looks more accurate than 6'3 or 6'4!! He kind of walks funny in Black Caesar thiough, almost like he's wearing big lifts.
Arch Stanton
said on 14/Apr/17
Rob there's a typo on Black Caesar. Good film. This guy looks about as stereotypical 70s p*rn star as you can get LOL, though to my knowledge never appeared in any hardcore films. He certainly has the "look" though.
Borats Chicken
said on 6/Apr/17
rob, is he the first nfl player you ever met?
Editor Rob: I'm not sure now, but probably...especially since it was 2014.
Oanh
said on 5/Apr/17
6'0.5" in photo
Peter 179cm
said on 5/Apr/17
@ dillon Rob is 5'8,not 5'9.5.This guy is at most 6'1 and possibly just 6'0-6'0.5
dillon
said on 5/Apr/17
For me this guy is a solid 6 ft 1.5 judging by the picture. Or maybe he has half inch due to footwear.
Peter 179cm
said on 1/Apr/17
@ Ethan He doesn't look over 183cm max with Rob.
Ethan
said on 29/Mar/17
Do people really think he looks shorter than 6ft 1 in this photo? I'd say that looks within a quarter inch of 5 inches difference. Rob has slightly concave hair at the top.
Rampage(-_-_-)Clover
said on 28/Mar/17
I think Jim Brown was the weaker 6ft2 guy
Johan
said on 25/Mar/17
He is 79 years old...but again he couldn't have been taller than 6'2" at peak because 6'2" Jim Brown was very similar.
Bioshock12345
said on 24/Mar/17
If a morning height is 181cm what is there overall height
TheManWithNoName
said on 22/Mar/17
Rob, what was his footwear like when this picture was taken?
Editor Rob: inch sneaker and him about inch shoe that day...he was close to 6ft 1 at least in 2014 when that was taken.
Sandy Cowell
said on 22/Mar/17
I knew I'd seen this guy somewhere! Yes, he was in 'From Dusk Till Dawn' talking about his experiences in the Vietnam war, just before he turned into a vampire!
I think at that time he could have been as tall as 6ft2, though now I think he's 6ft and a quarter of an inch. I don't think Fred is standing as straight as he could do in this picture.
Gian92
said on 21/Mar/17
Sincerely I see a 6 feet guy not more, probably 6'1 as peak not more.
RisingForce
said on 20/Mar/17
Very nice, Fred was badass and I'd agree with a solid 6'2" peak. He looks 184 cm max in this pic, but I trust Rob's in person estimate more than a picture. Height loss can vary a lot with different individuals too so we can't assume the average with him any more than we could have said Clint Eastwood only shrunk 2" by 80 as opposed to the minimum 3" Clint had actually lost at that time. But Williamson could have lost 1.5" and be at the same 6'0.75" today that Carl Weathers is and have been 6'2.25" peak.
Peter 179cm
said on 20/Mar/17
Another "6'1" actor who looks considerably shorter with Rob...
Rampage(-_-_-)Clover
said on 20/Mar/17
I think 188-189cm peak
Sam
said on 20/Mar/17
Seeing him peak with 6'2" Jim Brown, you could argue that Williamson is a fraction taller but its true that there's not anything like an inch between them, I'd say a quarter of an inch or less. Also, as an aside, seeing Brown with Gene Hackman makes a good case for a 6'1.75" peak for Hackman because Brown seems to be frequently edging a somewhat slouchy Hackman.
Click Here
Editor Rob:
yeah brown and williamson looked
Close in One Down
, although you could argue Fred had an edge at times.
Jordan87
said on 20/Mar/17
At 76 he should have lost around 1.25-1.5". He is 6'1 Now, was around 6'2 1/2 at best in his prime based on height loss.
Andrea
said on 20/Mar/17
Who is he? He certainly doesn't look a solid 6'1 with you but he could be somewhere between 6' and 6'1...
Danimal, my grandfather is actually 80 years old and I think he has lost max an inch compared to his peak...
Editor Rob: done a lot of B movies during his career.
Ethan
said on 20/Mar/17
You look like a badass in this picture Rob.
Danimal
said on 19/Mar/17
He's 80 years old!! The average 80 year old man has lost 2". People don't seem to realize that he is 80 years old and a 2" height loss is more than possible. Whatever he is today, you can easily add 2" to it. Surprised Rob only takes off 1" from his peak. Rob, you know better than anyone else that the average 80 year old man will have lost 2", not just 1".
Editor Rob: danimal, he is I believe 76 years old in this photo, still in good shape I thought...
Josh Jeffords
said on 19/Mar/17
Not 6 4 or 3 seen him young looked a big 6 2 footwear dodgy oft.
Looks barely 6ft in photo account for slouch maybe half inch.
Very big in boots next to very over listed Clooney.
Johno
said on 19/Mar/17
Hard to believe the man is almost 80.
Johno
said on 19/Mar/17
That is some tash there.
Looks near enough to the listing, maybe 6'0.75.
Powerhouse
said on 19/Mar/17
Looking 6'0-6'0.5
Mark
said on 19/Mar/17
Dam rob that was a cool shoot you should do more like this!!!!
greg
said on 29/Sep/16
I don't think Fred was ever quite 6'2", closer to 6'1". In the movie "One Down, Two to Go" he costars with two genuine 6'2" actors, Jim Kelly and Jim Brown. In long shots he's shorter than Kelly by about half an inch
Rampage(-_-_-)Clover
said on 2/Jun/16
...and he's claiming 6ft4 today!
Rampage(-_-_-)Clover
said on 22/Mar/16
Looked a bit taller than Jim Brown (also listed 6ft2) in the Blaxploitation days
Rampage(-_-_-)Clover
said on 1/Mar/16
189cm peak, Rob?
He could pass for 6ft3 back in the day. 6ft4 is extreme though
Editor Rob: I am not sure he really did look that tall. He was being billed at 6ft 2 and 3 while playing football.
Sid
said on 25/May/15
Hey met this guy last year, what a top bloke! I thought he was 6-1 at first but it was his slouching, he straightened up, I am 183cm barefoot, trust me, at 76 years old he is every single inch 6'3", its pushing to say 6'4" but he was the same as my mate who is exactly 192cm.
thebad7
said on 21/Jul/11
You must take what "The Hammer" claims with a grain of salt. In the '70s, he starred in a few pictures with William "Big Bill" Smith, himself a strong 6'2" man at that time--namely 1972's HAMMER and 1975's BOSS NI**ER. Wearing similar footwear, The Hammer is about the same as Smith: 6'2". I don't know why he blows his height up: he is/was a tall guy and very well built in his younger days. In Mamum's picture, he doesn't look any taller than 6'1". I'm sure he's had his share of injuries.
tb7
Editor Rob
said on 13/Aug/08
Also recently said:
"I was asked to be on the TV show [mash], and I said, "The TV's too small for me, dawg." I'm 6' 4''. There's ain't no way they could get all of The Hammer onscreen. Forget about it"
Brad
said on 21/Feb/07
Saw him "Hammer" Joe Namath at Shea Stadium. He was as mean as they got....and cool in the films with the cigar in his mouth.