Gabrielle Anwar's Height
5ft 2 (157.5 cm)
British actress best known for roles in movies like Scent of a Woman, The Three Musketeers and tv series Burn Notice.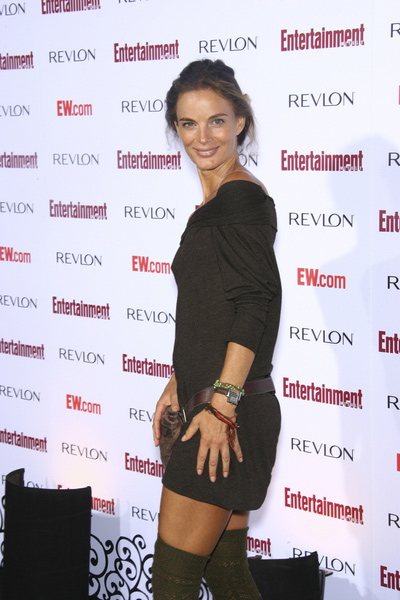 Photo by PR Photos
Add a Comment
23 comments
Average Guess (2 Votes)
5ft 2.13in (157.8cm)
Yolo
said on 6/Jan/13
WOW!... getting into decimal places here. :)
Silent d
said on 5/Dec/12
She is that short. Unbelievable in the new episodes, her mugshot says she is 5 foot 6. wow crazy! She is really skinny but i think she just works out a lot. 157cm. I thought she was taller.
TNTinFL
said on 1/Oct/12
She wears pretty big heels in Burn Notice and is still noticably short relative to her co-stars, who are over 6 foot.
Bozo
said on 18/Jan/12
I would have guessed a little bit less (5'1" or 5'), Al Pacino looks tall dancing with her, and she's wearing heels.
little sue
said on 7/Jan/12
lol, and if she is reading this it would have been the last time you slept with her!
Skink
said on 5/Jan/12
hyphenate is right, she is very tiny, but I think she's more like 5' 2.25". That was how tall she was the last time I slept with her, which was just over a week ago! Hope this helps:)
Pimp 6 feet 7 inches
said on 27/Dec/11
She looks taller because she is skinny ( or should I say skeleton ).
Jake T.
said on 22/Nov/11
Gabrielle seems between 9 and 10 inches smaller than Jeffrey Donovan so I believe she is 5'2.5 barefeet.
hyphenate
said on 22/Jul/11
I doubt if she is any taller than 5'2" as she is very small-boned and tiny. She is definitely feisty, though, and that makes her dynamic, and helps her seem taller.
nicole
said on 1/Dec/10
she looks tall in burn notice cause she always wears wedges.
but she is really pretty
Renee
said on 17/Nov/10
She's most likely 2 b 5 ft 3 inchs
miam
said on 11/Apr/09
i thought she was shorter than that she looks really short when she is on burn notice but she is nice and she is a great actress i love to see her in burn nlotice
Lego
said on 24/Jun/08
i've always thought of her as 5'3 tbh heels or no heels.
glenn
said on 23/Jun/08
and i leaned in a bit.your post is better than what i had to say bk.i provided the pic though.lol.
BK_Daniel
said on 23/Jun/08
Height + 4inch heels = 5 foot 7 and a half. 5'7.5" - 4 = 5 feet and 3 inches. :) I guess that was kind of half assed effort on my part but that's all I've got.
glenn
said on 22/Jun/08
i thought she was 5-3ish myself.
andrew
said on 21/Jun/08
i think she looks more than 5-2, 5-3.
glenn
said on 20/Jun/08
look,nothing against anyone but this heels questions is ridiculous.of course she is wearing heels.anyone celeb women is,and i stated that a million times.especially if they are dressed up.not always when they are dressed down.even then they do.i didnt realise she was that short.
miko
said on 20/Jun/08
She looks 5"6 next to Glenn here, 4 inch heels Glenn?
leonari
said on 20/Jun/08
she looks good! Scent of a woman was a looong time ago...tiny chick. Pacino looked tall next to her.
Markus
said on 20/Jun/08
She's short and very cute, you lucky Glenn ;)
Was she wearing heels or are you bending down a lot ?
Anonymous
said on 3/Oct/06
That's about right, yes. I met her some years ago and she was about 10 cm shorter than me
Amonynous
said on 23/Mar/06
Spot On. In the "Tango" scene of Scent of a Woman with Al Pacino, she was wearing 3" stilletos and Pacino had to wear "normal" shoes to dance the tango otherwise he would flip over if he had lifts on. Pacino was clearly 2" higher in all cinematographic shots, close up and long telephoto. She is 5'2" and beautiful.