Geoff Hurst's Height
5ft 11 (180.3 cm)
Former English Professional Footballer. He is perhaps best known for scoring
2
3 goals in the 1966 World Cup Final. In this photo Geoff had about ⅓ inch less shoe than me. In a FocusOn article he gave
"Height: 5ft. 11 1/2in, Weight: 12st 13lb"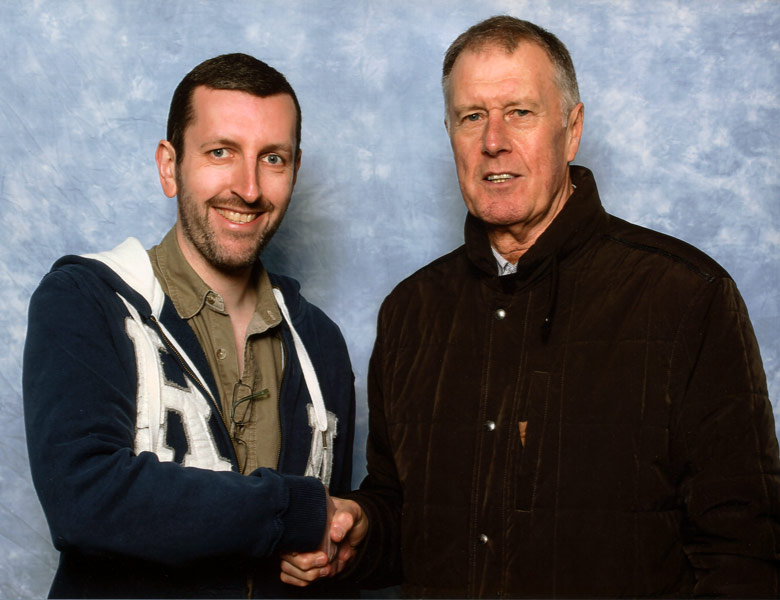 5ft 8 Rob and Geoff @ Collectormania, 2013
Add a Comment
24 comments
Average Guess (14 Votes)
5ft 10.71in (179.6cm)
Rory
said on 25/Nov/20
I'd go 5ft11.25 peak(probably did measure his claim of 5ft11.5 at about 10am) maybe 5ft10.5-10.75 when Rob met him aged 71 and possibly an inch lost now at nearly 79, 5ft10.25.
5ft11.25 peak
5ft10.25 now
Rampage(-_-_-)Clover
said on 12/Nov/20
He still looks over 5ft10 now...that peak is arguable I think. He's nearly 80
Rampage(-_-_-)Clover
said on 10/Nov/20
Rob, how likely is that 5ft11½ peak?

Editor Rob
It is what he claimed, and could be possible for his peak.
Rampage(-_-_-)Clover
said on 29/Jul/20
Ginola looks his listed 6ft1
Rory
said on 18/May/20
Rob, how Tall do you think Ginola looks with near peak Geoff Hurst in '99 ?
Click Here
Click Here

Editor Rob
184-5 possible
Nik Ashton
said on 10/Feb/20
A page for Alan Ball would be grand!
Littlelee168cm
said on 15/Feb/19
Would nobby stiles and Alan ball have been about 5ft 6 Rob nice to see there are shorter footballers

Editor Rob
Somewhere close to 5ft 6
Bobby 5'10 (178cm)
said on 28/Jan/19
Was he standing loosely, Rob? I'm only seeing 5'10 for him here. Even taking the footwear advantage on your end, he may only be a 5'10.5 guy.

Editor Rob
He was standing ok from what I remember.

He was taller in person than guys like John Barnes and Stuart Pearce who are both more 5ft 10 range.
Tunman
said on 18/Jan/19
As I expected 2" difference plus 1/3"footwear disadvantage which gives a solid 5'10.5",quite minimal loss for someone aged 71 (in that pic).
Peter 180cm
said on 12/Jan/19
Looks 178cm with less shoe so 179cm is closer.Maybe 180 peak.
Rampage(-_-_-)Clover
said on 30/Jul/18
Still looks 179cm zone w/h Rob
World Citizen
said on 27/Jan/18
Looks 5 ft 10 with the footwear disadvantage.
Jordan87
said on 25/Jan/18
5'10.5" Tops via the Photo with Rob
Paul NS (6ft0.5)
said on 9/Dec/17
I'd probably say he's 5'10.25 today (or at least when the photo was taken). Still looks 5'10 in the photo with a footwear disadvantange.
Editor Rob: he seemed comfortably over 5ft 10 that day I felt, then a fraction footwear difference and he wasn't far off 5ft 11, I don't think he'd lost much height by nearly 70.
mrtguy
said on 21/Jun/16
Not a good example of what 5'11'' guy
Editor Rob:
I don't think it shows him being near 5ft 11, but he does up close, I mean as I mentioned before, check out
PH Moriarty
on here and then look at
Moriarty with Hurst
.
heights can swing about at times in photos.
Johno
said on 4/Feb/16
5'9.75 there.
Rampage(-_-_-)Clover
said on 20/Feb/15
Probably nearer 5ft10 today.
Vibram
said on 6/Dec/13
Just saw him make the world cup brazil draw with both Cafu and Cannavaro (both 176cm). He only had about 1/2 inch on both men. That would make him 178cm today. I think 180cm/181cm peak is correct.
[Editor Rob: he's not quite a 5ft 11 guy..]
Bard
said on 17/Jun/13
Wouldn't doubt this as his peak, but definitely less now as evidenced by the picture.
legit177cm
said on 9/Jun/13
Isaiah
i dont know bro maybe because i workout and swim or play basketball alot to stabilized my posture. My mother measured my morning height last week and it came out 178.7 5'10.25 and night height was 177.4 my height varies from 5'10.25 to 5'9.5 from morning to night.
Isaiah
said on 9/Jun/13
Legit177cm how can you shrink so little? I go from 177.5cm to 174.7cm it sucks :(
legit177cm
said on 7/Jun/13
hey rob i wake 178cm (177.9 to be exact) and i go to bed around 177.2 or 3 can i say im 5'10?
[Editor Rob: you only shrink 7mm, I would say you were almost 5ft 10. You could tell people 5ft 10 and most probably wouldn't be able to tell you were 177cm.

I think if people use 'almost' or 'nearly' when they drop like a 1/3rd of an inch below say 5ft 10 it's quite fair.]
legit177cm
said on 5/Jun/13
i see 5'10 in here
miko
said on 3/Jun/13
Seems to have been listed in most places as 181cm, which is more than possible in his prime I guess.