George Stephanopoulos Height
5ft 5 (165.1 cm)
American journalist and political commentator, who has hosted Good Morning America. His wife was reported to have claimed
"He's 5-foot-7. But 6-foot-7 in bed!"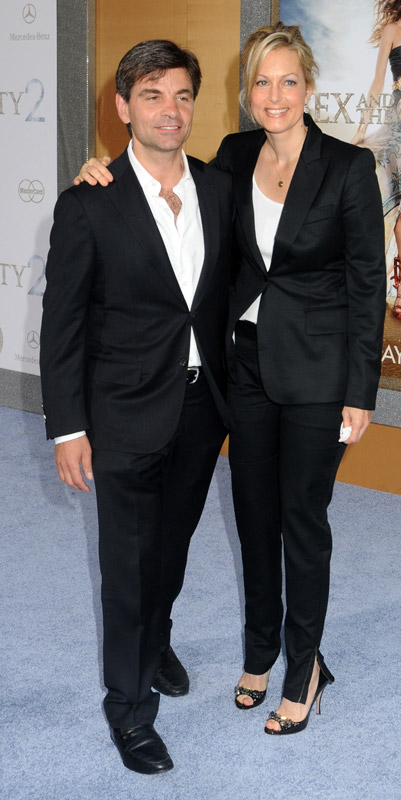 Photos by PR Photos
Add a Comment
31 comments
Average Guess (31 Votes)
5ft 4.94in (165cm)
Leesheff85
said on 22/Oct/20
Meltdown average height is 5ft 9 and stop with with the nasty comments because hes a few inches below average
vastlybetter566
said on 21/Oct/20
In the Showtime cartoon, where they parodied the Town Hall, they made him look comically small in comparison to Trump. Didn't think he was quite that small, given that most tv journalists are quite tall, while looking shorter on the screen.
I wonder, is there any very well-known media journalist shorter than him? I guess, because most men on tv seem to be above the average American height, he might stand out more, compared to a normal social event.
Meltdown
said on 16/Sep/20
Since average height is 5'10 and mini-George here is 5'3-5'4, he's a solid half a foot plus below average height. Perfect size to accompany Santa delivering coal to politicians this Christmas.
Littlelee5ft6
said on 30/May/20
He doesnt have a child like frame at all and is only 4 inches below average 5ft 5 at lowest
Rob Roberts
said on 2/Mar/18
He is more than likely 5ft 4 .Small child like frame. Paint him green on Saint Patricks day
Lee168cm
said on 18/Sep/17
Michael j fox has probably shrunk a bit maybe 5'3" now. But George could be in a bit of a lift there. Though George could be 5'5.5" maybe even 5'6"
Parker
said on 24/Aug/17
Looks 3 inches taller than MJF
Click Here
ArniesLifts
said on 23/Aug/17
Closer to 5'3-5'4
Jacob
said on 30/Jul/17
I think I've seen him on tv lol but the big rob joke rob was funny and this might be off topic but do you have kids rob?
Editor Rob: I don't have any.
Slim 182 cm
said on 30/Jul/17
Great quote rob, please add more!
His listings close to his height. Dunno where exactly.
qwerp
said on 26/Jul/17
more like 67 in bed
MJKoP
said on 25/Jul/17
Either way, it's a bit TMI from Ali Wentworth. ;)
Adey P
said on 25/Jul/17
Shows height is irrelevant to being talented, good looking, successful and intelligent.
KH
said on 25/Jul/17
5'5 might be stretching it by about a half inch he really never looks taller then the women around him. Its insulting to legit 5'7 guys that he could claim that. A 5'7 guy can look average height easily if you don't know the heights of the people around him. This guy screams short from a mile away. His wife is 5'7 at most and she isnt standing as straight as he is and has a couple inches on him. I can
t see his heels but Im sure there thick and her heels are pretty modest she can't be picking up much height there.
Arch Stanton
said on 24/Jul/17
Doens't necessarily mean he has a big c**k, could mean that he is a beast between the sheets (sexual prowess).
James B
said on 23/Jul/17
Who cares if he's not 5'7 he's still popular with the ladies
Rose
said on 23/Jul/17
There is no way this guy is the 5'7" he claims to be. Almost every woman who appears on GMA is taller than him. If he was 5'7" then at least some of the women who come on the show would be shorter than him. I would say he is 5'4.5" at the tallest. A man who is 5'7" could wear some modest lifts and look on the lower side of average. This guy just looks TINY.
MJKoP
said on 22/Jul/17
@errybodyshutup: I see what you did there. Nice!
'.'
said on 22/Jul/17
hey rob what does it mean that he is 6'7" in bed?
Editor Rob: well it's a way of saying he might be a good lover I suppose 😳

Lee168cm
said on 22/Jul/17
So ali must be 5'5" then as shes not much taller than him in heels maybe 1.5-2 inches id guess and hed be 5'6 or thereabouts in footware
Editor Rob: she could be a bit taller than George.
errybodyshutup
said on 22/Jul/17
george 5'tephanopolou5"
Chris
said on 22/Jul/17
If he's 5'5" then Michael J. Fox needs a downgrade. There's 2 to 2.5 inches between them in photos.
anyonmious
said on 21/Jul/17
no more than 5'4". Maybe even 5'3"
Ray
said on 21/Jul/17
Spot-on listing!
MJKoP
said on 21/Jul/17
Has a very similar Greek-American look to Michael Dukakis, who George campaigned for in '88. What's odd is that they are apparently both 5'5ers claiming 5'7". My father, who was a very weak 5'5" at best spent extended time with Dukakis and insists Dukakis was only a fraction taller than him at best. And my Dad frequently seems to upgrade heights from in-person meetings. Maybe an entry for Michael would come into play? Perhaps after you add Bob Dole and Mitt Romney?? ;) Dukakis apparently claimed 5'7" at one point, and to this day is listed almost everywhere as 5'8". A history textbook I once read cited him as 5'8.5" and ANOTHER historical article from a reputable publication was addressing the relevance of 'heightism' in politics, and to prove a point described a FOUR inch difference between Dukakis and his opponent, strong 6'2" Bush Senior, making Dukakis at least a solid 5'10" by that calculation. The article would've made much bigger impact if the writer knew that the discrepancy was more than TWICE that amount! :O
Shredder
said on 21/Jul/17
I thought 5'8
Jane
said on 21/Jul/17
ABC wanted to sack him because presidential candidates towered over him. I never thought he was only 5 ft 5. Ouch!
Lee168cm
said on 21/Jul/17
How tall is his wife then judging by this photo 5'6" maybe?
Editor Rob: Ali Wentworth mentioned "5'7 Please don't ask my weight. I will lie".

of course she also said George was 5ft 7...
Jacky Huynh
said on 21/Jul/17
I can see him as being 5ft 6in. But yeah nothing more.
Nik
said on 21/Jul/17
He's definitely shy of the 5'7" mark! 5'5" is getting very warm.
Chase
said on 21/Jul/17
Click Here
Before anyone tries to argue. This is the MOST He can be. He benefits from having a lot of hair. I could see him being the same height as Daniel radcliffe. But this listing is probably fine for now.