Greek born Irish Model. Her vital stats from her agency are: 5ft 8, 32DD-23-33 and shoe size 5UK (6US).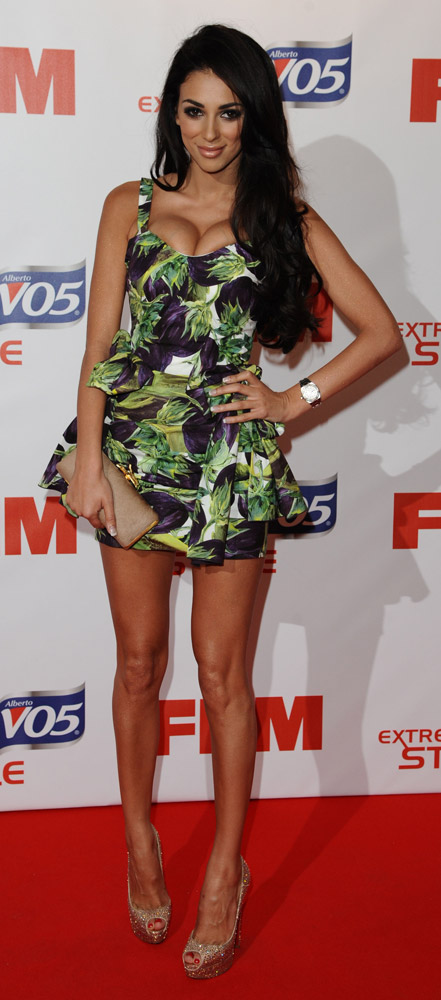 Photo © ImageCollect.com / Steve Vas / Featureflash
Abdul-DK
said on 14/Aug/22
She's very beautiful, I'd say she is 5'7.4
even
said on 20/Jul/17
shes a solid 5'8" , she can not be over 110 pounds .
James
said on 26/Apr/16
How tall does her husband look to you Rob?
Click Here

Editor Rob
can look in 6ft 1 range
Shaun
said on 12/Aug/12
Me neither Sceptic, I just caught BB at Christmas and I've seen him in quite a lot of Daily Mail photos looking quite short, shorter than Natasha Giggs in heels who I think is 5'6 ish. 5'7-5'8" I think would be reasonable.
Sceptic
said on 11/Aug/12
To be honest, I don't really watch anything the guy's been in, so you're probably right Shaun, but I just figured I'd post the pics just in case.
Shaun
said on 11/Aug/12
Yeah he does look 5'8 ish there Skeptic but I thought he looked 5'7"ish on Big Brother. Frankie is around 5'11" I think and Kirk looked 3-4 inches shorter.
Sceptic
said on 4/Aug/12
Those aren't sneakers actually Shaun, I thought that too at first. They're heels. Have a look:
Click Here
This picture might be a little better for judging it:
Click Here
Although I think he's standing a little straighter and maybe on a higher ground. I dunno, I'd guess 5'8-5'9 based on that though, assuming Jodie really is 5'2.
Vegas
said on 2/Aug/12
breslin was listed 6'2 for leinster
Click Here
he also played for westmeath gaa team, i know a few lads who played for both westmeath and leinster (one is a legit 6'7.5), see if i can find any photos of him next to them
Shaun
said on 1/Aug/12
Never heard of him either. I google imaged him and I'd have guessed his height by proportions to be 6'4"-6'5" range. Looks very tall, but 6'6", mmm a bit of a stretch, I doubt he's that height barefoot.
BigSean
said on 1/Aug/12
apologies cranberries, your right niall is his first name. judge on the voice of ireland. Rob would you consider adding his name on your website?

Editor Rob
not sure about adding him yet.
Cranberries
said on 1/Aug/12
@BigSean: Spelling is wrong, his name is Niall Breslin.
BigSean
said on 30/Jul/12
Rob are u familiar with another Irish celebrity Neil "bressie" Breslin. He claims he's 6ft 6. interesting to know wat u tink.

Editor Rob
not heard of him mate
Shaun
said on 30/Jul/12
Chuckle, I should have warned you to protect you eyes LOL.
Shaun
said on 29/Jul/12
Click Here
Rob. Jodie Marsh is 5 ft 2. He's not standing straight and she is in sneakers. What do you think his height is? I thought 5'7" but could be nearer 5'6"?

Editor Rob
she could be raising heels a little, but five six range is possible.
Shaun
said on 29/Jul/12
Taller than Kirk Norcross I think who I think is 5'7"ish.