Gillian Taylforth's Height
5ft 5 ½ (166.4 cm)
English actress best known for playing Kathy Beale on BBC soap opera EastEnders, and Jackie Pascoe-Webb on Footballers' Wives. A 2006 article mentioned her stats:
"Modest about her looks, the 5ft 6in actress weighs just under 9st"
. In Closer Magazine in 2012 she mentioned,
"My weight used to hover around 9st, but since getting into Zumba, I've lost half a stone"
. Officially, in the 1990's she listed herself as
Height 5 feet 5½ inches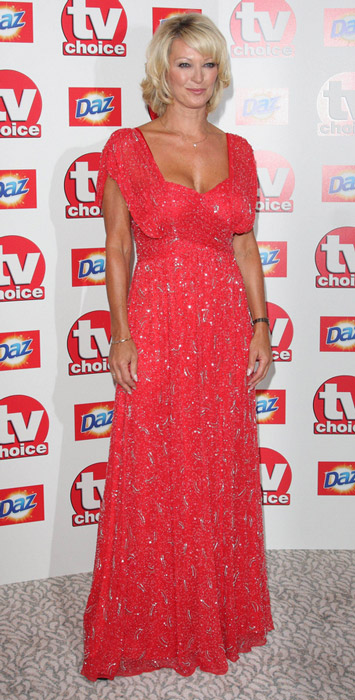 Photos by PR Photos
Add a Comment
21 comments
Average Guess (9 Votes)
5ft 5.78in (167.1cm)
Paul Wood
said on 29/Apr/20
She looks taller because she's slim but I think this listing is correct. She always looks taller than Wendy Richard who is listed everywhere as 5ft 6in. I think Wendy was 5ft 5in and Bill Treacher who played Arthur was more like 5ft 6.5in peak rather than his listing of 5ft 7in.
Miss Sandy Cowell
said on 28/Apr/20
Gillian's character in 'Classic EastEnders' has just started her affair with Phil, played by Steve McFadden. I can't see a terribly big height difference between the two at all, but they'll be plenty of chances in the coming weeks to check out what it is. I predict less than 2" - and that's with Gillian OUT of shoes.
5ft6 👱‍♀️💐
Nik
said on 16/Oct/19
She always seems to look above average!
Miss Sandy Cowell
said on 14/Aug/19
💐🎂🎈 Happy Birthday Gillian! 🎈🎂💐
Ha ha! I don't know why they chose someone like Gillian to play older in 'EastEnders'; that was ridiculous!
Wishing this lovely lady a Very Happy Birthday!
Doesn't she keep herself in amazing shape?
5ft5.5. 😁
🎉🎂💐💝👍🎂💐💝🎉🎂💐💝🎉🎂💐💝
Nik
said on 9/Jun/19
She is the tallest Gillian (There are 9 others!) on celebheights!
Nik
said on 14/Apr/19
It looks like she didn't overlist herself when she claimed to be 5'5.5" in the 1990's!
Miss Sandy Cowell
said on 12/Apr/19
Unlike in yesterday's awful episode, wherein the police officer was doubting Kathy's truthfulness about the attack by Willmot-Brown, the two officers today were completely different. I noticed that one was an actress from 'The Fast Show' of all things! 😊👍
Well, they were on her side and took her seriously. Hooray for that.
I give Gillian 5ft5.5, her day's lowest point. I have actually read that she's 5ft6, but though she doesn't look it, she's a sixty-something now. It's hard to believe that when you look at her!
Sandy Cowell
said on 14/Nov/16
I've never known Gillian to be anything other than 5ft6. When she started in EastEnders I read she was that height.
I remember her making an appearance as a fresh-faced young actress in the excellent film 'The Long Good Friday', which starred the late, great Bob Hoskins and the equally youthful as she is, dynamic Helen Mirren! What a film that was!
If Gillian has maintained her height the way she has her figure and looks, she can be immensely proud of herself!
Arch Stanton
said on 21/Jan/13
Penrose needs looking into though as I think she looks taller than her 5'4" flat.
Arch Stanton
said on 21/Jan/13
Looks right. 5'6"ish as I guessed, I knew she wasn't 5'7.5".
Anonymous
said on 17/May/08
Weller looked visibly taller than the other two always. He might be 6 feet even.
glenn
said on 10/May/08
thanks for confirming that schnouzer.
Schnouzer Breath
said on 10/May/08
you are correct on Weller, Glenn, pretty sure i've heard it confirmed he's 5-11.
glenn
said on 9/May/08
actually,now that i remember,foxton was 5-9ish,with a 5-10 peak look.buckler was 5-8.
Joe
said on 8/May/08
Thats ok, Glenn. I think Rob has made a typo. The drummer is called Rick Buckler not Butler. Buckler looks to be about 5'10? What do you think of Buckler's height, Glenn?
[Editor Rob: thanks I corrected his name.]
glenn
said on 6/May/08
thanks joe.
glenn
said on 5/May/08
the jam are legendary but somewhat underated.maybe he was 5-9 peak.had casuals i believe.paul weller is around 5-11 id say.maybe 6ft.im confused cause when i first met weller 6 years ago he had boots i think.
Charliemoto
said on 3/May/08
nice image, he's 5'8.5 not 5'8 imo.
Joe
said on 2/May/08
Well done for getting The Jam, Glenn. They're a brilliant band one of the best. I agree with 5'8.
Steve012
said on 2/May/08
If Glenn says he's 5'8, then he probably is, cause Glenn is this height too, and people who are the same height together can judge best about it.
Anonymous
said on 2/May/08
What was his footwear?