Grayson Dolan's Height
5ft 11 (180.3 cm)
American Youtuber, who along with twin brother Ethan have over 9 million subscribers on their channel. Ethan once said to Grayson
"Your only 5 feet 11 inches in a half"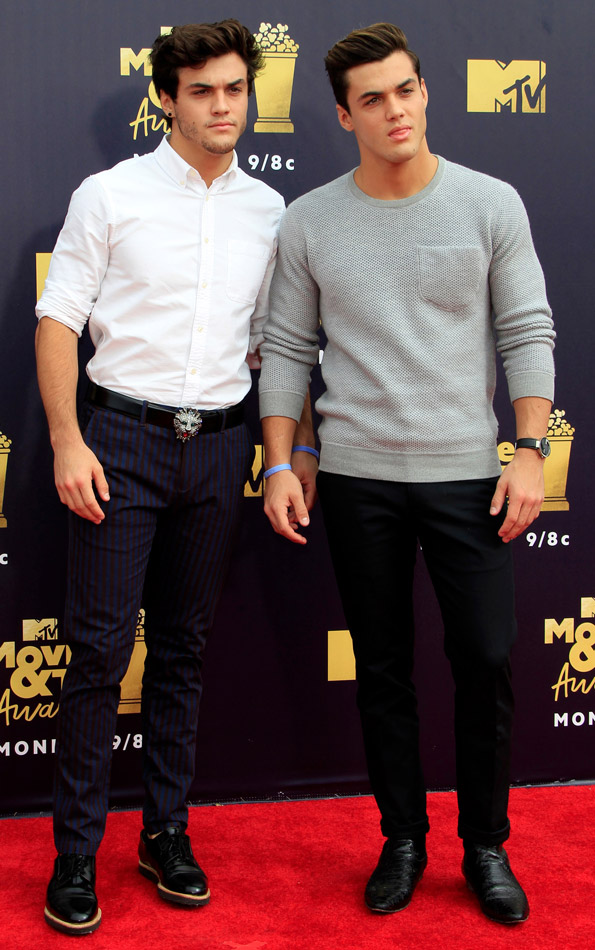 Grayson and Ethan
Photo by kathclick/BigStock.com
Add a Comment
18 comments
Average Guess (17 Votes)
5ft 10.04in (177.9cm)
red333
said on 5/Aug/20
nah they're about 5'9 1/2
JJJ75
said on 20/Jul/20
Rob, how tall does he look with Kevin hart?
Click Here

Editor Rob
maybe 5ft 10.5 there
Betyer
said on 30/May/20
Ridiculous jake Paul towers him and he's listed 5ft 11
Kkg
said on 26/May/20
Click Here
look at this, does this mean jake paul is 6 ft?
Abhinav
said on 2/Jan/20
There is a video where Ethan is 6'0 with shoes on. So he is defenitely like 5'10.5 or 5'10.5-5'11. On the other hand Grayson is taller than Ethan by like 5cm so Grayson is 5'11-6'0. I wouldn't be surprised if he was 6'0 because I have seen his videos and he is pretty tall guys.
Peter175
said on 11/Jul/19
5'10.5 minimum
not near 6ft though, I think 5'10.5-5'11 is good for him
TheBat
said on 28/Jun/19
Grayson is need of a downgrade to 5'9.75".
TheBat
said on 20/Jun/19
Shortest 5'11" I've seen on this site. 😂 5'9.75" is better.
thejeanli
said on 8/Apr/19
how tall is James Charles and Jeffree Star? (beauty youtuber)
plz answer me Rob
thank you xoxo

Editor Rob
I think charles is inflating his claim at least an inch, he said he was 5ft 10 which seems very hard to believe!
Bluetooth
said on 4/Apr/19
Anyone saying 5'9" is surely underestimating their height. It's far enough to say that 5'11" may be a little of a stretch or overestimate, but if you see them in videos walking in motion with others they're taller and longer than you'd think. They don't appear anywhere under 5'10" or even 5'10" at all.
For me, i'd say it's safe to assume that they're about 5'10.5" and rounding up to 5'11".
Please do Jack Gilinsky next Rob if you could, he's estimated to be about 5'10" but i've seen arguments for both over and under. A lot of people speculate about his height it would be nice to put it to rest.
Austin J
said on 3/Apr/19
Looks closer to 5'10
cmillzz
said on 31/Mar/19
5'11?? seems way too high for him. I'm honestly struggling to even see 5'10 now.
MD
said on 31/Mar/19
Maybe it's just their build, which makes them look really wide, but they don't look 5'11".
Greg
said on 29/Mar/19
@Rob fair enough. I just can't see him over 5'9 maybe 5'10 at a push, his proportions aren't that good and just looks like a weak 5'10/flat 5'10 guy. I think his brother is marginally taller than him? I think he might be claiming an in shoes height would be nice to see him next to celebs or people who's heights we know.

Editor Rob
The girl
Beside the twins
actually claimed 5ft 6, but she doesn't look that tall, more 5ft 5 at most, I think 5ft 10 would be absolute worst I'd estimate.
M.E
said on 29/Mar/19
I've never paid that close attention to these guys but, I think there was bigger height difference between him and his brother before and the height difference shrank over the years.
Bobby 178cm
said on 29/Mar/19
Is he actually that tall? He doesn't seem a big 5'11 guy.
Ru
said on 29/Mar/19
How tall is his brother?

Editor Rob
They are close, but I'm not sure if one is half inch taller than the other.
Greg
said on 29/Mar/19
I think he's over listed always looked like a 5'9 and change guy to me I guess 5'9.5

Editor Rob
In 2014 he claimed 3 heights, 5ft 8, 9 and then 10...of course he was like 14-15 back then and grew.