Guy Fieri's Height
5ft 10 (177.8 cm)
American restaurateur and TV presenter known for shows like Guy's Grocery Games, Diners, Drive-ins and Dives and Guy's Big Bite. He once held a
carton
with his Height mentioned as 5'10".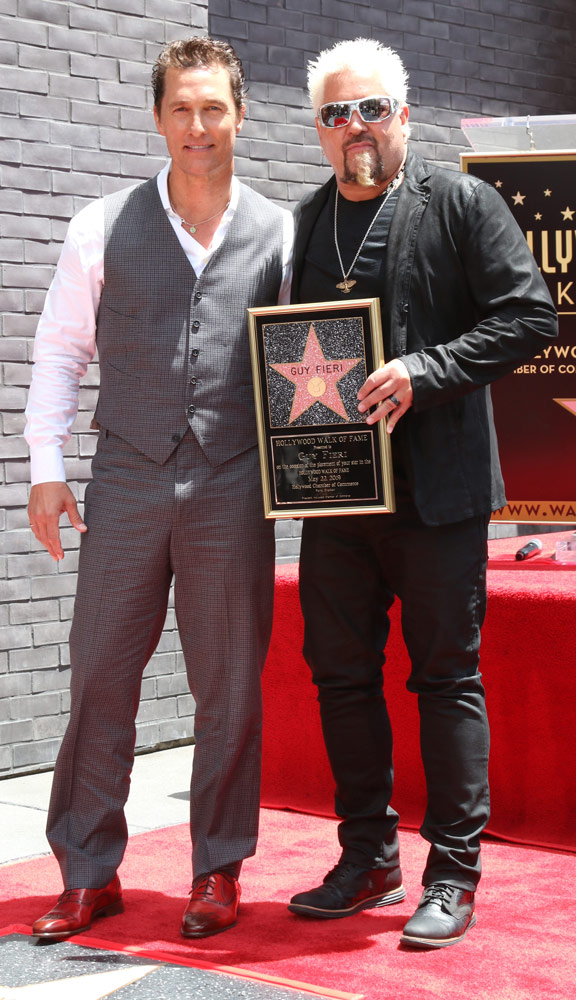 Add a Comment
18 comments
Average Guess (26 Votes)
5ft 9.87in (177.5cm)
Slim 6'1"
said on 5/Aug/20
This guy probably 177 max
Slim 6'1"
said on 5/Aug/20
McConaughey is 179.5
Yang (5 footer 8, 173, Aries)
said on 1/Aug/20
@Sandy. Hahaha 😂😂😂. I can bet you there were other celebheight visitors requested him at least... As He is most famous known restauranteurs on TV shows plus he visited my favorite thai eatery a place where there were Many celebs dined there and owner even took selfie with them such actors as Ryan Gosling & Harrison Ford and Aziz Ansari etc.....
Ethan99
said on 1/Aug/20
this may sound weird but i always pictured him as a 5'8 range dude
Bwk
said on 26/Jul/20
5'10'' is fine for him.
Sandy A Cowell
said on 25/Jul/20
Yang, 5ft 8-er - Yup! I think thank you're squids in with your idea of having more pages for the restauranteurs among us!
They are hard working people and deserve to be here. I do believe that even the actor Robert de Nero has a restaurant. I read it in a Liv Tyler interview. She eats there. Indeed, so would I if I lived near the haunt. I'd love to meet Robert but he'd have a great deal of trouble walking away from me, as I'd have simply too much to discuss, having seen nearly all of his films!
Cheers Yang! 😁👍
I'm a giving this Guy 5ft10. Oh dear! I'm getting somewhat hungry now......
Yang (5 footer 8, 173, Aries)
said on 24/Jul/20
Yayyyyy. GUY FIERI aka my favorite American restauranteur is FINALLY added on this celebheight page.. He is one of restauranteur I do admire the most.... I guessed him around 5 ft 9 3/4 range plus I did remember I made request him to be added on celebheight page... Yesss. He deserves to have pages here like other known chefs and restaurateurs....
Nik Ashton
said on 16/Jul/20
It would be great to see a photograph of Guy alongside Rob Paul and Nik Ashton!
Wrasslinfan
said on 16/Jul/20
Always imagined he'd be really tall for some reason
Greg
said on 14/Jul/20
@Mark agreed I am giving this dude a bit over 5'9 best case scenario.
Olympian
said on 14/Jul/20
His proportions look similar to mine. He can fool you for a 5'11-6'0 guy. The guy next to him can seem a strong 6'0 guy.
Sakz
said on 14/Jul/20
I remember him from Diners, Drive-ins and Dives. I would have guessed him at around 5'9 since his stocky build makes him look shorter.
Andy5'93/4
said on 14/Jul/20
5'10 is a great estimate
Aidan 5'10.5"
said on 14/Jul/20
I remember requesting him in april, cool that he has a page now. i agree he's 5'10"
Greg
said on 13/Jul/20
Looks 5'9.5 next to Matt
mark thompson
said on 12/Jul/20
look at guy's shoes and the crease in his knees on his pants. looks like a lift wearer. 5ft9 from me.
Chris Junior Hernandez 1990
said on 11/Jul/20
McConaughey and Guy look the same height. Understand the ground is lower on McConaughey side.
Miss Sandy Cowell
said on 11/Jul/20
Guy is a snappy dresser for a TV Chef, and look - he's photographed with popular actor Matt McConaughey!
5ft10 for this Guy who tries and succeeds in doing his ample best to make the most of his appearance.
😁👌🍱