Hayley Williams Height
5ft 1 ½ (156.2 cm)
American Singer from Paramore. On her twitter she has said a few times
"I'm 5'2""
,
"5'2''... though the ruler thing at steak and shake says 5'3''"
although was quoted saying
"I'm 5'1'"
in Entertainment Weekly.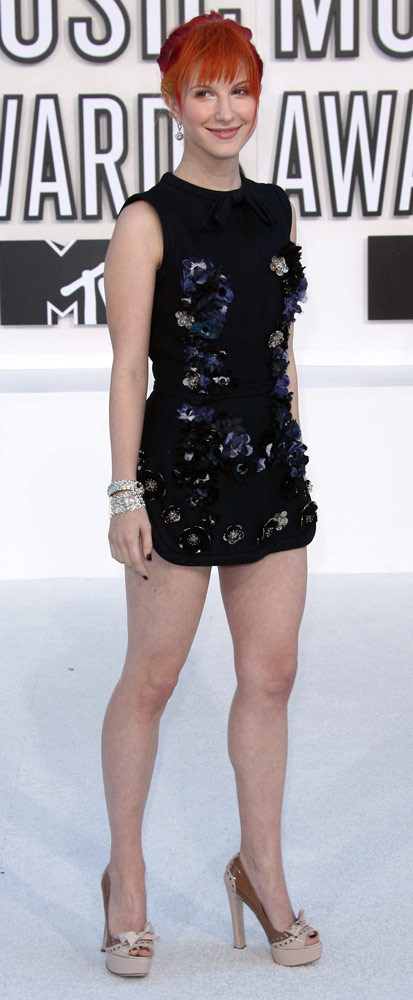 Photo by s_bukley/BigShot.com
Add a Comment
27 comments
Average Guess (13 Votes)
5ft 1.62in (156.5cm)
Nik Ashton
said on 16/Oct/20
@ louiMB - Cool pic!
louiMB
said on 13/Oct/20
Also Rob, Here is a link to a video of Hayley meeting rapper B.O.B ,who's 5'10. Timestamps of them meeting : 0:20 - 0:40.
Click Here
Here is a link to a series of pictures of Hayley standing next to B.O.B. She has a smaller footwear than him though.
Click Here
Here's another link to Hayley standing next to the same guy. Hayley has a slightly bigger footwear here.
Click Here
Rob, is it possible that Hayley could be just 5'1 than 5'1.5 ,or is 5'1.5 more accurate, from these evidences?

Editor Rob
Well the fact she once gave a 5ft 1 claim was always interesting...5ft 1.5 is the most I think I'd argue, maybe she could measure between 5ft 1 to 1.5 range, more-so than 5ft 1.5-2 range.
louiMB
said on 13/Oct/20
Hey Rob, How tall does Hayley look here with 5'5 Chris Carrabba? In the 5'1-5'2 range, but not quite 5'2?
Click Here

Editor Rob
yeah, under 5ft 2 assuming footwear was similar.
trp
said on 22/Jun/17
How tall do you guys think Taylor York is? Always say him as 5'10.5"-5'11"
Warren
said on 6/Jun/17
My super favorite singer! I think 157cm was correct
Louise
said on 8/Feb/16
She is actually 164 cm tall. Just check the pictures where she is right next to Patrick Stump (who is 165 cm tall).
anny
said on 7/May/15
She is actually 5'2''. She has a part on Taylor Swift's video for Bad Blood and when they were looking for a body stunt double, the information paper said 5'2''.
Rock V
said on 13/Apr/15
She is 155cm.
Liberdude
said on 17/Nov/14
She looks like 153-154 cm. She's very petite, in the stage she looks tiny, you can barely see her. A beautiful woman and a great singer, that's for sure.
Silent d
said on 29/Aug/13
Isn't she shorter than avril lavigne? Avril is 5 foot 2. She looks tiny and she says she is really small too. 5 foot 1.
Danny
said on 21/Jun/13
She's about 5'1 or something. Really short <333
SolidSnake
said on 3/Apr/13
i thought she was under 5 foot. looks tiny from what iv seen
Danielle
said on 14/Jan/12
I'd say she was 5ft3 at most, she looks it when she's next to the other bandmembers onstage, I've seen Paramore twice, I'd say she was inbetween 5ft2 aand 5ft3? xD
Liv
said on 26/Aug/11
Met the whole band last year and at 5'4 i was about 2 inches taller than hayley, if that. i'd say 5'2 is pretty accurate
stella
said on 19/Aug/11
she looks 5'3 at most.
Grace
said on 7/Aug/11
She's most definitely 5'2. I met her earlier this year and she was the same height as me. She has also quoted being 5'2 in a few magazines.
GHT
said on 8/Jul/11
5'2-ish, definitely. Never looks different.
hola
said on 19/Jun/11
5'3 probably
Jack
said on 28/Apr/11
I'd say Hayley is 5'2" or thereabouts. Her awesome voice is about 7 feet tall though, haha.
@Lily, nothing wrong with tall girls at all, in fact, I'd wager an even proportion of short and tall girls would be rated as 'hot'. In any case, long legs get a males thumbs up any day - although the same amount of shorter girls have 'proportionately' long legs, as taller girls do. Any guy that has a problem with tall girls obviously has deep seated issues.
Lily
said on 7/Mar/11
@jj Dude. What happened to tall girls with long legs being hot?
I'm 5'8" and I'm perfectly not-gross!
goodbye
said on 29/Dec/10
@lola - keep in mind that The Veronicas are like 5 foot :-)
hola
said on 20/Nov/10
She's looks 5'2.5
Eevie
said on 12/Nov/10
She is 5'2" my friend is exactly that height and her and hayley are the same height, although a half inch isn't a whole lot of difference, she is very petite so it may give the impression of her being smaller, also her half sister erica said that hayley is a little bit taller than her at 5'2"
Jessica
said on 9/Nov/10
When I met Hayley she was a tiny bit shorter than me and I am 5'3". She was very tiny though!
Liv
said on 8/Nov/10
not a great judge of height but when i met hayley she wasn't much smaller than me and I'm 162cm. i think maybe she's about 158-160. not that it matters :l
nat
said on 8/Nov/10
I think that Demi Lavato is 157cm.FYI, not 158.
Mia
said on 28/Oct/10
Amanda, I'm pretty sure Hayley knows better than you what her own height is. Why would she make herself shorter? Being a "huge fan" doesn't prove anything and you surely shouldn't call yourself one, since you're actually denying her own words.
I saw her in concert, she had a Meet n'Greet with the fans. I'm 5'2 myself, she definetly looked shorter than me. We were both in flat shoes.