Heather Locklear's Height
5ft 4 ¾ (164.5 cm)
American Actress from Melrose Place and Spin City.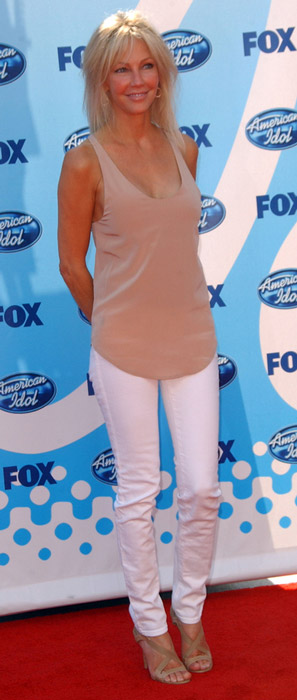 Photo by PR Photos
Add a Comment
53 comments
Average Guess (13 Votes)
5ft 5.15in (165.5cm)
Miss Sandy Cowell
said on 25/Sep/20
💐🎂💝 Happy Birthday Heather! 💝🎂💐
Many Happy Returns to Heather Locklear, who today celebrates her 59th Birthday.
Have a lovely day, Heather!
5ft5 is the height I've decided to give her on her special day. 😄🎊🎈
💐🎂💝🎊💐🎂💝🎊💐🎂💝🎊💐🎂💝🎊
Nik Ashton
said on 24/Sep/20
@ House of Legends - 161 cm ain't a short height!
Nik Ashton
said on 4/May/20
5'4" - 5'5" is likely!
Miss Sandy Cowell
said on 25/Sep/19
🎂💐🎉 Happy Birthday Heather! 🎉💐🎂
Congratulations to Heather Locklear, who turns 58 years old today.
Many Happy Returns to her!
5ft4.75. 👱‍♀️👍🎁
🎂💐🎉🕯️🎂💐🎉🕯️🎂💐🎉🕯️🎂💐🎉🕯️
House of Legends
said on 16/Jul/17
I have a hard time seeing her above 161cm. She just looks short, and quite well proportioned.
Sandy Cowell
said on 7/Feb/17
In the 1980's Heather was 5ft5! I read it enough times to lead, and go on to win, an argument about it, providing evidence to back it up!
The other person (a man 15 years my senior) said she was about 5ft!
Shoop
said on 3/Dec/16
Yeah I think this listing is wrong. Unless she's grown since 20. I can upload snapshots of her first appearances on Dynasty (she first aired December 1981) and she was shorter than 5'4" listed Joan Collins and she did not look tallish is roller skates. Most 5'5" women look a little tall in roller skates -- not Heather...and She barely edged out 5'8" Linda Evans !!!
Sarah
said on 28/Oct/16
She didn't look that tall compared to the 2 actors on TJ Hooker (Shatner and Darren, both weak 5'9" range in the 80s):
Click Here
Would you put her as low as 5'3" range though? It's hard to tell.
wishbone
said on 16/Oct/14
5'3" Heather sure is pretty! As the Facebook picture of Heather shows,she can wear anything she wants to,from pants to long gowns,yet be pretty! It isn't easy for petite women to look and feel pretty,but my short friends like Annette (5'1"),Lupe (4'11"),Joanie (4'10"),Kelly (5'2"),Alice (5'),Mia (5'1"),and Cailin (4'9"),sure feel pretty and nice in what they wear! (Same holds true with small actresses I love,like 5" Patty Duke,5' Cathy Rigby (it would be fun to add Cathy on Celebheights),5'1" Susan Lucci,5'2" Patty Heaton,5'2" Melissa Joan Hart,5'3" Cheryl Ladd,and other short women I love. Now petite women can race cars,be Miss America (as 5'2 1/4" Gretchen Carlson calmly and lovingly showed),or even be models! (My 5' Friend Kelly Mickolaczyk even got a basketball scholarship in high school!) So be happy,Heather,that it's fun to be short!
Greg Lehmann
said on 20/Jun/14
No matter what 5'3" Heather Locklear wears,she is happy in what she wears. My favorite picture of Heather is a Facebook picture in which she wears a black pants suit,"sheer to the waist" Tahiti Bronze pantyhose,and black tie shoes that calmly tickles Heather and makes this 5'3" blue eyed blonde prettier than what she is. She is smoothly proportioned and never feels squashed in anything she wears.She is 5'3" and pretty and sweet.She's "just right" with me!
Brad
said on 20/Dec/13
5' 5" in front of me 30 years ago.
marla singer
said on 3/Sep/13
Just saw "The perfect man" - she was always in heels and appeared about 3inches taller than 5'1.5" Hilary Duff (in heels too), so I agree with this listing, definitely 5'4.25"-5'4.75" range.
kristi
said on 22/Jul/13
She is so tiny. No way 53. I met her when I was an extra and I could not believe how small she was
Silent d
said on 2/Oct/12
I believe 5 foot 3. She was taller than hilary duff in perfect man. No way she is 5 foot 1 or 2.
Sophie LaPorte
said on 29/Sep/11
NO WAY! I was a featured extra on Dynasty in 1987 & 1988 a few times and stood next to her many times, sometimes barefoot. I'm 5'6 and she was a good 4 or 5 inches shorter than me! Ask her agent if you have any doubts. She has heels on this pic, like she very often wears! And you people - sites - need to stop copying the wrong info from each other and propagating untruths! You've get a few other people's heights wrong too, even according to them! Lol one of them is my ex-bf, who according to you is 2 inches taller than in reality...
5'8.56784
said on 26/Jul/11
She's around the general female height, and incredibly good-looking, I must add.
gregory lehmann
said on 11/May/11
Just like with 5'2" Cindy Williams,Heather told me through a picture she sent me in 1998 she's 5'3",which I'm comfortable with.
Brad
said on 21/May/09
She's 5' 5". In golf shoes with Catherine Zeta Jones & Cheryl Ladd proved it.
jessie
said on 21/May/09
I'd say she's 5' 3" or maybe shorter.
John
said on 3/May/09
In The Return of Swamp thing she was standing next to Sarah Douglas who is listed at 5'10" and barely came up to her shoulders, so I think she is no taller than 5'3.
Mr. R
said on 3/Apr/09
She is listed at 5-5 in the May 2001 issue of People.
Anonymous
said on 27/Feb/09
I also met her i am 5'2" and we were the same height
anonymous
said on 11/Nov/08
She is tiny. In perfect man, she's about 6cm taller than hilary duff who is 166cm. I would say she's 5 foot 4 max no taller.
Anon
said on 22/Sep/08
Saw her years ago in LA. She was crossing the street and was wearing substantial heels. I doubt she was even 5'6" in big heels, so I doubt she's nearly 5'5" in bare feet. Seems unlikely she's over 5'4".
Mike
said on 10/Aug/08
Go to youtube and search "Dynasty 8". You will see a video of Heather and Catherine Oxenberg standing by the pool just before they both fall in. Oxenberg, who is listed as 5'5" to 5'5.5" towers over Heather.
ozz
said on 28/May/08
she is a tad over 5'4 but for a women thats a good height and for a women in her 40's she is a hot babe too she was on two and a half men with charlie sheen, sheen hit it but she has a hot figure beautiful lady
Amy
said on 12/May/08
Heather is 5'5. I knew her years ago after high school.
glenn
said on 1/May/08
thats tough.possible.but more closer to 5-4.so i must be wrong about heather.i dont know why i tower her.
Anonymous
said on 1/May/08
Is it then possible that MJF is 5'3 Glenn?
glenn
said on 1/May/08
5-2 is too low.5-5 i guess if you say so.i wouldve guessed 5-3.5 to 5-4.5.more on the 5-4.
TJ
said on 30/Apr/08
She was a solid inch taller than Michael J Fox in Spin City when both barefoot - possibly a little more. Here's the image of the two that I originally posted in the MJF thread.
Click Here
If she is less than 5'5, MJF is less than 5'4. I can't see MJF being shorter than 5'3.5 though, so talk of Heather being 5'2 is false.
leonari
said on 30/Apr/08
Never is she a full 5'5" gal...
glenn
said on 30/Apr/08
5-5 seems a little high.i see her on occasion.i tower her in pics.
Donkey Kong
said on 30/Apr/08
Obviously you've never met her....I have. 5' 5" every time. Nice spelling on standing and beside, you must be a regular.
Parker
said on 30/Apr/08
Although I agree that Heather looks 10 inches shorter than the guy she is with, you cannot determine height from one photograph.The stride pattern is different, he has inch on his flip flops. Heather played a number of barefoot scenes with Michael J Fox in Spin City and was approx an inch taller. Most people concur that MJF is (or was) 5'4. So I think the editor of the site has her height spot on.
Railey
said on 29/Apr/08
Seriously, whoever runs this website has Heather's height very, very wrong. Look at her standing next to Jack Wagner. He looks to be 6'0 (although I think this website says he's 5'11.5 - close enough). And stadning besude him, both in flip flops, she's at least 10 inches shorter.
She's no more than 5'2. She's tiny.
Click Here
leonari
said on 30/Jan/08
Spade 5'3"?? The man is short but that short? I don't think so. Glenn you have met the guy. Can he be 5'3"?????
redrum
said on 29/Jan/08
Lorenzo, if Spade is just under 5'3" then he was probably close to 5-5 in those thick soled shoes which brings Heather up to 5-5.
Lorenzo of the Night
said on 10/Dec/07
I've been watching her tonight on "Rules of Engagement". There's a scene where she and David Spade are standing right next to each other. As they come through the door into the scene, she has her high heels in her hands, and barefoot. Spade is wearing shoes with thick soles. As the camera comes in for a medium shot (waist to head on both), she is just a hair taller than Spade.
So, if Michael J. Fox is 5'3" and she is a smidge taller than HIM while wearing no shoes, and he has them on, it's a good bet that Spade is 5'3" (or less), which will make Heather somewhere between 5'3" and 5'4". My bet is 5"3".
Anonymous
said on 2/Dec/07
If Heather Locklear is 5'2, Michael J Fox is max 5'1 and there's no chance of that.
laura
said on 1/Dec/07
i met heather in maui a few years ago. i'm 5'3 and she was shorter than me. we were both in flip flops - i'd say she's 5'2. she's really beautiful and tiny!
radio_man
said on 3/Aug/07
hahaha
you guys are fooled
heather must be like 5'2, she's so tiny!
fushizzledizzle
said on 21/Jul/07
Brad is either 6-5 or 6-8 depending on the thread you read.
runt
said on 5/Jun/07
Who sais Brad is as tall as he thinks he is? Lets say Brad thinks he's 5-11 and every time he meets heather she's exactly 6" shorter than him. She could be 5-3. Alot of people are shorter than they think.
Brad
said on 5/Jun/07
The above 5' 5" is correct. I've met her 6 times, she doesn't get smaller.
Mike
said on 3/Jun/07
In an article from back in the Dynasty days, Heather said she and Joan Collins were both 5'3".
robotix
said on 29/May/07
In TV movie "Body Language" with 5-5ish Linda Purl she looked like a petite waif. I'd say 5-4 first thing in the morning.
X
said on 12/Apr/07
I once heard her say she is 5 ft. 5 in a TV interview a few years back. People have said she looked shorter during her "Dynasty days" because she was very thin & dainty.
She appeared a smidgen taller than M.J. Fox on "Spin City" and was noticeably taller than one-time guest stars Kelly Monaco & Vanessa Marcil.
Brad
said on 6/Aug/06
5' 5" is the right figure. Both ex hubbies are about 6' 2" and she captures a good photo with each in heels.
Lulu
said on 18/May/06
My sister and I saw her at the beach in Malibu a few years ago and chatted briefly with her. I'm 5'4 and sis is 5'2. Heather was definately shorter than me and sis said they were eye to eye. She was VERY petite.
phillyflash
said on 18/Nov/05
I recall an article in TV guide years ago, during Heather's 2nd go-round on Dynasty, the author describes a good-natured argument between Heather and Joan Collins (widely reported as 5'6) about which of them was taller, Joan complaining about how Heather's hair was piled on top of her head....the author said that both of them were only about 5'3". I think he was a bit off though, and Heather has ALWAYS, AFAIK, been reported as 5'5, and that seems to be accurate, IMO.
TJ
said on 17/Jun/05
She is only around an inch taller than Michael J Fox in Spin City, so 5'5 seems right.
Anonymous
said on 17/Jun/05
She's just 5'5''? I always thought she is at least 5'8'',she looks tall in some pics.