Hugh Dennis Height
6ft ¼ in (183.5 cm)
English actor and comedian, known for playing Pete Brockman on Outnumbered and appearing on Mock the Week. In the Express he said
"I'm around six feet tall"
, and in the late 1990's listed himself in Spotlight as
"6 feet 1 inch"
.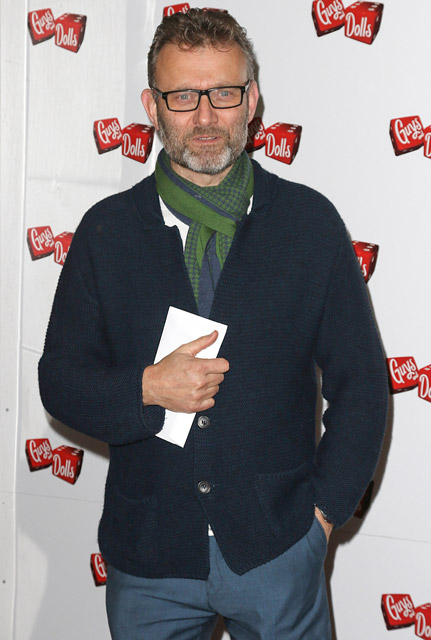 Photos by PR Photos
Add a Comment
31 comments
Average Guess (26 Votes)
6ft 0.9in (185.2cm)
Rampage(-_-_-)Clover
said on 6/May/21
Rob, in fairness Kevin Costner has claimed 'six feet' as well, could Hugh be generalizing a bit as well?
He seems comfortably over a flat 6ft, at times nearer 6ft1

Editor Rob
a fraction over 6ft I thought was ok, but I wouldn't rule out full 184 entirely...6ft 1 though, I never thought that much the last time I looked at him.
MaskDeMasque
said on 25/Apr/21
He was half inch taller than Boyle in Mock The Week. So either hughs 6'0.5 or Frankie is slightly under 6 foot. I think the former is more likely. 6'0.5.
Rampage(-_-_-)Clover
said on 3/Apr/21
This guy slouches quite a bit as well...
ChaosControl 6'2 1/2
said on 24/Jan/21
I'd say 184cm, bump him up a bit
Rampage(-_-_-)Clover
said on 8/Sep/20
Agreed, Mark
Rampage(-_-_-)Clover
said on 3/Jul/20
Rob, looks pretty similar to Richard Ayoade
Click Here
mark thompson
said on 3/Dec/19
i'm quite notorious for downgrading celebs heights on this website but i'd give a definite exception for hugh. i would give him at least 6'0.5 or 6'0.75 because he is at least an inch taller than lee mack and looks identical in height to alex horne.
Nik
said on 6/Apr/18
Looks much taller than this to me!
Faza
said on 21/Oct/17
If hugh dennis is 185cm andy murray is 190cm minimum dennis is solid 6ft range tho he was taller than lee mack tho mack is likely a weak 6ft guy
Rampage(-_-_-)Clover
said on 19/Oct/17
184/185cm looks better
faza
said on 20/Sep/17
Murray is undersold on here imo cant see how Murray is under 6'2 he looks 6'2.5 but I could see him actually being something like 6'2.25 and I think Hugh Dennis is 6'0.5- I agree he can look close to 6'1 he was definetely taller than Lee Mack on Not going out and Mack himself claims to be 6'0 so something is a bit off although you could say Mack might be a guy who would measure 5'11.5 and simply round up
Yas
said on 11/Jun/17
Watching him on Taskmaster I would have guessed him closer to 6'1.
John
said on 11/Jun/17
This guy has to be atleast 6ft 1. Plenty of 6ft 1 guys just say 6ft cos its quicker and they couldn't care about height.
Rampage(-_-_-)Clover
said on 29/May/17
I still think he was giving a generalised description. Idris Elba referred to himself as "six foot tall". It doesn't always mean actually 6ft. It can cover 2-3in
Rampage(-_-_-)Clover
said on 24/Apr/17
Rob, why the downgrade?
I thought a solid 184cm guy worst

Editor Rob
his own quote is very telling, and I think when he appeared with Andy Murray, it made sense, both of their claims.
Matt
said on 3/Apr/17
Rob did you downgrade by 0.25?

Editor Rob
actually I meant to put this guy on 6ft 0.25.
Rampage(-_-_-)Clover
said on 19/Mar/17
Same here...he has a tall angular look about him that you see in a lot of 6ft2-3 guys
6 foot and a bit
said on 17/Mar/17
I'm really surprised he's listed so low. I always thought of him as the 6'2-6'3 range
Quoter 987
said on 23/Feb/17
Spot on listing. Actor who plays Jake in outnumbered is 5'9.75 and Ben is 5'11.25.
Rampage(-_-_-)Clover
said on 12/Jan/17
Rob, do you believe that thing about bow legs taking 2in off a person's full height?

Editor Rob
well in more severe cases, yes, but he might just have a mild case.
Rampage(-_-_-)Clover
said on 11/Jan/17
Out of bed: 186-187cm
Before bed: 184-185cm
anon
said on 10/Jan/17
Tyger Drew Honey claims 5ft10 Chris, He doesn't look quite that tall to me, Not sure on 17 yr old Daniel Roche who plays Ben on outnumbered he could looked closish with Hugh Dennis tho was clearly shorter like you I think he could be in that 5'10- 11 range at a guess
Chris
said on 9/Jan/17
He was still taller than the Ben character by a good couple inches in the special. Maybe 179/180 for the Ben actor and tiger could be 175 or a tad less.
Rampage(-_-_-)Clover
said on 7/Jan/17
Hmmm....Rob I wouldn't necessarily say that. A lot of guys say 'six feet' in somewhat general terms but are still substantially over it. Heck, Idris Elba has referred to himself as a 'six foot tall black man'. This mark isn't impossible either but I wouldn't say less.
anon
said on 7/Jan/17
Looked a bit more at Hugh, 6'0.5 could be good, solid 6'0- 6'1 range, He did a skit with Andy Murray before and looked maybe 2 Inches shorter and on Mock the week Murray looked 1-2 Inches taller, the vids are on Youtube, Murray who is a solid 6'2 imo clearly has him by a good couple of Inches so the 6'0.5 might be more accurate either way looks in that kinda range, His around 6ft claim looks pretty honest because he does look at least 6ft
Rampage(-_-_-)Clover
said on 6/Jan/17
Rob, Hugh claims to be 'around six feet' in this interview
Click Here
also interestingly enough says that he has bow legs and that if he got them fixed he'd be 2in taller!

Editor Rob
hey good find, if he says that then the most I'd give him is 6ft 0.5, if he was six one he'd have said it!
Rampage(-_-_-)Clover
said on 6/Jan/17
Can look a solid 6ft1 at times.
anon
said on 4/Jan/17
cheers for adding him Rob, Yh this looks accurate for Hugh guessed him 6'0.5- 6'1 range, He looks taller than Lee Mack on not going out, he could be 6'1 flat if Lee mack is the 6'0 he claims
MaskDeMasque
said on 4/Jan/17
Seems about right. He was a tad bit taller than Frankie Boyle in Mock the Week.
Rampage(-_-_-)Clover
said on 4/Jan/17
Nice one...this kinda range looks fair. He does look over 6ft
Arch Stanton
said on 4/Jan/17
Always thought he looked a classic 6'1 flat guy. 185 is spot on, bu I'm going to give him a 6'1 185 :-)