Ian Brown's Height
5ft 8 (172.7 cm)
British Singer from The Stone Roses.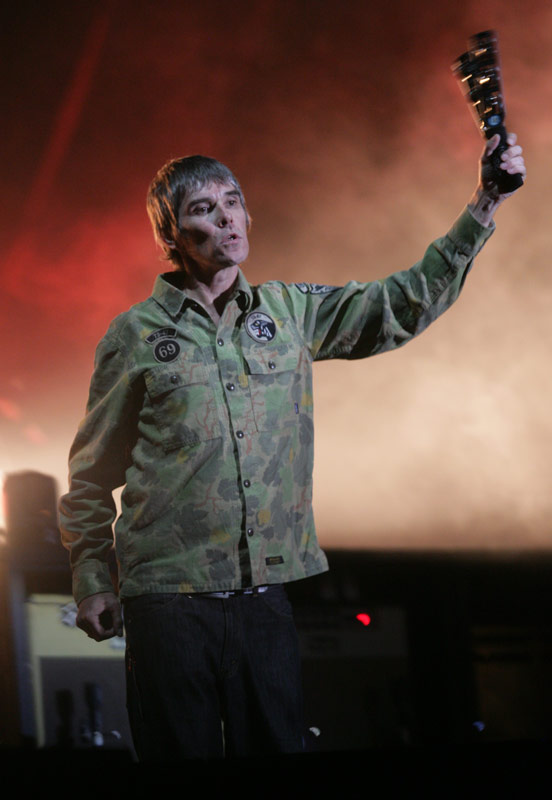 Photo by NorthfotoBP/BigStock.com
Add a Comment
29 comments
Average Guess (4 Votes)
5ft 8.13in (173cm)
Perfect Paul
said on 11/Jan/19
This listing's too low. He clearly edges Noel Gallagher and he's a comfortable 5' 8.25" guy.
Also, look at how well Ian holds up next to Paul Weller, Jimmy Page, Damon Albarn and Bradley Wiggins to name just a few!
5' 8.5" (174 cm) minimum for Ian Brown.
Another 'posture' guy...
HonestSlovene
said on 22/Jun/17
5'8" / 173 cm is a good listing btw.
HonestSlovene
said on 22/Jun/17
@Rojina What are you talking about? If anything he always looks short (meaning 5'8" at most) although I do admit he seems to have 1 cm on Noel Gallagher, but there is a big chance Noel is only 5'7.75" / 172 cm.
Click Here
:
Rojina
said on 28/Nov/16
This one is absolutely MAD! He can't be any shorter 5"11! I would even go as far as over 6 feet. If he was 5"8 he d have to be rake-thin to come across as giant-like as he does yet doesn't appear undernourished....
Chris Robinson
said on 22/Nov/16
Ian did an interview standing next to Noel about their adidas advert. Ian was clearly half an inch taller than Noel. It is clear Noel needs a downgrade or an I an an up.
truth
said on 24/May/16
@Jay Liam Gallagher is at least 5ft9.5/176.5cm.
Jay
said on 8/Sep/14
Brown seems a solid 5'8". John Squire often seems to slouch for his shorter band-mates but must be a comfortable 6'0 if these pictures are to be believed:-
With Brown onstage - Squire slouching and with head forward:
Click Here
And with 5'8" Liam Gallagher - again Squire with his head tilted and if the photo was straight there's a clear 4 inches there:
Click Here
K
said on 16/Dec/12
John Squire looks pretty tall, would you say hes closed to 6 foot?
178
said on 30/Oct/11
Shaun says: "Steve Jones is basically everything Ian Brown is not..."
Yeah, aesthetically maybe. But he ain't a black belt in Shotokan karake or one of the greatest alternative rock songwriters of the past 25 years. Brownie's far more talented and respected than pretty boy Jones.
James from Ealing
said on 20/Oct/11
I saw him filling up his Jeep Cherokee in a Shepherd's Bush garage about 9 years ago. He's minute. I'd say 5' 7" at the most and possibly shorter.
Shaun
said on 27/Sep/11
Gosh that Steve Jones interview you could cut the tension between them with a knife. I've encountered a few situations like that myself where I used to work with some real scabby little rottweiler blokes. It comes down to jealousy. Steve Jones is basically everything Ian Brown is not... 5'8" looks about right.
GERRYMACK
said on 5/Dec/10
well he's the shortest 5 foot 9 I have ever met.... he bumped into me when I went to watch Celtic play Man United ands am 5 ft 10 and he was a good few inches shorter I can tell ya..wearing a us parka too which I have.....
Anonymous
said on 2/Mar/09
i saw him at notting hill station 4 years ago looked 6
gerard
said on 9/Dec/07
Met the Stone Roses back in 1990 , in Glasgow. Mani was the exact same height as me (5 ft 6) , but Ian Brown was only a little bit taller, maybe 5 ft 7 or 5 ft 8.
Anonymous
said on 31/Oct/07
I Love Ian Brown, sucha a cool guy. 5'8 seems fair, standing next to Noel gallagher their about the same.
Evanna
said on 22/Oct/07
Donna, Ian is not that short, but his posture is one of the world's worst...
aron Brand
said on 19/Oct/07
i met Ian at Don Hills (TISWAS) in NY after his last appearance at Webster Hall. he walked right past me and then talked to me a bit about the show. i'm 5'8.5 with adidas trainers on and he was wearing boots, which put him almost an inch taller than me. quite a funny fellow.
Donna
said on 19/Oct/07
Never in a million years is he 5 ft 8 in . . . . more like 5 ft 6 in. I met him at Rock City Tuesday night and he's the same height as me !!!!
Stu
said on 14/Oct/07
I lived near Ian, before he moved to London last year, and often saw him - at local shop and I attended a party at his house. Hes no way 5'9" - more like 5'7"
Anonymous
said on 8/Oct/07
jon that's impossible that'd make mani like 5'3 and he's not that short lol
Jon
said on 8/Oct/07
No, I'd say even smaller-I'm tiny myself (5 ft 6), but I met him once and he looked about same height as me, so 5 6/7 maybe.
Anonymous
said on 7/Oct/07
i'd buy ian's claim of 5ft 9 because it's not like he's the kinda guy who's lie about that and he certainly can look it. wasn't mani more like 5'5? and i tihnk john was like 6'1 because there were many interviews post-roses that described him as tall, and i remember seeing him tower liam gallagher whos 5'10 and noel looked waaay short at the big knebworth oasis gigs in '96 where he guest played guitar
haha made me think of this quote
Noel: This is history right here right now, this is history
Liam: I thought it was Knebworth what you on about?
glenn
said on 6/Oct/07
no clue on heights here,names or looks.but the music is great.
Gonzalo
said on 26/Sep/07
He looks 5`9 at the most. Stone Roses were one of the best bands ever. I wanna be adored....
Evanna
said on 25/Sep/07
Squire is 5'11" to 6 ft, possibly 6 ft, he's always been a bad sloucher. Mani is only about 5'6". Reni I've never seen, only Robbie Maddix, and his hair made it impossible to estimate his height.
Scott
said on 25/Sep/07
I've met Ian Brown on a number of occasions and he's certainly more like 5'9+ than 5'8 and only ever wears regular trainers ... Very nice guy too, which was surprising given he'd served a jail sentence for threatening to cut an air stewardess' hands off! :)
sugarspun
said on 24/Sep/07
man i thought he was at least 5'10 back in the day, very skinny guy, looks tall on the tele. squire is probably 6ft, i saw a pic of him and liam gallagher and he looked to have a couple inches on 5'10 liam
AshnarLynx
said on 24/Sep/07
John Squire, the Roses guitarist, looked tall.
Evanna
said on 23/Sep/07
Wow Rob, thanks for adding Ian! He's a cool guy and your listing is correct, although he's claimed 5'9", but nay.