Illeana Douglas Height
5ft 7 ½ (171.5 cm)
American Actress best known for roles in movies like Stir of Echoes, Ghost World, Goodfellas, Cape Fear and tv series Action.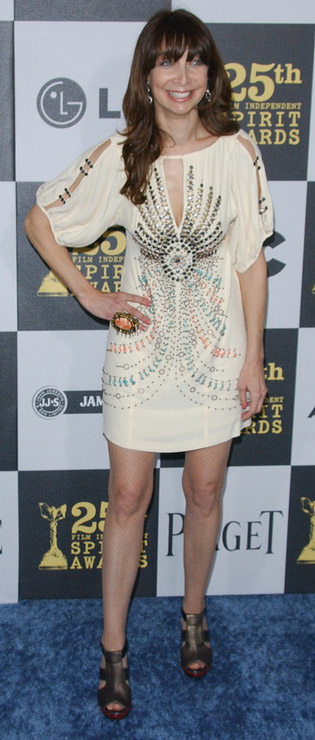 Photos by PR Photos
Add a Comment
9 comments
Average Guess (6 Votes)
5ft 8.08in (172.9cm)
Miss Sandy Cowell
said on 25/Jul/19
🎂🎁💐 Happy Birthday Illeana! 💐🎁🎂
Wishing Illeana Douglas a very Happy Birthday! I love all the movies of hers I've seen. 🌷🌻🌼🌹🌺
My birthday guess for Illeana is 5ft7.75. Yes, I have upped her by a quarter-inch since I saw 'Cape Fear' again recently.
🍰🎈🎉🕯️🍰🎈🎉🕯️🍰🎈🎉🕯️🍰🎈🎉🕯️
Miss Sandy Cowell
said on 7/Apr/19
Illeana looked much taller than Kathryn Erbe in 'Stir of Echoes', which I saw just now. I'd have expected at least 5ft7.5 for her. Her Grandfather was Melvyn Douglas, 6ft1.5 peak, whose last role was in 'Ghost Story', which I saw at the pictures - and it scared me stupid! 😱
5ft7.75.
Sandy Cowell
said on 18/Oct/16
That poor girl in 'Cape Fear', cavorting around with and accepting drinks from a thoroughly dangerous Robert de Nero and then paying a nasty price!
Her sensible side came out in 'Stir of Echoes' when we see her playing a scarily gifted woman who can turn people on to abilities they won't have known they possessed, through hypnotism!
In both these parts, I thought she was a tall girl, possibly even very tall, so I was quite surprised to find here that she isn't even 5ft8! I would have thought at least 5ft9.5, though now I find that the actors she played alongside were also shorter than I'd imagined, including Kevin Bacon, who I thought was a good 6ft!
guyfrommars
said on 15/Nov/08
Looked quite short next to 6'1" Nimoy and (with lifts) 5'11"-6' Shatner on Star Trek. 5'7"-5'8".
Larry
said on 31/May/06
Thanks Frank2. Yep: that was him. Just saw Whit Bissell in a Bonanza episode in which he looked ~ 3-4 inches less than Pernell Roberts, so I guess 5'8 to 8.5" is about right for Mr. Bissell.
Frank2
said on 29/May/06
That was Gary Conway who was a regular in Burke's Law starring Gene Barry.
Larry
said on 29/May/06
That WAS a classic line!!! :-) Saw that movie at the Majectic Theater in San Antonio, Texas. Anyone know who the young actor was who played the creature? I can picture him, & vaguely remember him in a 60's TV series called LAND OF THE GIANTS.
Frank2
said on 26/May/06
My favorite line from Bissell was when he played the mad scientist who creates the monster in I Was a Teenage Frankenstein. When his creation is brought to life and has problems communicating, Bissell orders him to speak saying, "Speak. I know you have a civil tongue in your head because I sewed it back myself."
Bissell was great as Grubbs the theater manager who grabs James MacArthur and then gets socked in the jaw in John Frankenheimer's first feature film, The Young Stranger.
Larry
said on 26/May/06
Really versatle character actor. Looked this size. Blond haired, oftem wore glasses & played scientists. Must have been in a hundred movies! He was in THE CREATURE FROM THE BLACK LAGOON, I WAS A TEENAGED FRANKENSTEIN, WARLOCK (western, NOT a horror movie)... many more.