Jackson Rathbone's Height
5ft 8 (172.7 cm)
American Actor best known for playing Jasper in the Twilight series of films.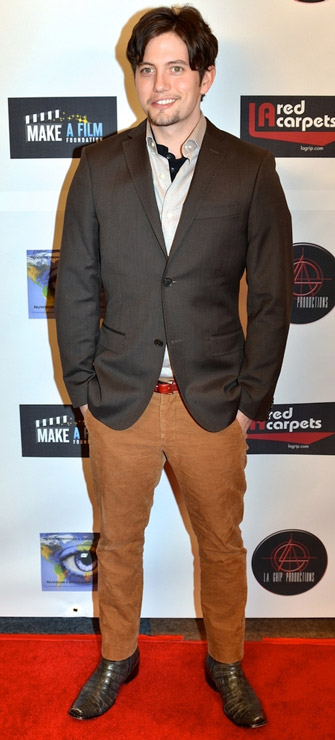 Photo by PR Photos
Add a Comment
34 comments
Average Guess (7 Votes)
5ft 7.64in (171.8cm)
Andrea
said on 17/Jan/16
He looks 5.7 1/2 or 5.8. He is not a big guy....kind of small average.
Sam
said on 5/Sep/15
Is 5'7 out of the question, Rob?
Maybe a little under 5'8?
[Editor Rob: not sure if he'd be much under 5ft 8, generally he appears around 5ft 8.]
CiCi
said on 1/Aug/15
I am 5'6" and standing shoulder-to-shoulder with me, he was the same height. I was flat-footed and he had his standard cowboy boots with 3" heels and probably he has lifts in those. He is positively tiny. My hand wrapped around his bicep completely.
Sam
said on 11/Nov/14
Is 5'7.5-5'7.75 possible?
Dan
said on 13/Sep/12
Apparently I look like a taller, less attractive version of him lol :/ Never seen him in person nor on TV/film, but looking at pictures he seems to be around 5'7"-5'8".
Nicole
said on 27/Jan/12
There is no way Jackson is 5'8. I'm about 5'2 and he wasn't that much taller. I'd say he's about 5'6...but that's just my opinion.
Kikix
said on 16/Dec/11
I'm 5'8 and he was only a tiny bit taller than me, we were both wearing flats when i met him... so no taller that 5'9/5'8.5
lol93
said on 19/Nov/11
at the end of the video
Click Here
he is with taylor 5'8 and he is 2-3cm shorter than him. jakcson is i think 170-171
stoodnext2
said on 18/Nov/11
He was clearly shorter than Taylor Lautner on Ellen 11/18/2011. The whole twilight cast was there so it was a good stage for height comparisons. Might be 5'8, but then Taylor is probably around 5'9 up. Jackson is a Talented guy though.
Shortish86
said on 12/Nov/11
Perhaps 171-172cm and I don't think he's shorter or taller than that.
bml
said on 7/Aug/11
I met him last night and I'm 5'3" and had wedges on. He was just my height maybe smaller so I would say 5'5" or 5'6" TOPS, and soaking wet he may weigh 135lbs, cut smile, but a tiny dude.
Traci
said on 7/Aug/11
I think Jackson may actually be taller than 5'8. My sister and I met him just a few days ago at a 100 Monkey's concert. She is standing right beside him and he looks slightly taller than her. She's 5'10. I would have thought he'd be closer to 5'11.
Leo
said on 9/May/11
The guy's gotta be like 5'6", max.
I hung out with him for a night, and he was a tad shorter than me in cowboy boots. I was wearing flats. I'm 5'7".
linke
said on 28/Apr/11
5'8 in big stan
Music Addict
said on 3/Apr/11
Does his height really matter? I mean, the dud is so hot even if he was 5'5 I wouldn't care!
bk
said on 15/Nov/10
looking at some of those pics, he definitely struggles to hit 5'8" even with the big heeled boots. He does have very good posture, I'll give him that. Probably not under 5'7.5" though.
Anonymous me
said on 6/Nov/10
Met him in Detroit and I must say 5'8 is generous. I am only 5'4 and he is at least 2 inches shorter than me.
Pleh
said on 1/Nov/10
He's a tiny boy. Watched him wind right through the crowd of waiting girls on the floor of one of his band's shows to the loo and back without a single one of them noticing. Was wearing his beloved heeled boots as well. The guy's no taller than 5'7. And the 135 lbs is spot-on.
Don
said on 17/May/09
He's pretty tiny. In Criminal Minds, when he was shot beside Matthew Gray Gubler he looked quite small. I'd agree with this height, possibly even shorter. Matthew is 6ft 1in and Jackson was a good deal shorter than him.
jake
said on 15/May/09
No 'My' you idiot, 176 cm is 5 ft 9.25 in and 173 is 5 ft 8 in. You have no idea what you're on about.
My
said on 10/May/09
5 ft 8 is 176cm not 173 :P
tc
said on 26/Apr/09
in twilight, compared to 5'5 or 5'6 (she claims both heights) ashley greene he looks a good 4 inches taller! so id say upgrade to around 5'9 or 5'10. im agreeing with ace.
berry
said on 15/Apr/09
i thought he was like 5'9, 5'10 too. He's so hot.
Amanda
said on 8/Apr/09
I agree with Ace!
Ace
said on 1/Apr/09
I thought he looked more 5`9ish in Twilight, with a possibility of 5`10
Ellen
said on 2/Mar/09
what!? is he that short? Where did you get this? I thought he was like 5'10 or something..
Comets
said on 24/Feb/09
if you are 5'8, you are quite an average height..i.e if you are a dude but if you are 5'8 and a girl, that would make you above average :)
KidPancake
said on 6/Feb/09
Lexie, are you Alexis Lexie from HV? If not, sorry. She says yup too.
ANyway, he's normal height. 5'8 islike an inch or so shorter than the average... If he was in New York, he would be wickid tall.
lexie
said on 29/Jan/09
yup sounds about right.
Anonymous
said on 26/Jan/09
This is what I guessed, not too tiny, not too tall. However, I question Ashely's 5'5" then, like 5 ft 3.2.
Anonymous
said on 23/Jan/09
really 5'8 wow. They made him seem much taller in twilight,,I thought he must have been at least 5'10.
5 ft 3.2
said on 20/Jan/09
ally and tiff, 5`8" isn`t tiny for a guy. Yeah, it`s short, but not tiny. And he`s that tall. Alice, from Twilight is his character`s girlfriend. Ashley Greene plays Alice and she is 5`5" Jackson is 3+ inches taller than her.
xaoxio
said on 16/Jan/09
I've got reasons to doubt he's that tall.
ally and tiff
said on 12/Jan/09
He's tiny.