Jacoby Shaddix's Height
5ft 9 (175.3 cm)
American singer, best known for being the lead of Papa Roach.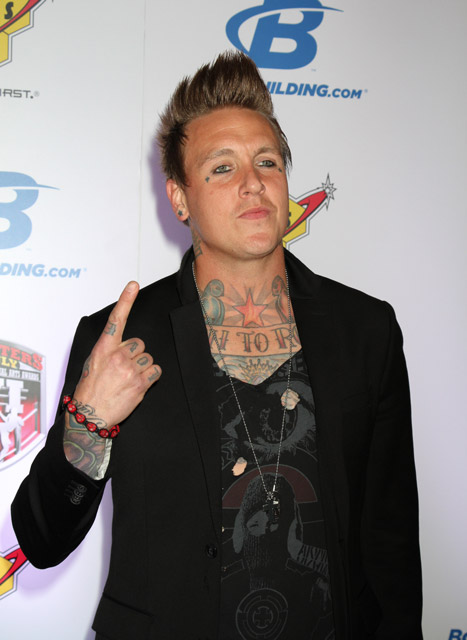 Photos by PR Photos
Add a Comment
45 comments
Average Guess (3 Votes)
5ft 9.5in (176.5cm)
Tpkeane
said on 13/Jul/18
If he's 5'9" then Yao Ming is 8'6"
Patrick 5foot9
said on 1/Feb/16
I remember the Guitarist Jerry Horton saying/writing in the official forum, that he is 5foot10 and Jacoby is 5foot9, Jacoby can look taller because of boots and hair, he also said.
And there were many people writing same thimgs like here: "Oh, what?! Thought you guys were 6 foot!!"
Click Here
Here is the quote of Jerry. The Page is cracked up, dont know, whats happend. But you can still find the quote.
Matthew
said on 15/Jun/15
This seems about right. Legit 5'9".
Nesh
said on 17/Oct/11
Thabeast says on 10/Oct/11
Wasn't he put as 5'7" before?? I recall seeing that on this website. o.O
I thought it was just me ha ha but apparently not!. 5'9 is too much for him. He looks like a strong 5'7" in his videos.
Thabeast
said on 10/Oct/11
Wasn't he put as 5'7" before?? I recall seeing that on this website. o.O
Bill in SA
said on 2/Aug/11
I saw him at the Cruefest and we were atthe front of the stage. When he made his way through the crowd he walked right by us and he was maybe my height (5'8"). Definitely not much more if any.
Random?
said on 25/Dec/08
actually, Rachel, he was kinda fat. in the video for time and time again and last resort he was sorta fat. im trying to find out when he lost the weight because now he looks good.
Ben
said on 7/Jun/08
looks like 5ft9.5in to me.
Rachel
said on 4/May/08
He was never fat you shallow douches. He was beautiful reguardless of his weight & size, it's his brain & lyrics he should be loved for.
glenn
said on 2/May/08
whos a big fan? not me.i always thought they sucked.until i heard the last cd.that was great.the first cd had that iron maiden ripoff you girls would be too young to know.last resort.
deserai
said on 1/May/08
i think that jacoby is probably around 5'9 becouse when i went to his house(and stayed for a week)he was way taller than me me cuz im 5'2 and im 22
Steph
said on 30/Apr/08
He's obviously taller than 5'9 . You may be a big fan but seriously there is always someone who can out run you for biggest fan or number one ....So don't say it until you know it for a fact....
glenn
said on 29/Apr/08
seemed 5-11 when he was heavier.5-9 to 5-10 now.i know that doesnt make much sense.
Chris T Na
said on 28/Apr/08
Ok, I know for a fact that he is taller than 5'9", because I met him last July (2007) and I am 5'9" and he was a few inches taller than me. I got the pics to prove it! And, he is also one of the genuinely nicest guys you will ever meet!
Mel
said on 12/Apr/08
I dont how tall he is, he will always be a great and beatiful Dude...and i gotta say i think he look a litte fat...
glenn
said on 10/Apr/08
keep in mind he has boots on.but i agree,he could be 5-10.wait ,in fact when he was fat in 2000 he seemed 5-11 min.shorter now.
Elle
said on 9/Apr/08
He's clearly a lot taller than 5'9.
glenn
said on 30/Mar/08
i got him where he looked totally different too in 2000.
robin
said on 30/Mar/08
i am like jacobys biggest fan i am not even kidding i would love to have a picture with him when i went to the hinder concert last year in oklahoma i really only went to see him i think that he is totally hot and that would be awesome to have a pic with him
glenn
said on 13/Mar/08
thats robs estimate.but thats about right.he had boots on here.he is 5-10 tops if we are wrong.
Rachel
said on 13/Mar/08
I've met Jacoby when I was in Alabama, at the Georgia civic center, when I lived there for a year before I was returning to England. There is no way he is 6'0, I am 5'7-8 & he was only slightly taller than me.
DM17
said on 12/Mar/08
glenn, how did you know that jacoby was 5'9"?
Destiny
said on 10/Jan/08
Uh, No Jacoby is 6'0. Not 5'9 or 5'10. He does look slightly shorter though. I believe that it is just becuase he is slotching.
Anonymous
said on 27/Nov/07
true, jacoby looks about 5'9 or 5'10. he's hot though.
glenn
said on 11/Nov/07
funny,i think they are heading my way any day now again.i only recently got into the the newest cd.
Elizabeth
said on 11/Nov/07
glenn is the MOST LUCKIEST! man EVER! he meets EVERYONE! ...i want his job!!!
omg, i LOVE PAPA ROACH!!!! :)
glenn
said on 12/Oct/07
very friendly.never cared for the hits.but last cd was shockingly good.
joe
said on 11/Oct/07
Papa Roach are an awesome band, truly excellent. I think Jacoby shaddix is 5'9 maybe just under 5'10, hard 2 tell if he'd in boots. What were the band like when you met them glenn?
hayley withhorn
said on 29/Aug/07
geez last time i saw jacoby was in 2002 03 when lovehae tragety was out my dads drum group was on that album
glenn
said on 15/Aug/07
i didnt reconize him.
6'3'' JK
said on 15/Aug/07
He looked very young a couple of years ago and different, as for the rest of the band they all look 6'0''
Crissy
said on 14/Aug/07
glenn, yeah he looked a LOT different a few years ago.
Joyell
said on 31/Jul/07
Who cares how tall Jacoby is when he is that HOT!
glenn
said on 17/Jun/07
you should see the pic i have from 7 years ago.totally different looking person.5-9 to 5-10.hard to say.he had boots on.
Crissy
said on 16/Jun/07
but Jacoby looks like he towers over Glenn in this pic, maybe it's his hair though. i don't know, maybe 5'10 on a good day?
Sara
said on 30/May/07
I think 5'9" is a good height. unless ur dating him and ur taller.
i dont think girls should ever be taller than there boyfriend.
i think he is WAY hott!!!
me and my friends always talk about how hott he is.
and wen we see him on that show scarred.
oh man!!!
:)
lol
glenn
said on 17/May/07
yes,that guy.
rollabluntallitaftermath
said on 16/May/07
Which one is Jacoby, the one with the black hair?
And I'd give the other guys 6ft, no more.
glenn
said on 6/May/07
the singer could be 5-10.the rest of the band are between 6ft and 6-2.
Markus
said on 5/May/07
Glenn, how tall did you estimate the other members of the band ?
The guy on your right (left on the pic) is the guitar player I think, looks like 6 ft ?
G-unit
said on 5/May/07
brushed up hair and cowboyboots make him look like a 5'10.5 guy, barefeet
glenn
said on 4/May/07
cowboy boots.
TheJerk
said on 4/May/07
Well its the hair, plus I bet he was wearing boots. I think I've seen him in them. Glenn, what was he wearing that day if you can remember?
Markus
said on 3/May/07
Jacoby is the one on the left front ? Looks taller than 5-9 in the pic. But Gleen seems to stand quite a bit behind him
TheJerk
said on 3/May/07
The singer of the band? No more than 5-9, I saw him in concert a year or so back. I didn't really gauge him but he was definately shorter than me.