Jake Wood's Height
5ft 9 ¾ (177.2 cm)
English actor, best known for playing Max Branning in BBC's soap opera Eastenders. He lists himself as standing at
"Height: 5'11" (180cm)"
with a
"Weight: 11st. (70kg)"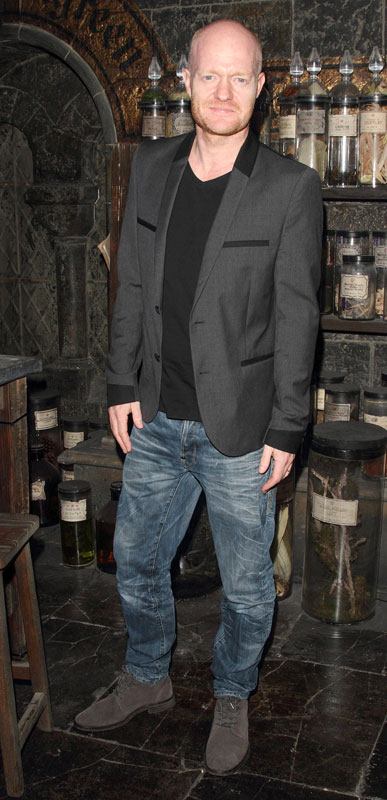 Photos by PR Photos
Add a Comment
31 comments
Average Guess (19 Votes)
5ft 9.46in (176.4cm)
Littlelee5ft6
said on 5/Sep/19
Jamie Danny walters is listed 5ft 10 most places and looks it
Jamie
said on 6/Aug/19
Hey Rob, how tall you is Danny Walters.
James Brett 172cm
said on 11/Jun/19
Rob could the full 5ft10 be possible?

Editor Rob
I'm not so sure on that.
saltyfish177cm
said on 9/May/19
Big Rob what could you say is the difference between the branning brothers, Scott Maslen and Jake Wood? Good comparison pic below:
Click Here

Editor Rob
|Near 5ft 10 there
Sandy Cowell
said on 14/Nov/18
I just had to check, and he played a policeman who plants evidence on the wrong man, played by Rhys Ifans.
Sandy Cowell
said on 14/Nov/18
I'm catching up with an episode of 'Trial and Retribution' and Jake is giving a heartfelt performance helping in the investigation of a dreadful case of child murder.
It can't be easy to act in a dramatisation like this, and Jake has certainly borne that out, shedding genuine tears.
So not only was he in an episode of 'Inspector Morse', he was also in this Lynda La Plante classic before he joined 'Eastenders'.
5ft9.75.
saltyfish
said on 22/May/18
Big Rob, here is Jake wood with Phillip Scofield, how do you think they compare? You know more about guessing footwear then me. Jake is closer to the camera but he is bending down alot. I can see scofield at 5'10.25 and Jake at 5'9.5
Click Here

Editor Rob
Under 5ft 10 for Jake and over 5ft 10 maybe for Philip.
Nik
said on 21/May/18
@ Sandy Cowell - Could be! As for your autocorrect ... and the laundrey sent him back!
🍎🍇🍌🍐🍏!
Jake is your typical 5'9" guy!
Sandy Cowell
said on 25/Feb/18
@ Nik - Might the first of the three letters be 'd', by any chance?
Cheers mate!
My autocorrect has had his filthy mind sent to the laundrey!
BrendanBrady
said on 22/Feb/18
There is a video on YouTube of old Eastenders scenes one or two of which James Wood who plays Max is a few times up close in the face of Jamie Lomas who played Jake Stone at the time. Jamie Lomas is clear 1 1/2 or 2 inch taller than Easily and Jamie Lomas is only 5ft 10 1/2 so give or take shoe differences I reckon he Jake Wood is around 5ft 9 1/2 -5ft 9 3/4 accurate
James B 170.8cm
said on 10/Feb/18
Rob do you think hes 11 stone?

Editor Rob
It's a believable weight range.
saltyfish
said on 4/Feb/18
something is off with those pictures of joe weller and jake wood. whilst i believe KSI could edge out jake wood, joe weller even being the same height as jake is laughable, let alone 2-3 inches taller like that picture suggests. I think either that is a mixture of camera angle, jake slouching and a footwear advantage to joe, or joe is literally standing on his tip toes.
jake wood has been on screen multiple times with guys like shane richie, scott maslen and danny dyer who are around 181-182cm, and guys like micheal french and rob kasinsky who are 183-184cm. based on all these scenes he is no less then 177-178cm.
weller on the other hand, is a strong 5'8 like big rob
JamesTT
said on 3/Feb/18
He looks a lot smaller here next to KSI and Joe Weller from YouTube :
Click Here
SamGHort
said on 26/Jan/18
@ EditorRob, I agree with you he has quite a small head and gangly body which can make him appear taller at times. I think Jake is definitely a very strong average height for a guy (5ft 9.5 - 5ft 10.5ish maybe pushing a little towards the ever so slightly taller side on a good day. He seems roughly 2.5 to a good 3 inches taller than Steve McFadden when they're doing scenes who appears to be a weak 5ft 8 - 5ft 7.5 as you have already listed; he seemed a good 3 inches taller than Samantha Womack aswell who is 5ft 8 as well and I think he is a similar height to Ross Kemp who always seems to appear between 5ft 9.5 to 6ft depending on the camera angle and his posture whilst filming.

Editor Rob
Kemp sometimes has looked 5ft 10-10.5 at times, he may well be a 5ft 10 range guy, even though I thought he might just fall under it.
SamGHort
said on 25/Jan/18
I met Jake Wood around 2.5 years ago as he was switching my town's Christmas lights on. I am around 6ft (182.5cm but possibly pushing 183cm now as I am only 21 and still growing a tad)and he was roughly 1.5 inches and maybe pushing 2 inches shorter than me. Always thought he was just a little over 5ft 10 as there was barely a 2 inch difference between Jake and Robert Kazinsky who is a strong 6 footer and even wore those big boots which made him look even taller. Also, there's not much over an inch difference between Jake and Scott Maslen who is 6ft aswell (again pretty much the same size as Kazinsky when they when Sean and Jack used to square up to each other although Rob's foot ware and spiky hair made him appear taller). Could it be possible that Jake Wood is 5ft 10.5 on a good day? He is abit like Ross Kemp when it comes to measuring height cos he can barely look 5ft 10 but sometimes looks a decent 5ft 11 sometimes, in particular when stood next to Harry Reid who is 5ft 10 he is tad taller.

Editor Rob
Jake doesn't seem to have a big head, which may help him seeming taller at times. Although I couldn't rule out the chance he is 5ft 10 range.
Nik
said on 9/Jan/18
@ Sandy Cowell - Hi!
Yes, I totally agree with you in that Max is a decent person at heart, he would have been better served if people had listened to him and helped sort out his problems like you quite rightly said. He has made a lot of mistakes but he has also not been helped by bad luck and a lack of understanding from other people, his hug with Stacey most definitely shows the calibre of person that exists with him!
I have seen Jake a lot over Christmas and he appears to be very average in height, but he has been in the company of Scott Maslen quite a bit, who definitely appears tall as opposed to average!
Your Mr Man really is amusing, I mean "socialising with a circle of fruit!", whatever next! Also I agree he could have made things worse by adding a few letters to "woof"!
Cheers!
Nik
said on 9/Jan/18
@ Sandy Cowell
See you on Sally Lindsay's page! The last sentence should say sitting down rather than standing up! See you on the General Height page too!
I will provide a reply on this page soon'
Cheers!
louis
said on 9/Jan/18
Yeah if he measured with the boots he's wearing in that picture than he is 5'11" for sure
Sandy Cowell
said on 8/Jan/18
@ Nik - I absolutely do think what happened at Christmas was terrible for him, not to mention the whole family and circle of friends*, and if he had received a more understanding ear with his depression, then it would never even have happened.
When he hugged Stacey, who's about 5ft3, and certainly not more, he does actually look really tall! He looks a taller man than she does a woman!
@ Gladstone Screwer - Hello and a Happy New Year to you! I'm glad you remember Jake in an episode of 'Inspector Morse'! Too right it was a bit part, and unless I am very much mistaken, it was a part from
'Driven to Distraction', which has greatly comical parts in it, as do most of them, but not thanks to a very young Jake Wood*! His part is rather plotless and boring, unlike what lay in store for him when he signed up for 'EastEnders'!
😂... and here's the autocorrect at work again:
i) For some reason, he thinks that the Branning family socialize with a circle of FRUIT! 🍅
ii) He tried to change Jake's name to Jake WOOF! 🐕
Now that could have been made worse with the addition of two or three more letters, come to think! 😨
Bye for now and cheers to the both of you!
👍😁 🐩 👍😊 🌽
Anonymous
said on 8/Jan/18
Jake could pass for a strong 5.8
Nik
said on 8/Jan/18
@ Gladstone Screwer - Hi!
No way is Jake 5'11"!
Cheers!
Nik
said on 8/Jan/18
@Sandy Cowell - Hi!
To be quite honest, Jakes character Max couldn't be any more unpopular but you have to have sympathy with him over what happened to Abi, and Lauren too. He really was centre stage over Christmas and it allowed me to take in his height a bit, he looked very average to me so I will stick with my 5'9.25" estimate but I could see him being 5'9.5", like you said!
Cheers!
Anonymous
said on 7/Jan/18
In the 1980s there was a TV show that he was in he had hair,he must of been early very early 20s in it.U should have a page's for mickey from (the bill),tom chandler (the bill),todd carty,andrew lancell,coronation steeet and the bill.
Sandy Cowell
said on 6/Jan/18
Does anyone remember Jake starring in an episode of 'Inspector Morse'? Well, he might have been nearer 5ft11 then, but nowadays, I feel more inclined to put him at 5ft9.5.
Hi Nik! Yes, it is always good to see a new soap star on celebheights, and Jake is no exception! He stole Christmas 'EastEnders', even if it didn't make his character any more popular!
Hello there Gladstone! How are you doing? 🌽
saltyfish
said on 6/Jan/18
scott maslen is over an inch taller then max, maybe 1.5 inches but not 2
Anonymous
said on 5/Jan/18
No way is he 5.11 more 5.9,look at jack's height he is 5.11
Rory
said on 5/Jan/18
Surprised to see him this low I thought he was like 5'10.5 range.
saltyfish
said on 5/Jan/18
spot on. he can look anything from 5'9.5 - 5'10.
lee168cm
said on 5/Jan/18
I believe about five ten is right not five eleven as Jacqueline jossa often looks about his height in heels and if he was 5'11 she'd be a bit shorter
5'10 lad
said on 5/Jan/18
This is crazy I always though a decent 5'11 but he does have a presence
Nik
said on 5/Jan/18
I think he is nearer the 5'9" mark to be honest! It's good to welcome Jake on board, isn't it Sandy?