Jaleel White's Height
5ft 9 (175.3 cm)
American actor, best known for playing Steve Urkel on sitcom Family Matters. In a 1995 article it mentioned at age 18 he was now 5ft 10.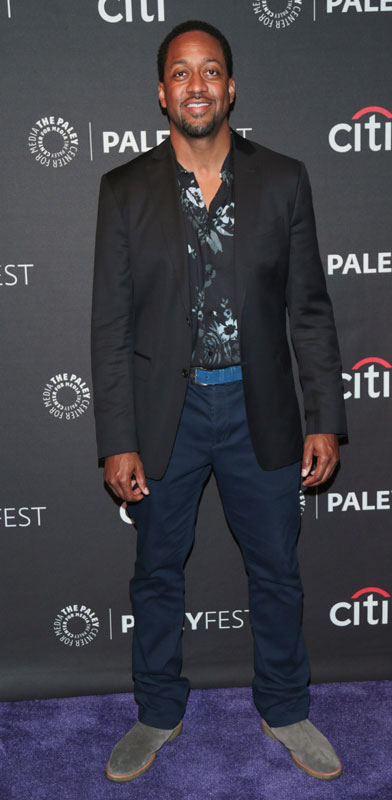 Photos by PR Photos
Add a Comment
42 comments
Average Guess (16 Votes)
5ft 9.86in (177.4cm)
thatmanoverthere
said on 14/Sep/20
Definitely being under-listed here. He just seems so much closer to 5'10" based on what I've seen of him
Christian 6'5 3/8"
said on 25/Apr/20
Wow, I didn't realize his page has been on here for 14+ years.
Crypto139
said on 23/Apr/20
If Paul Giamatti is 174 cm like he is listed, then Jaleel should be about 178 cm. If Giamatti is closer to 172 cm like I expect, then Jaleel might only be about 176 cm.
Kay Leno
said on 5/Feb/20
The original 5'10.5 listing is valid after meeting him last summer. Could even be a weak 5'11
truthteller25
said on 27/Oct/19
I am about 5'10 I can't honestly see myself being over 1 cm taller than him. SO yea I see him at 177 cms. He's like the few people who are underlisted.
cmillzz
said on 15/Aug/19
You know, taking another look at him, 5'9 may actually be closer to the truth. Don't think he'd be under it though.
cmillzz
said on 11/Jun/19
yeah this seems too low for him. I had him at 5'9.5" range. Might be one of the rare listings that are too low.
Bwk
said on 11/Jun/19
This listing is way too low for him. He's gotta be atleast 5'9.75". I think he's 5'10" though.
Jake94 (5'9
said on 30/Jan/18
Looked 3-4 inches taller than Alfonso Ribeiro On Fresh Prince of Bel Air, I think he was slightly closer to Will Smith's height than Ribeiro's. 5'9.5" may be possible.
5'11.25 at noon.
said on 14/Aug/17
Everyone saying 6' are overreacting.
If you see him with other celebrities you'll see that mr.white is 5'10.5 max.
Cameron
said on 21/Jul/17
I think he's a weak 5'10" at worst. 5'9" seems to be low balling him.
Jeffery Lord
said on 18/Jul/17
Pretty disrespectful listing I think.
Realist
said on 23/Mar/17
You had him at 5'10.5 why so many downgrades?
c-mo
said on 18/Jan/17
not 179cm ? because thats what I read everywhere
Shredder
said on 4/Oct/16
I always thought he was below 5 ft 10.
AJ
said on 2/Oct/16
Whoa huge downgrade Rob, wasn't he listed at 5'10.5". Are you sure he's this short. He might have been slightly shorter than dule hill on psych, but even then I'd say 5'9.5" would be more likely.
Editor Rob: I think he can look this short after looking again at him.
rick
said on 20/Sep/16
No way 5-11. He was just photographed w the.6-5 Calvin johnson on dancing w stars. Calvin towers over him by 9 inches. White= 5-8.
JimmyJ
said on 27/Jun/15
Um. I think he's 5'11 to be honest.
Jay
said on 23/Dec/11
5'11 or 6, and one of the best tv programs ever made!!!
the AMAZING Babushka
said on 15/Sep/11
probably 5'11", and one of the worst tv programs ever made!!!
Curtis C.
said on 4/Jun/09
I'm glad that Jaleel had grew taller during the later seasons of Family Matters 'cause I didn't think he was going to remain short and being at 5'10.5" is perfect for him.
Curtis C.
said on 24/Apr/09
It looks like in the 5th season of Family Matters, Jaleel was probably at 5'9." He had quite a growth sprut before the season aired.
DY
said on 24/Mar/09
ya i beleive that white is 5'10.5 .One website said that he was 6'1 and I was like, there is know way that he is 6'1 cause in the 1993-1994 episodes, he looked at least 5'9-5'10(despite his acting posture) and almost everybody does not grow 3 inches taller when they are 16 and 17.
MIKESOWELL
said on 22/Mar/09
To me by the end he looked like a legitimate 6 footer. I may very well be wrong. It's hard to judge his height do to the Urkel Character's posture (slightly bended knees, slight slouch) it's hard to estimate his true height.
Curtis C.
said on 19/Feb/09
It appears that Jaleel White had grew during the later seasons of Family Matters. He did make his character Steve Urkel a lot taller than most of his costars except he was a few inches shorter than Darius McCrary. I would say he's 5'10 1/2 or 5'11.
miller time!
said on 2/Jul/08
that's really suprising to me. He looks shorter in "Dreamgirls", but maybe it was my mistake.
glenn
said on 3/Apr/08
i have this guy.5-11.
Shaq is 7'1"
said on 2/Apr/08
Here is the picture of Jaleel White and 6'8.5" Kevin Love
Click Here
Love looks about 9" taller maybe closer to 10" taller with better posture. 5'10.5" or 5'11" sounds right for White
Shaq is 7'1"
said on 27/Mar/08
Very good guess on Kevin Love Viper. It turns out he is 6-8.5" so your 6'8"-6'9" guess was right on the money.
ROOM TO GROW U.C.L.A.
R
said on 7/Feb/08
Yeah, the difference is that 5'10 is average and 5'6 is short. Does a 6'6 guy make fun of a 6'2 guy? No...because 6'2 is still tall.
Anonymous
said on 4/Dec/07
on fresh prince he was only a few inches taller than 5'6" alfonso ribiero aka carlton, which is funny because the height difference with ribiero and jaleel looked equal to that of smith and jaleel... so smith could have cracked on whites height after jaleel did so to carlton just as easily.jaleel looked only slightly taller than carlton and he made fun of his height, after cartlon says"ill keep an eye on you" jaleel mocks him and says "here ill make it easier".. drops down like an inch to be eye to eye with him.. i guess the script was kind of preset.. idk i guess theres a difference between 5'6 to 5 10 then 5 10 to 6'2
sey
said on 1/Oct/07
he was at least 2 inches shorter than will smith on the fresh prince.. i thought he was 5 10
Viper
said on 31/Jul/07
Kevin Love is probably 6-8-6-9 barefoot.
Lurker
said on 31/Jul/07
this guy is at least 6 feet. i saw a picture of him on CNNSI with 6'10 UCLA player Kevin Love and the top of White's head was right at Love's chin.
Derek
said on 23/Feb/07
Eddie George towered over Jaleel. Eddie is only 6'3" so Jaleel can't be over 5'11".
Anonymous
said on 19/Jan/07
Watched a show about kid celeberties... they said he is now 6'5" that cant be... cant it???
C
said on 25/Sep/06
Urkel was never more than 2 inches taller than the 5'9'' Carl Winslow (the father) even by the end of the series. I say 5'11''.
Editor Rob
said on 24/Sep/06
1997 article, in Beacon Journal:
"White is now 5 feet 10 1/2 inches, studying at UCLA"
Danimal
said on 9/Sep/06
He was still shorter than 6'1" Eddie by the end of the show. I give him 6'0". The father on the show (can't remember his name), was listed at 5'9" and I remember Jaleel was 5'6" at 16 or 17 on the show.
Derek
said on 8/Sep/06
darius is really 6'1", imdb is rarely correct. i saw that episode and i would say his brother donovan is 6'3". if darius is really 6'3", then jaleel needs to be upgraded to 6'1", which isn't possible because 6'3" eddie george makes him look short.
D.J.
said on 17/Jul/06
I was on sitcomsonline.com and I saw a 6' listing for Jaleel. Although he was clearly shorter than 6'3" Darius McCrary, he was by no means dwarfed. One time Jaleel was dwarfed was when Darius's 6'5" brother appeared in an episode as "Spider". He's definitely no shorter than 5'11" though I always thought he was 6'.
CC-Tron
said on 17/Jul/06
He looks 4 inches shorter compared to Eddie George in the photo. 5'11 seems right. He looked tall in the later seasons of Family Matters but his co-stars were on the short side. He was also thin which can make him appear taller.