James Maslow's Height
6ft 1 (185.4 cm)
American Singer from band Big Time Rush. James said (as pointed out by visitor Ac) on a BigTimeRush.tv interview
"I'm Six One"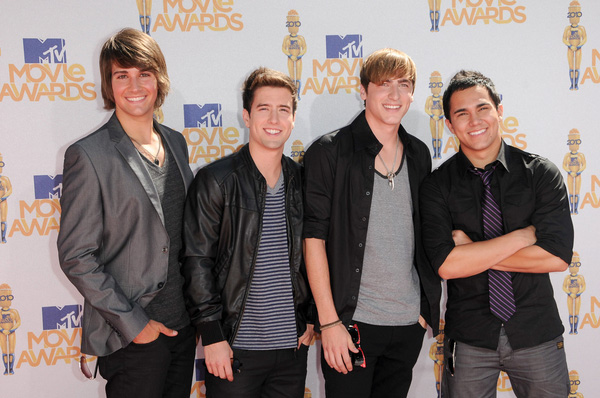 James Maslow, Logan Henderson, Kendall Schmidt, and Carlos Pena, Jr
Photo by PR Photos
Add a Comment
33 comments
Average Guess (17 Votes)
6ft 0.99in (185.4cm)
Eric W. Tam
said on 11/Sep/20
HONEST! But then again if you are 6'1 and still height frauding you gotta look yourself in the mirror.
Xion 5'8
said on 19/Dec/19
I remember that i was a fan of Big Time Rush and two times i overlisted them
Paula
said on 22/Oct/18
James: 185 cm.
Kendall: 180 cm.
Logan: 170 cm.
Carlos: 166 cm.
Edimar184
said on 7/Sep/18
Rob Please! How much taller than James Mike O'Hearn looks?
Click Here

Editor Rob
Might be 1-1.5 inches
Peter175
said on 22/Aug/18
Rob can we get a listing for Pena? Maybe he's Big G range? He's stayed current with acting roles unlike his other costars and has also married. His wife is 5'1 so I think he's about 5'6
Click Here
:
I wouldn't argue 5ft7 flat or above but I can see a listing of 5'6.5 being possible
Peter175
said on 7/Jun/18
How about Carlos Pena? Maybe close to his 5'6" listing?

Editor Rob
5ft 6 to 7 range may be possible.
Dave Gardner
said on 2/Jun/18
How tall is Logan Henderson?
Anonymous
said on 11/Nov/17
Legit 6ft1.
Rampage(-_-_-)Clover
said on 2/Jul/17
Colberto C I think
Colberto
said on 28/May/17
Hey rob what duo you feel like he would measure at
A 188.5 186.5
B 188 186
C 187.5 185.5
D 187 185
E 186.5 184.5
F 186 184
Peter175
said on 18/May/17
Not the most popular page, but Rob, I was wondering, what is your first guesses for the other three?
IMO
Kendall bang on 180 cm
Carlos 166-7 if his wife is really a 5'1 woman
Logan 170-172, zero chance he's 175
James 184-5
Josh1
said on 2/May/17
He looks 5.11.5 maybe 6'0 but never 6´1
Kaneff 6'0.25
said on 18/Apr/17
He is 6'0" tops. Carlos Pena is 5'6" (genuinely looks it next to 5'1" Alexa Vega) and there is no way that's a 7 inch difference between him and James in that picture.
A legit 6'0" or even 5'11" can look big and towering compared to a short cast. It's no surprise people are fooled by his 6'1" claim.
Saqib
said on 23/May/16
This guy is 6'1 and was towering over 99% of the people in his nickelodeon show big time rush.
This proves that 6'1 is a good tall height in America,australia and will be "very tall" in asia and south america.
Only in few European countries like Denmark,Netherlands etc. 6'1 will be average.
Aaron Zamora
said on 20/Apr/16
How tall do you think Kendall Schmidt is?
Editor Rob: he can look a couple of inches smaller, but sometimes his posture looks a bit poor.
Matija
said on 19/Jan/16
Carlos is 168 cm
Bill
said on 15/Dec/15
Rob how tall do you think Carlos Pena jr is?
david
said on 18/Jan/15
I think Logan is shorter, a weak 5ft8.
real
said on 16/Jan/15
Rob, What do you think of Logan Henderson?
Dylan
said on 27/Aug/14
Looks 186cm
AJ
said on 22/May/14
@Height 181
Firstly the camera angle is in david's favor giving him an advantage. Secondly don't know if you noticed their footwear. David's footwear is considerably thicker. I think this listing is fair.
lucy
said on 12/Jul/13
He recently did a cover with Cimorelli and he's noticeably taller than all the girls, of whom the tallest is 5'9 3/4. I think he's a genuine 6'1.
Josh
said on 2/Jun/13
He doesn´t look 6'1 ,more like 5'11.5
SAK
said on 15/Apr/13
James Maslow: 185cm
Logan Henderson: 174cm
Kendall Schmidt: 180cm
Carlos Pena, Jr: 168cm
Rav_Aleng
said on 23/Feb/13
Actually,james is 6'1..many people think that he is 6'2..he is n0t 6'2,but 6'1..by the way,i love james height...ahaha..LOL
Jay
said on 22/Feb/13
Btrusher.....he's already got a girl.
Anyway I believe he's around 6'1.
BTRusher
said on 14/Jan/13
James, I'm not 6.1 but a little taller, can I be your girlfriend? I LOVE YOU
Ac
said on 12/Aug/12
@Weezyfbebey
Kendall said once he was 6'0 but to me he looks a little less, somewhere between 5'11 and 6'
Weezyfbebey
said on 11/Aug/12
And who knows how tall kendall is?
Ajax
said on 9/Aug/12
6'0" is pretty tall IMO. Allthough Im gonna tell you right now even if this is celebheights and Rob
Works rigourously to find celebs heights. 9 out of 10 times from my experience, someone who claims 6'1" is usually 6'0" or maybe 6'0.5".
Clara
said on 6/Aug/12
I do think he is 6'1
He looks pretty tall on the tv show, and I'm not just saying this because I'm a fan (for instance, I think Logan is 5'7 but he's listed as 5'9)
But maybe is just the picture, I think you can see it better in this one, Carlos by his side, is 5'6
Click Here
short man syndrome
said on 5/Aug/12
I think he might be lying!
MD
said on 4/Aug/12
If the two shorter guys are really 5'8"ish, I don't see this guy being a 6'1".