Jamie Vardy's Height
5ft 9 (175.3 cm)
English Professional Footballer, who plays for Leicester City and the England national team. His team list him as 5ft 10. A team-mate at his former club - Fleetwood - said of him:
"It's him taking the Mick out of me being 5ft 5in — because he's a giant at 5ft 8in!"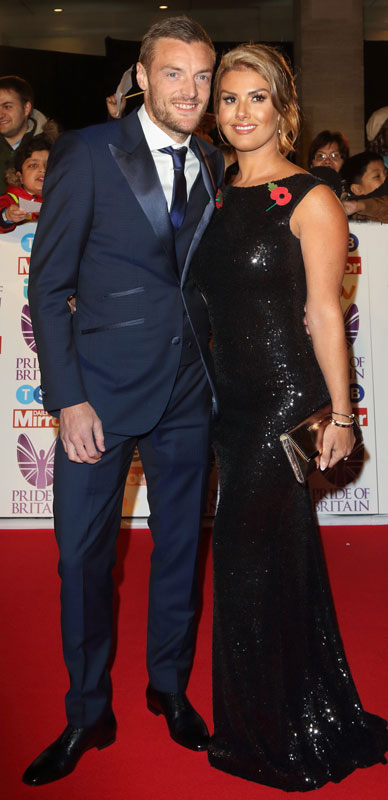 Rebekah and Jamie Vardy
Photos by PR Photos
You May Be Interested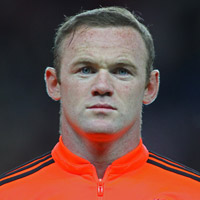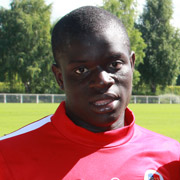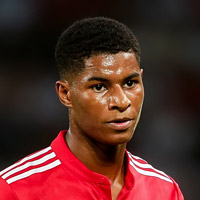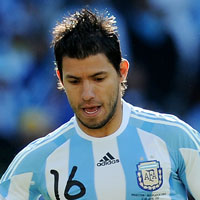 Add a Comment
22 comments
Average Guess (31 Votes)
5ft 9.12in (175.6cm)
Joe 5'10 1/2
said on 11/Jan/21
SO I used to work AT the Leicester stadium in the private boxes for the rich folk. I used to see Vardy every game I worked at when he'd visit his wife in their box. I literally pumped into him once. Honestly I'd say 5'8 cause my brother is actually 5'9 on the dot (i've measured him a few times) and Vardy isn't as tall as my brother.
Eric W Tam
said on 2/Dec/20
Ok now how tall is Harvey Barnes? He's all over the place. Listed as low as 174 and high as 182 in miscellaneous sources. And yesterday Google had him as 6'1 before shrinking him back to 5'9 again LMAO.I would say Barnes is 5'9-10 like Vardy. He's def. not 6'1. If he's 6'1 Vardy is 6'2, Kane is 6'6, and Nick Pope should just play basketball. lol.
Eric W Tam
said on 3/Nov/20
How tall is Ndidi? I thought he was once listed at 5'10, but has been described as 6'2 in an article, and listed 183-4 cm in some sources. Well he's 5'11 on Google so.... yeah how tall is he I wonder xd. Hmmmm he may be 182 if he has been listed at 183-4 consistently on other sources but only 180 on Google. Vardy can have 176an hour after waking up to noon. And he will def. dip under after a hard fought game with the Foxes

Editor Rob
Looks over 5ft 11 on the pitch, maybe 182 is possible.
1 man united
said on 7/Sep/20
Seems like he's 5'10 in shoes
Joseph177
said on 23/May/20
Hi Rob, have you ever looked at his former teammate Riyad Mahrez? Mahrez is listed @ 179 cm. I always thought him and Vardy are similar in height.

Editor Rob
5ft 10 for Riyad is possible
Nik
said on 18/Jan/20
I have seen Rebekah Vardy listed as 5'4" and 5'9" but 5'4" is more believable!
Matt99
said on 12/Dec/19
Hey Rob, how tall do you think his teammate James Maddison is? He seems similar range. He's listed at 5'9 on numerous pages, he can look anywhere within 174-175. Maybe 5'8 3/4 listing?

Editor Rob
Yeah, I'd have said close to 5ft9
Nik
said on 8/Oct/19
Jamie is listed as 179 cm on some sites!
He was born in Sheffield! 🏢🏗!
Zineddine
said on 18/Jun/18
hey rob do you thnik he could drope under 5 "9 after match or game 90 min long ?

Editor Rob
Arguably Vardy could be a solid 5ft 9 guy, so he might not fall under this much after a game.
Ali183
said on 21/Apr/18
176 is closer to the truth
Vibram
said on 8/Mar/18
I think Rob's estimate is a little short. I'd say Vardy is 176.5cm/5ft9.5. He has half an inch on 175cm Rooney for sure from looking at England training camp pictures from a few years ago. Jbieb, Goetze I'd estimate at 173cm. Vardy is deceptive cos of his thin boned frame.
Jerrison
said on 11/Feb/18
Rob is it possible that he could be somewhere around 5'10(178)?,because in FIFA and PES video games he was recorded to be 178cm.

Editor Rob
I'm not convinced he looks as tall as 5ft 10...the highest range I'd estimate might be 5ft 9.5, I think at times it can seem possible for him.
Ozzym9
said on 3/Feb/18
Rob could you add Danny drinkwater
JBieb
said on 16/Jan/18
Glad to see Rob takes a look at the height of football players
Rob, could you do Mario Götze next? He is listed as 176, but looks way shorter
Cameron
said on 28/Dec/17
Odd proportions. Somehow looks lanky and stocky at the same time. I'd agree with 5'9" though.
James
said on 28/Dec/17
Rob could you add please mbappe's height I'm really curious about this one
Nik
said on 28/Dec/17
I think Jamie could be 5'9" and a little bit of change, but no more!
lee168cm
said on 27/Dec/17
Would rebekah be about 5'4" in flats rob?
Editor Rob: somewhere in 5ft 4 range for Rebekha Vardy's height I'd say.
CD
said on 27/Dec/17
5ft 9 is a good shout for Vardy, as another poster said I could buy 5ft 9 and change but 176cm is the most I'd guess.
zak
said on 27/Dec/17
Deceptive height. He looks like a 5'11 guy.
Johnson
said on 27/Dec/17
He is 1.78
5'10 lad
said on 27/Dec/17
Harry Kane next rob? Weak 6'2 I was thinking? Vardy I think may be more 5'9 and change next to Rooney, not the full 5'10 though.
Editor Rob: Kane's not a guy with impeccable posture, he really can look 6ft 1.5 or 2.