Jason Clarke's Height
6ft 1 (185.4 cm)
Australian actor known for roles in movies Zero Dark Thirty, Terminator:Genesis and TV shows Brotherhood and The Chicago Code. An article in The Reading Eagle mentioned,
"The 6-foot-1-inch Clarke looks like a man, in short, not an overgrown boy"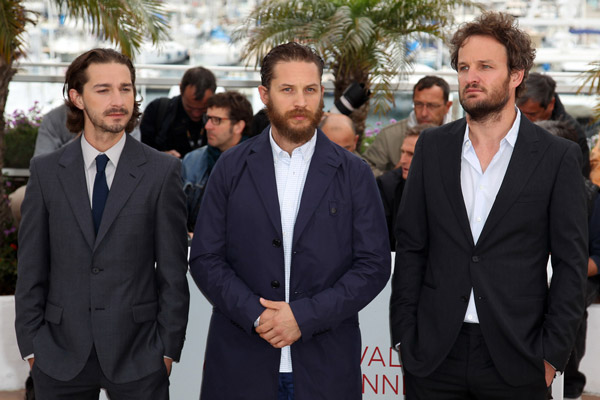 Shia LaBeouf
,
Tom Hardy
and Jason
Photo by PR Photos
Add a Comment
32 comments
Average Guess (32 Votes)
6ft 0.7in (184.7cm)
CSKA
said on 29/Oct/20
He is a 6'1" but rob, I thi o you need to downgrade lebouf, he mostly looks 5'8.5" or 14.
Animus
said on 19/Sep/20
Such a superb actor - great in everything I've seen him in. I second the opinions of some of the others; a weak 6'1 is a distinct possibility.
Mon
said on 21/Oct/19
James Gandolfini seemed to have visibly more on Tom Hardy than Clarke, but then good actor as he outside of films Hardy is always physically surprisingly small. Clarke is a solid six footer, but not 6'1'', which would dwarf Hardy
Rampage(-_-_-)Clover
said on 16/Oct/19
He's listed 6ft1½ in places. More a shoe height I'd say...can look a weak 6ft1
Michael 5'10", 178 cm
said on 9/Jan/19
I think he's a weak 6'1", he looked about as tall as Jai Courtney in Termiantor Geniys.
JJAK
said on 28/Oct/17
Yep big 6 1 guy low eye level gotta go off forehead.
He looked huge in lawless maybe boots but even flats hes over 6 1 or right at it barefoot.
Slim 6'
said on 6/Oct/17
He's got 3 inches on tom hardy who I believe is actually 176/5'9.5" so 184 is good for this man.
6'0.5"
Slothee
said on 3/Jun/17
He looks 6' next to 5'9" Tom Hardy. I'd give him 6'0.5"... Maybe he's got loose posture, but 6'1" guys usually don't look like that next to 5'9"ers
Rampage(-_-_-)Clover
said on 11/May/17
I think B, personally
Rampage(-_-_-)Clover
said on 6/May/17
Rob, which one of these?
A) 188cm/186cm
B) 187.5cm/185.5cm
C) 187cm/185cm
D) 186.5cm/184.5cm
E) 186cm/184cm

Editor Rob
C is ok I feel, I wouldn't go much above that zone.
berta
said on 5/May/17
but hm just looked at photos with him arnold an jai maybe the listing is good 186 could be to mutch.
berta
said on 5/May/17
this guy look 186 to me either 185 ore 186
Rampage(-_-_-)Clover
said on 15/Mar/17
Rob, how likely is 186cm for this guy?
I've seen 6ft1 and 6ft1½ listed for him

Editor Rob
6ft 1.5 just seems too much for him...but then, he has a bigger than average head size, which can be detrimental to how tall you look to others.

While not ruling out 186, I think about 6ft 1 is fair.
Rampage(-_-_-)Clover
said on 19/Feb/17
I thought he looked similar to Clive Owen in Trust
Peter 179cm
said on 26/Jan/17
He doesn't look over 183cm with Hardy,maybe let's say 184 because of his head size but 185 is too much...Weak 6'1.
S.J.H
said on 10/Nov/16
He doesn't look 4" taller than 5'9 tom hardy. Never
Josh Jeffords
said on 8/Oct/16
Good actor tall and terrible posture always slouches.
He is a minimum 6 1 aussies seem to be under listed by themselves must be a metric problem ☺.
I'd bet max 6 2 even 3 with hair perspective wise.
NBAer
said on 14/Feb/16
If that height-chart is accurate,then Clarke is max 6 feet,and possibly 5'11.5-5'11.75 with SHOES on(who would do a photoshoot-especially a celebrity-just wearing shocks lmaoo)!But if we take for granted that Hardy is 5'9,then Clarke looks about 6'1 with him,maybe just 6'0.5 but no less...Also,did anyone notice the MD user pictures in the European Premiere of Genisys,where Arnold's shoes look very suspicious??That's guite a big heel for dress shoes,don't you think?Not to mention that Jason clearly looks 1-2 inches taller than Arnold Schwargeneger in most pics,maybe even more!!...In my opinion,Jason Clarke could be a decent 6'0.5 guy(atleast next to Hardy...),but that also means Arnold is 5'10-5'10.5 if we count his big footwear!Rob.i think it's time you downgrade Arnold to atleast 5'11,all recent evidence clearly show he can't be any taller than that,IF that...
MD
said on 10/Jul/15
I think he actually looks a bit shorter than Courtney, but what is clear is that he's certainly not taller, and yet he's listed by taller as a quarter-inch, here. It's time to at least correct that much.
Sam
said on 9/Jul/15
To me, Courtney and Clarke look fairly similar in height.
MD
said on 7/Jul/15
I just saw Terminator: Genisys (surprisingly good movie, BTW), and he is very clearly shorter than 6'0.75" Jai Courtney, and this is even considering with Jason's bad posture when straigthed up:
Click Here
Click Here
Click Here
Click Here
At the very least, he is not a single centimeter taller than Courtney.
gian92
said on 30/Jan/15
for me there is the same difference like with christian bale , 184 cm max for me .
Hypado
said on 18/Oct/14
Yes, Jason Clarke is 6'1 - 185
cole
said on 24/Dec/13
Yeah I'd go with 6'0.75 as well. 185 cm either way.
Rampage(-_-_-)Clover
said on 9/Dec/13
For a split-second I thought that was Colin Firth!
Looks 6ft0.75/185cm tops with LeBeouf and Hardy.
cole
said on 8/Dec/13
@Silent d: I agree that he looks bang on 185 cm most of the time. Just found that height-chart-pic interesting. I for one would like to see some behind-the-scenes-footage from that photoshoot. Maybe the chart was digitally added?
cole
said on 15/Nov/13
@Sam: Yeah he could be leaning, therefore dropping a little height (if the chart is legit). I wouldn't say this guy is anything over 6'1, though. In fact I think I'd rather go with 6'0.75 (maybe 6'0.5) over 6'1.
Sam
said on 28/Oct/13
He definitely looks more than six foot...if that's an accurate height chart, he might be leaning against the wall for the photo and dropping an inch or so.
cole
said on 23/Oct/13
Don't know how reliable this is:
Click Here
cole
said on 17/Sep/13
6'1 is a good shout. I would argue 184 over 186-187 though.
Anon
said on 24/Mar/13
Other source says 6' 1.5". Any other source that this article? Could very well be that they dropped the 0.5" just for the sake of it. Seems like a tall guy, yes. What do you think Rob?

Editor Rob
I think just a 6ft 1 guy, I agree with the article