Jeff Garlin's Height
6ft 1 (185.4 cm)
American comedic actor known for Curb Your Enthusiasm. In a New York Times 2005 article it mentioned,
"Mr. Garlin, who is 6 foot 1"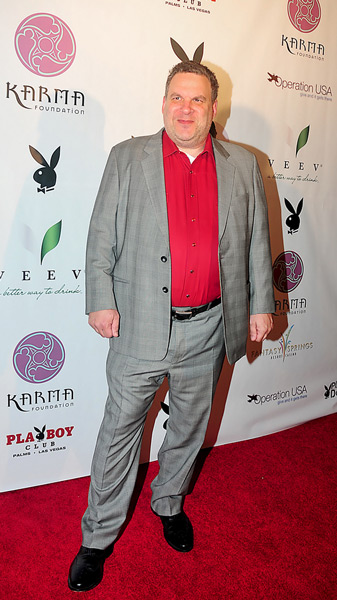 Photo by PR Photos
Add a Comment
15 comments
Average Guess (10 Votes)
6ft 0.63in (184.5cm)
Nathan Hatton
said on 24/Sep/20
He does look about 6'1" on Curb although he could be a weak one but he always looked a good 1-2 Inches taller than Larry but his posture wasn't the best I can see how he might look shorter but I still think he is 6'0.5" at worst.
Big Bertha
said on 5/Aug/20
Looks very much 6 ft 1 in the The Goldbergs. Nearly always the tallest cast member in any scene he's in (when he does stand - his character, Murray Goldberg, sits a lot!)
slothee
said on 26/Jul/20
6'0" tops imo
Gladstone Screwer
said on 28/Feb/20
I'm watching all of Curb now on All 4. Jeff always looks between 1 and 2 inchess taller than Larry.
He could be the 6'1, but all that blubber creates a shorter appearance. He must weigh 250 lbs.
Sonny Black
said on 4/Mar/19
No way is he 6'1. He's 6'1 if you believe Larry David's 5'11. The way so many people on Curb appear taller than Jeff and in some cases tower over him, there's no way he's a legit 6'1. Larry David 5'10.25, Jeff Garlin 5'11.5.
Mickie
said on 14/Jan/19
He's got bunny ears in the photo. I think he looked taller than Larry David on Curb, but I'm not sure he looked the full 6'1"...?
Thunderfin
said on 22/Apr/18
He's definitely not 6'1. Larry David is 5'10.5 and Jeff has about an inch to an inch and a half on him. A 6'1 wouldn't look that short compared to Funkhouser. Jeff's 5'11.5 to 6', somewhere in that range.
Greg
said on 19/Oct/17
Jeff looks about 6'1", slightly taller than Larry David in long shots. Not sure why the arguments on his height.
Unsub 5'10
said on 8/Oct/16
I'm surprised, never would've thought he would be that tall. He looks more like 5'11.5-6'0 to me.
Sonny Black
said on 28/May/16
Hmm taller than I thought, but not by much, I figured on his best day he might be 6'0 or 5'11ish, only cause quite a few people tower over him in Curb and most actors aren't very tall as you know.
cole
said on 2/Sep/14
He does look near 2in taller than Larry David on Curb, at times though because of camera-angles and poor posture he can come off more as a 5'11.5 - 6'0 guy, but mostly he looks pretty near 6'1.
MrTBlack
said on 6/Mar/14
I think he could be this tall since he towered over 5'9" Murphy in Daddy Day Care.
Rampage(-_-_-)Clover
said on 9/Jan/14
Closer to 6ft, Rob?
jordydecke
said on 3/Dec/13
6'1? In curb your enthusiasm he pretty much looks the same height as 5'11 Larry David, in fact in many scenes David has an edge on him. I searched Garlin on here thinking he'd be 5'10 - 5'11.5 at the most!
Rampage(-_-_-)Clover
said on 28/Aug/13
Standing alone in that pic you'd think hes no more than 5ft8