Jemaine Clement's Height
6ft 1 (185.4 cm)
New Zealand Comedic Actor/Musician best known for being part of Flight of the Conchords. In film he has appeared in Men in Black 3. In an Empire interview he mentioned his height as
"Six Foot One"
and also mentioned his foot size on twitter:
"SHOE SIZE (46 European)."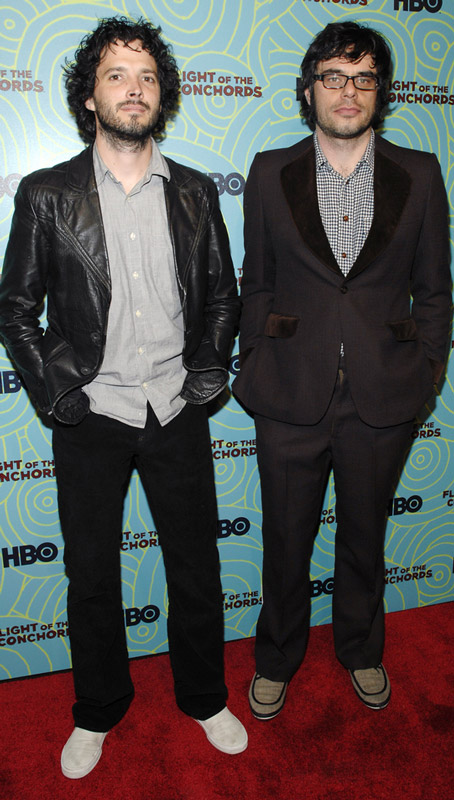 Photos by PR Photos
Add a Comment
22 comments
Average Guess (4 Votes)
6ft 0.81in (184.9cm)
Junior Hernandez 1990
said on 21/May/19
Click Here
Legit 6'1
Tall Sam
said on 9/Mar/18
Jemaine seems to be a bit taller than Bill Hader, who maybe is a bit shy of his listed 6'1".
Click Here
Click Here
Also here with Craig Robinson, looking pretty close to 6'1".
Click Here
Sam
said on 2/Nov/17
Doesn't always look it in photos but I think standing straight he's about 0.75-1 inch taller than Taika Waititi.
Valhalla
said on 13/Jun/17
Him and Brett Mckenzie along with other great entertainers and actors are honest about their height. That's actually a good thing there both really tall blokes and to top it off there kiwis! I hope more kiwi actors arise; I personally don't think frankie Adams is that great in her new show she should try modelling instead
Rampage(-_-_-)Clover
said on 23/Jan/15
Honest claim
Sam
said on 7/Jan/15
Rob, is it possible that this guy is over 6'1"? On their TV show he was described as "6'1" or 6'2"" and I think he looks more that range than a flat 6'1".
[Editor Rob: I think he is the 6ft 1 he claimed]
Sam
said on 28/May/14
The Conchords towered over 5'6" range guys like Todd Barry and Aziz Ansari on their show, obviously, and Jemaine was a bit taller than Jim Gaffigan, who I believe is six foot range.
lelman
said on 27/May/14
A buddy of mine met them in NZ and said they were taller than he expected. I always thought they both looked like 5'10-5'11 kind of guys on the show, but I don't doubt 6'1 for Jermaine honestly. Bret would be around 6'0 I imagine.
@BigT He's really skinny though, that's why he describes himself as small. Plus 6'0 isn't really 'tall' per se - I've met people around that height who would consider themselves short (bizarrely.)
Big T
said on 2/May/14
I feel like Bret and Jemaine are both likely to have both low footwear and poor posture, and hence possibly look a little shorter at times...but both are tall. Funny since Bret is often described as "small" on the show.
Sam
said on 29/Apr/14
Picture here (down the page a bit) besides 6'2" listed Rodrigo Santoro.
Click Here
Near 5'8" listed Sam Rockwell.
Click Here
With 5'9" listed Paul Rudd.
Click Here
Next to 5'5.75" listed Danny Trejo and 5'11.5" listed Ray Liotta.
Click Here
Anon183cm
said on 28/Apr/14
Would be good to see Jemaine with some well known celebrities to get a good gauge of his height. I think Bret is not under 5'11 at worst, which means Jemaine is probably 6ft at worst. There is something about his build that makes him seem more 6ft sometimes; in the photo he doesn't really give a 6'1 impression, I agree.
Sam
said on 28/Apr/14
Which one of them, James B? Bret looks relatively taller in that photo being closer to the camera, but Jemaine's certainly the slightly taller one.
Another pic from the same event.
Click Here
And another of them standing in even posture & proximity.
Click Here
James B
said on 27/Apr/14
Looks 5'11 in the pic
Sam
said on 24/Apr/14
Rob, might you add Bret as well? He looks around six foot. He's similar height here to Ty Burrell.
Click Here
MrTBlack
said on 22/Apr/14
@Sam
Yes I agree however, most guys stop exaggerating when there 6'2" or taller IMO.
Sam
said on 22/Apr/14
I actually feel in my experience the guys who claim to be six foot even are those that seem a little shorter than that mark (i.e. they're rounding up from somewhere in the 5'11" range), while those that claim 6'1" are noticeably taller and probably within a fraction on either side of 6'1". These 6'1" guys usually have the top of their head around my eye level at 6'5".
No Surprises
said on 22/Apr/14
Yeah at times the two of them towered over others on Flight of the Conchords. You can tell they're tall guys.
MD
said on 22/Apr/14
I don't know why, but I never figured either of them this tall.
MrTBlack
said on 21/Apr/14
Adding Mr. Clement to my list of honest 6'1ers. Hey Rob out of curiosity, almost every guy I met who claimed 6'1" was actually 6'. Would you say that is the case of a lot of guys who claim 6'1"?
[Editor Rob: a bunch of guys will add an inch, but there are people out there who are truthful about height!]
Sam
said on 21/Apr/14
Thanks for adding, Rob, maybe Bret next..Jemaine is a weak inch taller than Bret, so six foot fits him. I do think this is accurate. Also in a Flight of the Conchords episode, they describe "Jemaine" as "six foot one or two" (per a prisoner guard). On that show, it's easily to forget that the two guys are tall but then usually are taller than most of the guest actors.
Dave178
said on 21/Apr/14
I guess that would make Bret McKenzie about 6 foot then?
Anon183
said on 20/Apr/14
Jemaine Clement is great. A;ways looks about 6'1 so I don't doubt his claim.