American Actress from Donnie Darko, Saved, The Hunger Games, Stepmom and Sucker Punch. In this convention photo, I had 1 inch sneakers, whilst Jena had
these shoes
.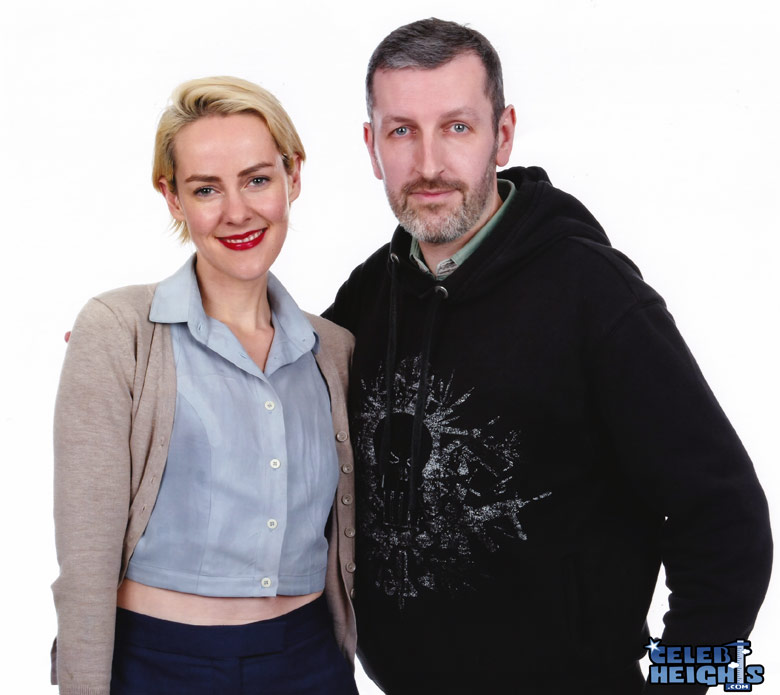 5ft 8 Rob and Jena @ Telford Comic Con, 2019
Leesheff85
said on 16/Feb/22
Will she have a 1 inch footwear advantage over jennifer lawrence in the above photo rob? They look pretty close in height there

Editor Rob
yes it looks like an inch thicker heel, maybe a little camera advantage.
zora slae
said on 8/Dec/19
she is way below gylenhal's pecs in "donnie darko", short
Nik
said on 5/Jun/19
5 voters have given Jenna Malone an average vote of 5'5.6"!
Nik
said on 17/Apr/19
@ gian92 - That's very interesting!
Josh
said on 29/Oct/16
5'5" Jena with 4" heels in The Neon Demon with barefoot 5'8-9"ish Elle Fanning and 5'11" Desmond Harrington.
Click Here
az
said on 22/Sep/16
Saw her in NYC. 5'4".
gian92
said on 23/Nov/14
she is minimum 5'7 !
Margot
said on 18/Jun/14
In my opinion, she looks more taller than she stated about her 5'5 frame.
Chris
said on 14/Mar/14
She must've grown. I think she looks taller.
Rosie
said on 11/Dec/13
If Jena is 165cm then Jennifer Lawrence can't be more than 169cm.
XOXO
said on 12/Aug/13
If Jena Malone is 5'5'' then Kristen Stewart is 5'3''mabye 5'4''.
Master Of Rolls
said on 1/Jan/11
@D Malone
Jena is 5 ft 7 in, I would know she is my daughter.
if thats really the mother, then i would concur to that for sure....but IF NOT, then i'd say 5'6 solidly
steph
said on 29/Jun/08
she looks a couple inches smaller than emile hirsche in into the wild.. dunno i'd say about 5 foot 4
sam
said on 21/Dec/06
She really looks shorter than Sevigny in all those pictures. 5'5" would seemed relatively right, as well as in Jena's movies.
Anonymous
said on 10/Sep/06
I agree with GTE i think she's more close 5'4' than 5'7. I always had think she's short...
Anonymous
said on 18/Jun/06
Click Here
there are some pictures where she is the same height as Chloe Sevigny and others where she is shorter
she could be 5'6.5
Steven Ward
said on 17/Apr/06
5'.7! Not a chance,- 5'6 would surprise the hell out of me. 5'5 actually sounds right.
GTE
said on 1/Mar/06
Saw her in NYC last week and she was considerably shorter than I am (5'8"). My guess is that she's 5'4". I realize this projection is different from the others here, but I saw her in person and not in a film, where all kinds of tricks can be used to manipulate the appearance of height.
anonymous
said on 4/Dec/05
I think she's 5' 7". I used to think she was closer to 5' 5", but she seemed more like 3" shorter than Mandy Moore (5' 10") in "Saved", not 5".
Anna
said on 26/Nov/05
Jena is 5' 7". She just has a small build which makes her look shorter.