Jim Carter's Height
6ft 1 (185.4 cm)
Peak height was 6ft 2 (188 cm)
British actor best known for roles in tv shows like Downton Abbey (as Mr Carson) and Cranford (as Captain Brown). In film he can be seen in The Golden Compass and Brassed Off. In a December 2008 interview with his wife - Imelda Staunton - she remarked on their heights,
"There I was, 5ft, and he is 6ft 2in. And rather dark and handsome"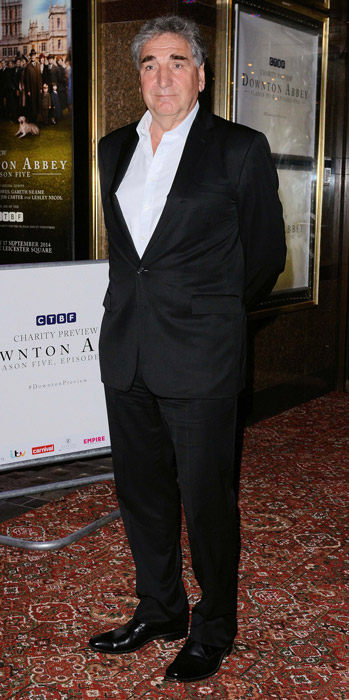 Photos by PR Photos
Add a Comment
13 comments
Average Guess (8 Votes)
Peak: 6ft 2.09in (188.2cm)
Current: 6ft 1.16in (185.8cm)
Rampage(-_-_-)Clover
said on 7/Oct/20
A fraction over 6ft2 peak might be more feasible than under I feel.
Rampage(-_-_-)Clover
said on 3/Oct/20
189cm peak Rob?

Editor Rob
I think 6ft 2 peak is ok, wouldn't go with 189, albeit in something like brassed off (with decent boots) he might have pulled it off.
Yang (5 footer 8, 173, Aries)
said on 20/May/20
He can make his wife Imelda look like a dwarf... He was 6ft 2 tall during his younger years and now is about 6ft 1. Looks taller than current US president Trump....
PS. For some odd reason, his name dose confuse me with former US President Jimmy Carter. But they are completely different person. One is former US president other is British actor...

Editor Rob
At times in brassed off could look well over 6ft 2, but then I think he had a bigger boot on.
jeb077
said on 23/Oct/17
I would say 6'0" is closest to his barefoot height. If you want to see a really good performance from him in his younger days lookup the 90s Zorro episodes he guest starred in.
Sandy Cowell
said on 7/Mar/17
@ Rob - I've just seen the picture of Jim's and Imelda's daughter! Definitely gets her height from Dad!
Rampage(-_-_-)Clover
said on 8/Feb/17
The daughter must be at least 5ft10.
Arch Stanton
said on 2/Dec/16
His daughter looks nothing like either of them LOL, but you can see she got a tall gene obviously!
Sandy Cowell
said on 2/Dec/16
@ Rob - Thank you for your trouble finding a picture of Jim's and Imelda's daughter. I've tried to 'click' but my naughty phone tells me 'can't open a new window until you close one.' Alas, I don't know how to!
As soon as I've found out, I will treat myself to a long, lingering look!
Sandy Cowell
said on 2/Dec/16
Isn't this chap the one who played a creepy headmaster in an episode of 'Cracker'?
It certainly is! He's done a great many other things, of course, including 'Downtown Abbey', which I have never seen.
You can tell he's tall - I remember him being nearer the 6ft2 mark, from what I remember. It makes sense that he has lost an inch, which isn't too much when you can 'afford' it at over 6ft!
I never knew he was married to Imelda Staunton, who I adore, so he's gone up in my estimation!
If I could only clear my mind of the image of him ---gging that poor, trusting young girl in the tree in the opening scene of that 'Cracker' episode...

Editor Rob
Sandy, you can see their daughter Bessie inherited Jim's height gene, not Imelda's
Click Here
Rampage(-_-_-)Clover
said on 29/Jun/16
Looks 6ft1 range at near 70 on Downton so 6ft2 peak is fair
Mario
said on 11/Apr/14
184.75cm at worst. He is definetly a weak 6ft 1. He always seems to be the tallest or thereabouts.
wibble
said on 2/Apr/14
I've met him and he's nowhere near 6'2". At least two inches under that.
Jeb41
said on 11/Aug/13
An underrated actor. 6'0" at best for Mr. Carter though.