British actress best known for playing Anna Smith on tv show Downton Abbey and Kate in BBC's Robin Hood. In film she has appeared in Filth and Still Life. A Daily Mail article mentioned her height,
"I'm quite small [she's 5ft 2in]"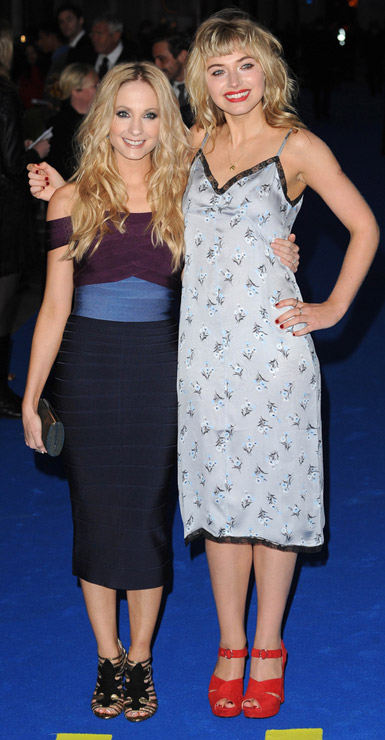 Imogen Poots
and Joanne
Photo by PR Photos
Miss Sandy Cowell
said on 24/Aug/20
💐💝🎂 Happy 4️⃣0️⃣th Birthday Jo! 🎂💝💐
A Very Happy Big 4-0 to lovely actress Joanne Froggatt.
5ft2 👱‍♀️👍🎊 XXX
💐💝🎂🎊💐💝🎂🎊💐💝🎂🎊💐💝🎂🎊
Sandy Cowell
said on 11/May/17
* I came to the end of the two part play this morning, and the poor young woman played by Joanne died at just 34 - from a brain hemorrhage.
Sandy Cowell
said on 10/May/17
What a lovely, sophisticated photo the top one is! The one below is more of a 'fun girls night out' look!
I am watching Joanne at this present moment in the TV production/film 'See No Evil', about the atrocious Moore's murders. Joanne is also playing a victim in that her role is that of Hindley's sister. Imagine living knowing you're related to someone like that? I know that Maureen, the sister's, life was cut short, doubtless due to such an enormous burden; how absolutely terrible.
Well, the most I would have said for Joanne is 5ft2! That is actually what I'd settled for before coming to this page, but I would have rounded her down rather than up if I'd had to do one or the other!
She wears a lovely dark wig in this, all bouncy and glossy and thick, offering her the look of a couple more inches to the untrained eye, but I don't fall for that one anymore! I still think it looks nice though!
I've seen Joanne in other things, but not Downton Abbey, and I know she's normally blonde. I think the dark suits her just as much!
So a full 5ft2 it is then!