John Lydon's Height
5ft 8 (172.7 cm)
English singer-songwriter "Johnny Rotten", best known for being lead of The Sex Pistols.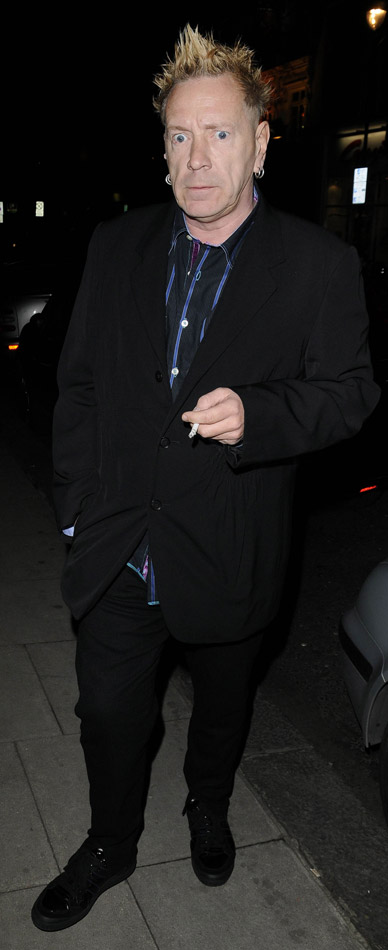 Photos by PR Photos
Add a Comment
18 comments
Average Guess (11 Votes)
5ft 8.05in (172.8cm)
Miss Sandy Cowell
said on 31/Jan/21
🎁🍻🎶🎂 Happy Birthday John! 🎂🎶🍻🎁
Here's wishing John Lydon a great 6️⃣5️⃣th Birthday today.
I've heard of his bands The Sex Pistols and Public Image Limited, (who hasn't from my generation?) but I've never heard of his group Pigface: 🐷 - what a funny name for a musical group! 😂😂😂 They were formed in 1990, somewhere in America, so that might have something to do with it, added to the fact that I wasn't reading the music press at the time.
Have a superb birthday, John, and healthy and enjoyable year to come.
5ft8. 🎈🎊😁👍
🎁🍻🎂🎈🎁🍻🎂🎊🎁🍻🎂🎈🎁🍻🎂🎊
Tall In The Saddle
said on 19/Apr/20
Haven't really thought about his height - I used to figure about 5'7"-5'8". I googled Johnny Rotten "now" for images - Whoa! He's piled on some pounds. Hard to recognise. Apparently he attributes it to a thyroid issue. Nothing to do with his transition to an Americanised diet I guess. Hehe.
Miss Sandy Cowell
said on 4/Feb/20
Rob! Do you know what happened to my birthday comment for John from 31st January? He turned 64. If the birthday mention has gone missing, I'd like to wish John a very Happy New Year and I hope his Birthday last Friday was a great one.
5ft8.
🎂🎁🎉🎈🎂🎁🎉🎈🎂🎁🎉🎈🎂🎁🎉🎈

Editor Rob
I am not sure, but it could have been I forgot to change 'comments down for moderation' at one point, when it should have displayed the message.
Miss Sandy Cowell
said on 7/Dec/19
Thanks Vitto! 😁👍 XX
Vitto
said on 4/Dec/19
@Sandy No problem, you didn't offend me. There are people on here who told me worse things.
xx
Sharpshooter
said on 4/Dec/19
@Gr3
There is some merit to what you are saying though as there are plenty of second generation Irish who identify as Irish only not British never mind English. Rob has described Dermot O'Leary as British on here but if you ever look through Dermot's twitter account you will find he only identifies as Irish and will correct anyone who calls him British or English.
Anyway with regards to Johnny's height, I'm surprised Rob has given him a peak height listing, surely at nearly 64 he's most likely to have lost some height by now. I'm not sure when men on average lose a noticeable amount but I would have thought it would've been before 70 at the latest.
Miss Sandy Cowell
said on 3/Dec/19
@ Vitto - I suppose with me it varies from day to day. It's probably because I've been tongue-tied myself that I said that. Sorry if I offended you. You don't deserve that.😞 Sandy XX
Tall Sam
said on 3/Dec/19
This listing is accurate I think, he is right around average height for his day and age, though could look nearly half of a foot under Sid Vicious. As I said he edged Harvey Keitel while acting in a film with him in 80s.
Gr3
said on 2/Dec/19
@Hijoputamus I know that, but do you consider every Londoner as English? If so, then you can call him English as well. There are many English people with some Irish background but Lydon's parents are %100 Irish from Ireland. He doesn't have any English blood. He always used the term British for himself. You can hear him saying that he's not English when he talks about his upbringing. Don't get me wrong. I don't really care about racial stuff. I just wanted to correct a mistake as a pistol fan. 👍
Vitto
said on 1/Dec/19
@Sandy I don't think I am tongue-tied, just a bit shy when it comes to talking to strangers in the shops, on the streets etc.. or to celebrities and their families. That's all.
Miss Sandy Cowell
said on 30/Nov/19
Oh, Vitto! I bet you're kicking yourself to this very day! I start conversations over the catfood counter; being tongue-tied is something I don't think I suffer from! 😉👍
Nik Ashton
said on 29/Nov/19
This guy is pretty much average for his age and it is so great that he now has a much deserved page on celebheights! John is such a talented singer-songwriter, he knows what he is talking about and he is funny too!
Hijoputamus
said on 29/Nov/19
@Gr3, he's from London.
Vitto
said on 29/Nov/19
I am glad John got a page!
I think Rob wrote that he is English even though his parents were Irish, because he was born in Holloway, London in England. So that's a fact.
He is English-born and has an English citizenship. It seems like he got the US citizenship too because if I remember right he lives with his wife in Los Angeles.
Fun fact, I think that I saw his wife once in London, while I was in a laundry in Fulham, to be exact. That was some years ago and I am not sure it was her but it could have been because it seems like they have a house in Fulham. Anyway, I didn't say anything to her. What a pity, I could have met him!
Anyway, I guess 5'8!
Miss Sandy Cowell
said on 28/Nov/19
John is an Aquarian, like Alice Cooper, and they love to shock. I should know - I'm one myself! 🙀😱
Gr3
said on 28/Nov/19
He is not English, Rob. His parents were Irish immigrants. He likes the class himself British.
My vote for Johnny is 5'8.5". Nowadays he can look shorter than that.
Miss Sandy Cowell
said on 27/Nov/19
That's brilliant - he's here where he belongs - welcome Johnny! As someone who remembers right back to their Sex Pistols days, I can tell you that John was a complete showman, but when interviewed, he was always out to shock. Next to Sid Vicious, who had to be 5" taller, he looked rather below average, but not in the Celebrity Jungle, where he continued his shocking behaviour and ended up walking out, even though he was tipped to win.
Nowadays, John gives an interesting and even warm-hearted interview; well I'm talking about any time this century,😂which gave rise to a more mellow John, willing to talk about his strongly-held beliefs and how, at school, he was a swat! I never doubted that - he did their song writing...📝
⭐ If you want to see him act, check out the film he made with Harvey Keitel in 1983, called 'Corrupt', amongst other titles, I've noticed. He doesn't disappoint.
John gets 5ft8. 😁👍🎶🎤