John Oliver's Height
5ft 11 ⅝ (181.9 cm)
British comedian known for The Daily Show and Community. At his UK agency, on his resume he used to be listed as being 182cm tall.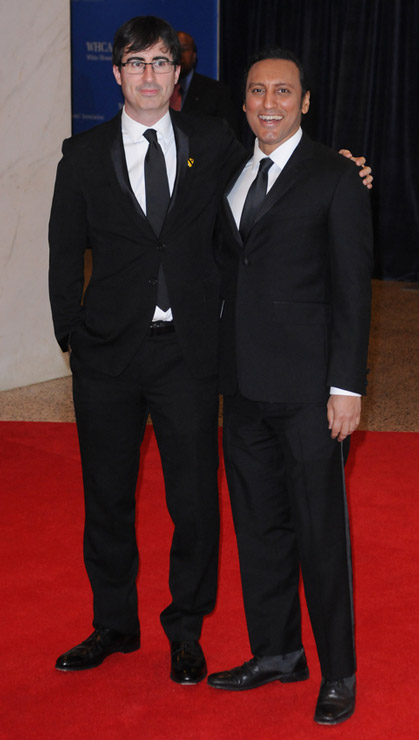 Photos by PR Photos
Add a Comment
36 comments
Average Guess (26 Votes)
5ft 11.71in (182.2cm)
vastlybetter566
said on 17/Dec/20
Rob, I think John could be classified as a "political commentator". Right now the category is very much dominated by right wing commentators. Perhaps adding him, Trevor Noah or even Jon Stewart could balance it a bit.

Editor Rob
yeah at least John
Ian555
said on 9/Aug/20
Rob how tall do you think Aasif Mandvi, the guy next to Oliver, is? He is listed on Google at 5' 10" but based on the picture above with Oliver and in at The Last Airbender movie premiere (terrible movie by the way), he looks distinctly shorter than 6 foot Cliff Curtis and 5' 10" M. Night Shyamalan
Click Here
,
Click Here
,
Click Here
.

Editor Rob
Could be 5ft 9, but at times loose posture making him seem barely that mark.
mike28
said on 27/Apr/20
looks a significant amount taller than Tom Hanks, but he may have lost height in age
Animus
said on 8/Sep/19
He looks closer to 6'0 than 5'11. 182cm makes sense.
Chris Junior Hernandez 1990
said on 29/Jul/19
Look 177cm on pr photo if i wasn't aware he was closer to 182cm.
Michael 5'10", 178 cm
said on 16/Dec/18
He's 5'11.5"-6'0". John Oliver looks like a weak 6 footer to me.
MAD SAM
said on 5/Jul/18
Looks 6 footer at 182.5 cm
Tall Sam
said on 13/Mar/18
I think he looks almost dead even with Keegan Michael Key, sometimes Key looks a small fraction higher.
Click Here
Faza
said on 28/Feb/18
Aasif is listed as 5'10 he looks more 5'8 flat going off how he looks here side by side with mr oliver who could be around 6ft flat
Dreampuffe(5'9.5")
said on 1/Jan/18
A 5'11.75" listing would work. I wouldn't even dispute a 6' ft listing.
Ted
said on 31/Dec/17
He probably is 182 on the nose and 5'11.5/5'11.75 both work.
Rampage(-_-_-)Clover
said on 14/Dec/17
Looks 182-183cm in all honesty
Nik
said on 20/Nov/17
He is at least 5'11.5" and possibly 5'11.75"!
Dingus
said on 19/Nov/17
He always came off as a 5'10" person. But now that I think about it, this is more accurate.
Agreco4l
said on 7/Aug/17
Looks near 6 feet.
justbringit
said on 17/May/17
5'11.75" i think would be a little better honestly he can look 6ft to me at times also and since his agency said 182cm i would go with almost 6'
uri
said on 18/Jan/17
In the promo to John Oliver's 4th season, Oliver walks side by side with Larry David - an established 6 footer - yet towers over him. How is that possible?
Rampage(-_-_-)Clover
said on 17/Nov/16
Rob, how likely is 6ft?
Editor Rob: Rampage, I've not been as convinced of it, although he can look it at times.
Ray
said on 15/Nov/16
I think this listing is him at his nighttime height. He looks like a solid six-footer to me. I'd give him 183 cm.
Rampage(-_-_-)Clover
said on 19/Apr/16
Can look 6ft a lot of the time
Rampage(-_-_-)Clover
said on 8/Jan/14
"John Oliver's height is 5ft 11.75in (182cm)"
MD
said on 22/Nov/13
Funny you should ask that, anonymous. That particular shot, above, actually favors Aasif. Here is the same event, but a picture taken more head-on than the other:
Click Here
Yes, Aasif might actually be a bit under 5'8". It's funny that he's so often been listed at 5'10", though, in solo pictures he can come across as average height.
Rusty
said on 22/Aug/13
@elijah
because rob likes to list people at the absolute lowest they can dip to so he will go with that. he does look a weak 6' in this photo
Elijah
said on 22/Aug/13
If he's 182cm then why not list him 5'11.75"?
Rusty
said on 20/Aug/13
@thc-182
He is an Englishman and England uses the metric system so he isn't thinking on the American system
thc-182
said on 19/Aug/13
this is exactly how i look in photos standing alone, very solid 182 cm , but i wonder why his agency listed him at 182 cm and not 183 cm because he could, it's not common to see celebritizes claiming 182 cm, most say 6'0"
truth
said on 18/Aug/13
This is not average nor tall, this is typical tallish (above average height) height.
Rusty
said on 14/Aug/13
In the metric system I feel people lie about their height less because they aren't as much thinking about numbers such as 6' and 6'2" and such, the numbers in the metric are more precise.
Arch Stanton
said on 13/Aug/13
For all the people who say this height is average, he looks nothing but tall in this photo.
Jack
said on 11/Aug/13
How is John Oliver here but still no Stephen Colbert? Colbert is far, far more well known. I find it very confusing.
SAK
said on 5/Aug/13
Aasif Mandvi claims 5f10, obviously isn't, more 5f8, like other have mentioned.
John Oliver can easily claim 6ft if he wanted to, but we know he's a shade under.
Sam
said on 5/Aug/13
John Olivier consistently looks around the same height as the six foot range guests on The Daily Show...notably there's no photos of Oliver and Jon Stewart standing next to each other.
Mathew
said on 4/Aug/13
Aasif looks 3" shorter than John.
Reg
said on 3/Aug/13
Always thought this guy was a solid 6 footer
Lo sgozzatore
said on 3/Aug/13
Yep, if this John Oliver is really 5'11.5, the other guy looks 5'8 at best, but i doubt it. What's your guess, Rob?
[Editor Rob: other guy could be 5ft 8]
Lo sgozzatore
said on 2/Aug/13
How tall is the other guy? 5'7 range?