Jonathan Scott's Height
6ft 4 ¾ (194.9 cm)
Canadian TV presenter from the Property Brothers series. On twitter he has mentioned his height numerous times, saying he was
"almost 6'5""
and
"we're a tall family. Mom is almost 5'10" I believe. Dad is 6'0" and older brother is 6'2""
.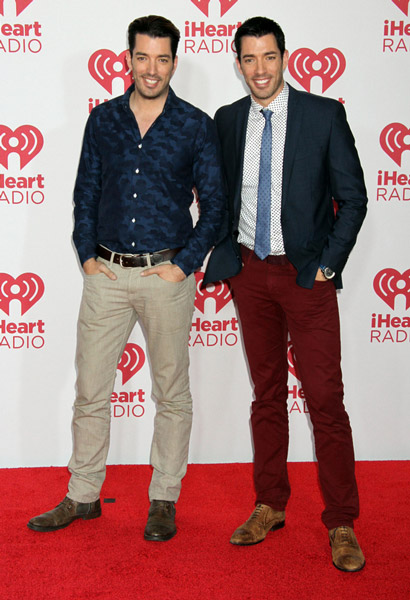 Jonathan and Drew Scott
Photos by PR Photos
Add a Comment
33 comments
Average Guess (13 Votes)
6ft 4.56in (194.5cm)
Tall Sam
said on 11/May/20
These twins seem to be truly height twins, they seem to have an on-going debate about who is the taller one but it's a fruitless debate I think. Very similar to my own height.
Nearly 180cm guy
said on 16/Jan/20
I have never been convinced of the full 6'5" that's why I think the current list is fine. Although I wonder if his brother is taller or shorter than him, but even if, they could be in a fraction difference of each other.
Yang (5 footer 8, 172-173)
said on 29/Sep/19
This identical twin guys from Property Brother are 6ft 4 for sure... He is similar range height with my 6ft 4 husband at least.... even though he claimed he is 6ft 5, but he did admit that he is 6footer 4 in the other interview...
Joe***
said on 24/Aug/19
Danilo looks 192 with alexander
Canson
said on 23/Aug/19
6'4.5 max at a low not 6'4.75
184guy2
said on 22/Aug/19
With 6'3.5 Danilo Gentilli
Click Here
Junior Hernandez 1990
said on 6/Jun/19
I agree with the average guess. The other one look to be 6'4.
Ian555
said on 4/Feb/19
Rob the funny thing is is that these guys never struck me as being this tall (My parents watch their show I thought they were only 6 feet!). Also what I find weird is that they had pretty tall parents but I don't. Last time I was measured was a couple months and I was 6' 3" and I'm not that old so I'm almost guaranteed to get to 6' 4" pretty soon which is my goal but my parents are only 5' 11.5" and 5' 8".

Editor Rob
Maybe their head sizes can make them appear a bit shorter?

Sometimes height genes do throw up interesting results.
Junior Hernandez 1990
said on 20/Apr/18
Rob, i think Drew Scott height is worth added here.
star69
said on 29/Mar/18
They've both said 6'4" a few years ago. They look about that, but not 6'5.
heightchecker34
said on 23/Jan/18
Love the Property Brothers show on HGTV, watch it every night before I go to bed lol. Their heights are not surprising, cause they tower over just about every couple they help. One is taller than the other, by not much more than 1/2 inch or less. Their family is also pretty tall indeed. They have hit about as perfect a genetic lottery as you can get. Tall, handsome, and skinny.... they won't stay bachelors for long imao.
Allie
said on 24/Jun/17
They look decently proportioned because honestly? I would never have guessed 6'4.5.
grizz
said on 4/Jun/17
I had no idea they were so tall! I presumed they were 6'2-6'3.
Canson
said on 5/Mar/17
its hard to tell with his legs. He must have a long torso which means he may lose a lot throughout the day. I could see him as 6'5 out of bed or more and lose an entire inch to get to 6'4.25 or .5
Oanh
said on 24/Nov/16
A couple of years ago one of the brothers said he was 6'4"
On a recent episode of Property Brothers, Drew mentioned being around 6'5"
I will say 6'4.5" tops.
S.J.H
said on 28/Oct/16
So drew is 194cm?
Rampage(-_-_-)Clover
said on 13/May/16
Rob, I presume Drew is also almost 6ft5?
Editor Rob: they have kind of given a few different heights between 6ft 4 and 5 from what I read on twitter...
Moke
said on 19/Apr/16
They look about the height of zachary levi here. There might be angles though and we don't see footwear. But almost 6'5? I don't think so...
Click Here
bobby3342
said on 20/Jan/16
I honestly don't know? ever seen them rob?
MD
said on 16/Jul/15
I've seen the show more than a few times, and it's pretty obvious that they are even taller than some of the tall men featured on the show. In fact, when they get doing a redo for the family of a first or second generation Canadian family the height differences can sometimes be downright distracting. lol
Dionisio Rojas
said on 14/Jul/15
I knew these brothers were tall but never that height. I thought they were 1.90 and 1.88.
Sam
said on 30/Mar/15
That happen often Rampage? I do watch Property Brothers, one of the few reality shows that I enjoy, my wife loves HGTV in general. This is a pretty good call. They once did a back-to-back comparison and Drew looked taller but was called out on tip-toeing slightly, they really look the same height.
Hypado
said on 23/Mar/15
Wow, a very tall family.
MD
said on 9/Mar/15
Always with the odd, over aggressiveness.
Josh
said on 8/Mar/15
They are very tall. I think this is right. very close to 6'5
Rampage(-_-_-)Clover
said on 7/Mar/15
Arch, and lot more arrogant...definitely look like the type of guys I'd end up k'oing in a night club if they went near my girlfriend.
Arch Stanton
said on 7/Mar/15
They've definitely got a certain look about them, wealthy preppy upper class America, like the sons of senators or First Ladys. Look like they could be Jackie Kennedy's sons or something. An upper class America tends to be a lot taller on average I think.
Arch Stanton
said on 7/Mar/15
They look proportional to me Rampage above, their overall look though they don't seem as big as 6 ft 5 here. They look 6'1 or 6'2 here!
Rampage(-_-_-)Clover
said on 6/Mar/15
Short legs for almost 6ft5
?
said on 6/Mar/15
Which twin is taller? And by how much? I watch the show and they both vary, and the funny thing is their difference is like between me and another guy, and I always felt eye to eye and if my friend and I are the same height then it would make sense because it means I'm the height I'm measured not shorter?
[Editor Rob: Jonathan has called Drew as being 6ft 5 and 4, I think they are quite close though.]
John
said on 6/Mar/15
rob how tall do you think drew scott is?
[Editor Rob: here are the quotes by Drew about their height:

"I'm 6'5" & 210 lbs"
"I'm a shy under 6'5" and Jonathan is about a 1/4 " shorter than me."
"Just over 6'4" . Most viewers that we meet in person are shocked at our height:)"
]
Andrea
said on 6/Mar/15
Rob, are they twins? They also look the same height in this photo...
[Editor Rob: identical twins yeah]